While the COVID-19 pandemic has postponed the 2020-21 Ontario Hockey League (OHL) season for the foreseeable future, the NHL and hockey overseas continue on. That's good news for the Windsor Spitfires with four players finding ice time abroad while two others have received attention from the pros.
To ensure everyone's safety, the OHL postponed the start of the regular season on two separate occasions and are currently waiting for the Province of Ontario's lockdown to end before making their next move. However, with hockey starting overseas in places like Russia, Finland, and Sweden, plus the NHL pushing forward, talk of the future has gotten underway. It's a shred of normalcy in an otherwise confusing and frustrating era.
Who has been able to lace up the skates and who's being watched by the pros? Let's get at it…
NHL "Players to Watch" List
With the pandemic pushing the NHL back, the timing of the 2021 NHL Draft remains in question. In December, they tentatively scheduled it for July 23-24, 2021. However, on Saturday night, Sportsnet's Elliotte Friedman reported talk of it being pushed back to December, January, or even as part of a two-draft event in June 2022.
While that is being sorted out, the NHL continued its upcoming draft preparation by releasing the January edition of its "Players to Watch" list on Friday afternoon. It gives all 2021 draft-eligible players an "A", "B", or "C" rating, depending on their current draft expectations. Spitfires' forward Wyatt Johnston and defenceman Daniil Sobolev were both given a "B" rating, which puts them into the second-or-third-rounds.
An "A" rating would have meant the first round, while a "C" rating is a fourth-, fifth-, or sixth-round candidate.
The 6-foot, 178-pound Johnston was the Spitfires' first-round pick (sixth overall) in 2019. It took him a bit of time to get adjusted to the league, but a strong showing after the 2019 World Under-17 Hockey Challenge allowed him to finish with 30 points in 53 games. He's currently rated between 69th and 76th by various scouting firms.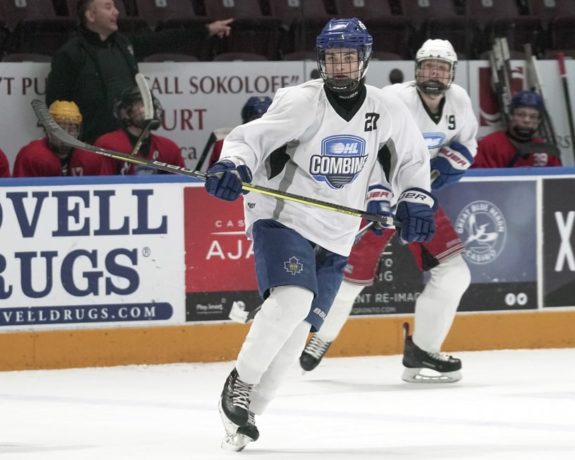 Sobolev was the Spitfires' first-round pick in the 2020 CHL Import Draft. The 5-foot-11, 154-pound St. Petersburg, Russia-native spent 2019-20 with MHK Spartak Moskova in the MHL. He had six points and 47 penalty minutes in 48 games. The club noticed him at the 2018 Under-17 Four Nations Cup in Plymouth, MI. He's rated 15th among European players by International Scouting Services.
The Spitfires were able to draft Sobolev after their two imports — defenceman Ruben Rafkin and goaltender Kari Piiroinen — left the team in March to play pro back home in Finland. They're currently playing for TPS Turku (Liiga).
Spitfires Sniping Abroad
With the OHL postponed, Spitfires' forwards Jean-Luc Foudy, Egor Afanasyev, and Matthew Maggio, along with defenceman Louka Henault, have all packed their bags and headed abroad for some extra ice time.
Foudy headed to Morrums, Sweden, to play for Morrums GoIS IK. They play in Hockeyettan Sodra, a 12-team division in Hockeyettan's third-level league. The Colorado Avalanche's third-round pick in 2020 saw action in 10 games, scoring three points. However, in mid-January, he headed back to North America, signing an Amateur Tryout Agreement with the Colorado Eagles (AHL).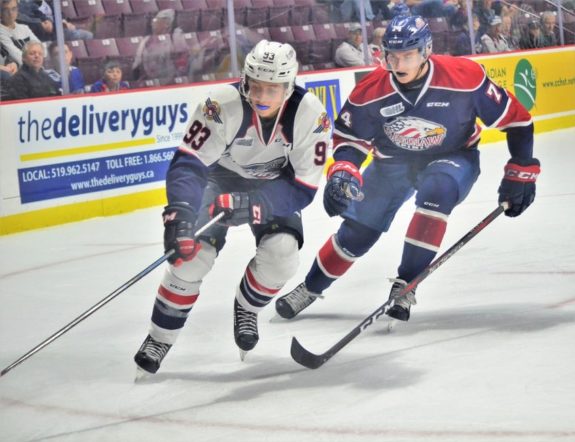 Maggio also headed to Sweden, dressing for SK Lejon out of Skelleftea. That's located in the Northeast corner of the country, a few hours the Finnish border. They're in the same league as Morrums GoIS but in the Hockeyettan North division. In 13 games, the Tecumseh, Ontario-native has a goal and seven points.
Henault headed to southern Finland to play for Kiekko-Espoo in Espoo. They play in the Mestis league (second-level in Finland). Unfortunately, after playing in just five games, the league shut down due to the pandemic. League officials decided it would be best to postpone indefinitely with hopes of returning sometime in January. There has been no timetable for a return.
Finally, Afanasyev has been skating with multiple clubs in Russia. In November, the Nashville Predators loaned him to Krasnaya Armiya Moskova (MHL), but he was only there for two games (two points) before joining CSKA Moskova (KHL). He has played in seven games for them, scoring four points. In December, he also played for Russia at the 2021 World Juniors with five points in seven games.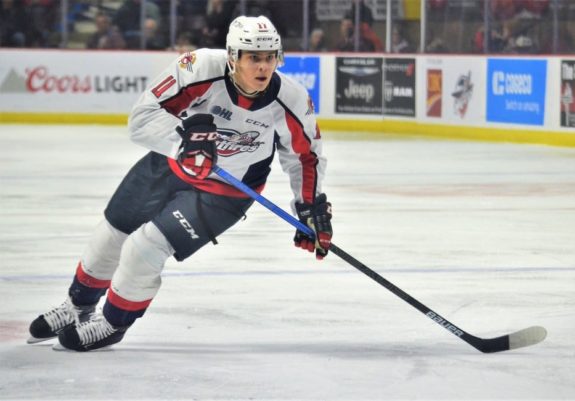 While a long-shot, all four players would be eligible to return to the Spitfires if the 2020-21 OHL season eventually got underway.
---
---