The 2013 NHL season may only be eight games old, but Winnipeg Jets' head coach Claude Noel and General Manager Kevin Cheveldayoff should have already seen enough to be very concerned about the prospects of their team moving forward. The Jets have started the season 3-4-0, with most of their struggles limited to the road, but there are signs that this team won't be consistent enough to seriously compete for an Eastern conference playoff spot.
Winnipeg looked to be rolling early in the season scoring 13 goals in a three-game winning streak against Washington, Pittsburgh and the Islanders. However, since then they have lost three straight, all three on the road. More concerning than the losses themselves is the fact that the Jets conceded 18 goals in those three games. They are among the league leaders averaging 3.00 goals per game, but are dead last conceding 3.88 goals per game. Even excluding the last two 'freak' losses where they conceded 14 goals in two games against Florida and Tampa Bay; Noel's team have been conceding 3.00 goals per game, a figure which would rank them 22nd in the league.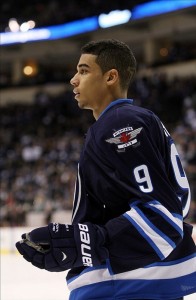 This isn't a new concern for this roster either. Erratic defensive performances were largely to blame for the team's failure to reach the 2011-12 NHL playoffs. A talented young roster scored 2.70 goals per game (11th in the league), but conceded 2.95 goals per game (26th).
It is reasonable to expect this team's goals against per game to come down between now and the end of the season. However, the concern is that the defensive issues experienced in the first few games this season are representative of the deficiencies in this roster.
Jets' Blue Line Lacks Grit and Depth
Johnny Oduya was traded away last season, while useful utility players like Randy Jones also didn't return to the 2013 roster. Plus/minus is a difficult statistic to wrangle with, but it shouldn't come as much of a surprise that Ron Hainsey (+2) and Mark Stuart (even) lead the team's blueliners in that statistic despite only having two assists between them.
Zach Bogosian has struggled for consistency during his four-year NHL career, but there's little doubt that the 6-foot-3 22-year old would be a pretty major addition for this defensive group when he returns from injury. His defensive positioning started to come round under the direction of Noel and his defensive staff last year, while his big body and physicality would be a big boost to this blueline.
Dustin Byfuglien's injury was a pretty major loss during the past two games on both sides of the ice. Regular partner Tobias Enstrom struggled defensively in both games, despite his impressive early season offensive statistics. At the best of times the Byfuglien-Enstrom pairing is a little suspect defensively and frequently found guilty of over-committing offensively.
The bottom pairing hasn't received too much trust yet from Noel. Paul Postma can provide a useful offensive boost, but isn't necessarily renowned for outstanding defensive play, while 27-year old Grant Clitsome has yet to earn his coach's trust seeing an average of just 13:02 minutes of ice time per game. 24-year old Zach Redmond impressed in two games after being called up, but Cheveldayoff has failed to put together a particularly deep or balanced blueline. Claude Noel might have to live with mistakes from his defensemen for this season at least.
Noel Struggling To Build Team Defense
There's some idea in Noel's coaching system of a five-man defensive structure and the concept of playing tighter hockey games based on rolling three forward lines that play at both ends of the ice. The reality of the roster that Kevin Cheveldayoff has assembled is a little different.
Winnipeg's top three forward lines all make their money at the offensive end of the ice, and all three have some questions surrounding defensive accountability. The top line featuring Evander Kane, Blake Wheeler and Olli Jokinen has looked good offensively, but turnovers have been an issue particularly in the neutral zone.
The configured second line with Nik Antropov centering Andrew Ladd and Bryan Little might be the best group defensively, but its hardly a shutdown defensive trio. Former Toronto team mates Alexei Ponikarovsky and Kyle Wellwood flank Alexander Burmistrov on the team's third line.
Jim Slater and Chris Thorburn form a fourth line partnership that Noel uses to take on some defensive responsibility, but that's not a pairing that can be given too much time, and both are career fourth liners.
Players like Kane, Wheeler, Little and Burmistrov are likely to improve their all-round games as they mature, but for now Noel has concerns with just about every combination he puts on the ice.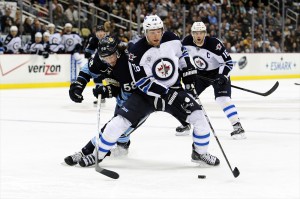 Penalty Killing Woes
Winnipeg's penalty kill was particularly harshly exposed in the recent heavy loss to Florida and Tampa Bay, but it has been a tremendous problem all season long, and dating back to the past season as well.
The 2011-12 unit ranked 24th in the league killing off just 80.1% of opposition powers. The young 2013 NHL season has been even worse for Winnipeg's penalty killers. They're killing penalties off at just 59.8%, far and away the worst unit in the league.
Bogosian's absence is possibly felt the most here with the diminutive Enstrom being asked to take on a lot of responsibility. Meanwhile, Tanner Glass has been lost from a forward group that was already a bit short on penalty killing specialists.
Personnel is not the only excuse for a disappointing penalty killing percentage. Noel and his roster need to find a way to get better at clearing pucks down the ice and clearing bodies and pucks from the front of the net.
Winnipeg are a young and developing roster. Cheveldayoff will stay patient drawing upon his experience with helping to build the successful Chicago roster. However, this team's chances of seriously competing for a playoff spot this season are going to be seriously hampered by their defensive woes.