Despite being with the Winnipeg Jets for a big portion of this season, Eric Comrie is increasingly on the outside looking in when it comes to the team's goaltending future.
The 22-year-old, in his third full season as a professional, has been called up three times by the Jets in 2017-18, spending a total of more than a month with the club.
Despite that, however, he's made just one start and his stock has fallen.
He's quickly gone from being considered the starter of the future to either an AHL starter or a guy who comes up just to warm the bench and wear a ball cap – and he's become not even the first option for that role.
Is this his fault, or is he simply a victim of circumstance?
It seems to be a little of both.
Scouts' Expectations for Comrie High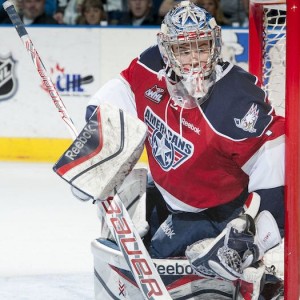 Comrie has drawn high praise from a variety of insiders and scouts.
"He's one of the best young goaltenders I've seen in the last five years. I want to put him right up there with a guy like Andrei Vasilevskiy," former NHL goalie Steve Valiquette said last spring in an interview with TSN 1290 Winnipeg.
When Comrie played for the Tri-City Americans, he was touted by Kevin Won for his "aggressive style," "competitive nature," and "ability to make game-changing stops."
Through Comrie's first two seasons with the AHL club, though, his numbers didn't really reflect the high praise he received. His goals-against average hovered around 3.00 and his save percentage was just above .900.
Those numbers can partly be attributed to the deplorable defense the Moose iced in front of him in their first two seasons since returning from St. Johns. The team was transient, very young, and regularly outclassed by their opponents, going 55-78-9-10.
Mason, Hutchinson, Hellebuyck's Resurgence and the Evolving Goalie Landscape
After Connor Hellebuyck and Michael Hutchinson's shaky 2016-17 NHL campaigns, it appeared the door was about to swing wide open for Comrie.
However, if the door was open, it was slammed just as quickly by Kevin Cheveldayoff, who went out and acquired Steve Mason on a two-year contract. That move signified another year in the minors for Comrie.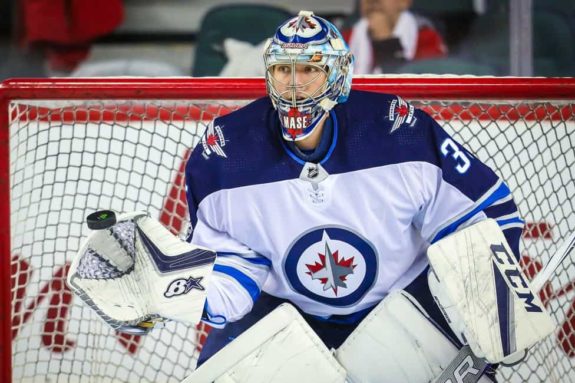 It looked like Comrie was pegged to be the indisputable AHL starter this season as a result, but he found himself locked in a battle for starts even there.
Michael Hutchinson, who was bitter about being sent down in the wake of Mason's signing, came down to the Moose with a chip on his shoulder. Despite doing his best impression of a mime and his refusal to talk to the Winnipeg media, Hutchinson put up video-game numbers with the Moose, going 15-2-1 with a goals-against average of under 2.00.
A Chance to Take the Crease in Florida
However, when Steve Mason – who's had a barrage of bad luck in his first year with the Jets – suffered a concussion against San Jose in late November and was forced onto the shelf, Comrie got called up.
He bided his time for nearly two weeks before getting his first start of the season – and the second of his NHL career – on Dec. 7 against the Panthers.
It didn't go well.
Comrie gave up 5 goals on 35 shots, couldn't control his rebounds, and didn't play a sound positional game in a 6-4 loss.
The old saying goes "you only get one chance to make a first impression."
Comrie hasn't seen NHL game action since.
Back From Whence You Came
Comrie was sent back down after Mason returned in mid-December. However, he suffered an injury of his own and only started one game for the Moose in December, with Hutchinson getting the bulk of the work there.
Perhaps that's part of the reason that when Mason suffered another concussion, the Jets came calling for Hutchinson, not Comrie, despite the former's rocky relationship with Jets' brass.
Left behind, Comrie hit a rough patch but still managed to go 4-3 in January thanks to a much improved, high-octane Moose club first in the Central Division.
More Goalie Woes for the Jets
The goalie injuries continued to pile up for the Jets, though. Hutchinson also suffered a concussion, so Comrie, the last man standing, was recalled in February.
However, it was clear Comrie was simply a body on the bench, a last resort there only to play if every Winnipeg fan's worst nightmare came true and Hellebuyck went down too.
The Jets played six games during the time Comrie was up. He played in zero of them. Clearly, Paul Maurice has not been impressed enough with Comrie's game to consider him a legitimate number-two man in the NHL, instead choosing to ride Hellebuyck.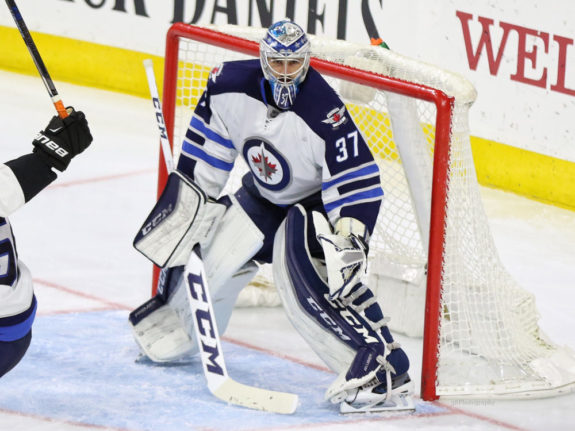 Comrie's with the Jets right now on his third call up – Mason suffered a knee injury and Hutchinson another concussion – but, once again, hasn't played any minutes. When either Hutchinson or Mason returns, expect Comrie to be the man on the other side of the glass again.
Eric Comrie's Contract and Career With the Jets
With Comrie's entry-level deal done after this season, his future with the Jets is cloudy at best.
He's a restricted free agent, but will the Jets re-up him? Will he even want to re-sign?
He was expected to push Hellebuyck for the starting role, but with Hellebuyck proving to be one of the NHL's top tenders, that's obviously no longer the case.
Comrie's future with the Jets really boils down to what the organization feels they have in their other two goaltenders apart from Hellebuyck and Comrie. For example, if they feel Steve Mason's frequent trips to the infirmary represent a one-off, bad-luck season or a recurring, deal-breaking issue. If they feel they can repair their strained relationship with Michael Hutchinson.
One thing's for certain: if Comrie does re-sign with the Jets this summer, he'll be donning a Moose uniform come fall.
His time as a prospect is quickly running out and so is his window to be a starting goaltender – at least in the Jets organization. He's been buried on the depth chart through a combination of his own inconsistency and circumstances beyond his control, and he may have to pack his bags if he wants an NHL career.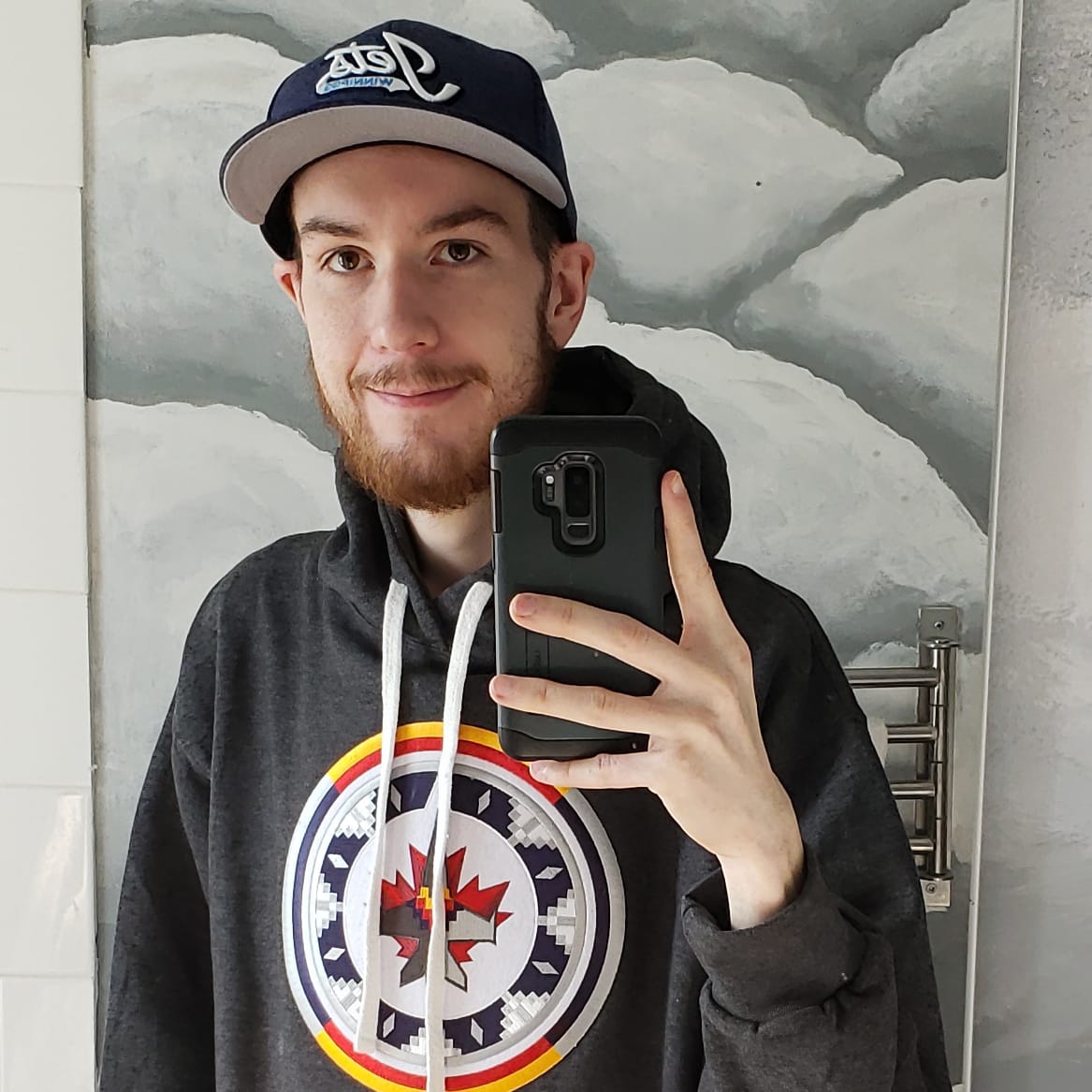 Declan Schroeder is a 27-year-old communications specialist and freelance journalist in Winnipeg, Manitoba. He holds a diploma in Creative Communications with a major in journalism from Red River College and a bachelors in Rhetoric and Communications from the University of Winnipeg.
Deeply rooted in the city's hockey culture, the original Jets skipped town when he was two and the 2.0 version came onto the scene when he was 17.