The season is drawing nearer, with less than a month until training camps open. Anticipation is building for the coming season. With that excitement, another season is also just around the corner: fantasy hockey. Over the years, fantasy sports have become a huge part of the lives of sports fans. Drafting your own team and managing them throughout a long season to prove to your friends or co-workers who really knows most about the sport they love can be rewarding. Research has already started, spreadsheets drawn up, planning for the fantasy draft is fully underway. Here are a few Jets to consider when your pick comes up.
Early Rounds
Dustin Byfuglien, D: Byfuglien is the only one of the Jets that fantasy owners should consider in the first round. Byfuglien is a rare talent in the NHL; his combination of size and speed is a combo any team is lucky to have. One of the biggest upsides in drafting Byfuglien is that most leagues will have him listed as a defenseman. I wrote last week about the possibility of Byfuglien playing forward (see here) and whether you agree or not, fact is Byfuglien has moments where he plays the game like a forward. Byfuglien had 45 points in only 69 games last season, just seven points off the league-leading defenseman in that category. He will also contribute in a big way if your league counts hits and penalty minutes as a positive, not to mention the amount of points he puts up on special teams. Byfuglien is in a contract year so you can bet he will be putting up some numbers that can help your team.
Middle-Round Options
Blake Wheeler, RW: Wheeler is not yet a top-tier scorer in the NHL, but he can be an asset as a second or third right winger. Wheeler finished 10th in scoring last season among right wingers with 26 goals and 35 assists. He bounced around on the top two lines and for a long period of time didn't have any solid idea who he was playing with on a night-to-night basis. Of course, Winnipeg will want to solve this, and there is a strong possibility he will end up on a line with Mark Scheifele and newly re-signed Drew Stafford. Scheifele is a year older and will only keep improving, while Stafford put up good numbers in Winnipeg after being dealt just prior to the trade deadline.Wheeler should have better and more consistent linemates this season, which should translate to a good fantasy year for him.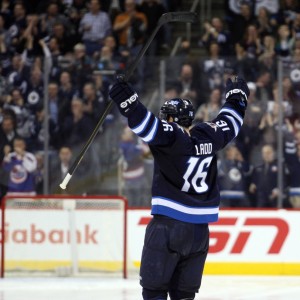 Andrew Ladd, LW: The Jets' captain comes into this year without a contract, but that may be good for potential fantasy owners. Every goal, every point and the Jets forward is earning himself a little more money. Ladd is likely to find himself in a top-six role again this season for Winnipeg, beside Bryan Little and a yet-to-be-determined right winger. Ladd is one of the Jets' few bright spots on a perennially bad power play, notching a fair amount of points and putting up good numbers for fantasy owners. The Jets captain is not the most explosive talent but he is consistent and can put up good numbers as a mid-round pick.
Late-Round Steals
Ondrej Pavelec, G: This may come as a surprise for people familiar with Pavelec and his numbers the last few years, but the netminder has potential to put up numbers this season on an improved Jets squad. Despite losing the job midway through last season, Pavelec comes into 2015 as the Jets' starting goalie, largely on the back of a terrific finish to last season. After the All-Star break, Pavelec was one of the best goalies in the league and put the Jets on his back to carry them to the playoffs. Though he was unable to get them anywhere in the postseason, Pavelec played well and that play followed him to the World Championships. In his home country, Pavelec was one of the top goalies in the tournament and took an average Czech team far further than they should have gone. Pavelec is far from a sure thing, but he will most likely be available in the last couple rounds, and may be worth taking a chance on.
Nikolaj Ehlers, LW: The 19-year-old Dane is another interesting player that may be worth using a late-round pick. Ehlers is in the second tier of rookies, which includes everyone not named McDavid, but he is almost assured a spot with the NHL team this season. Not only will Ehlers get a chance to play with the big club, but at least at this point it looks like there is a spot for him on the first line. This is of course the best-case scenario for both the Winnipeg Jets, and potential fantasy owners, but if Ehlers can show the talent that got him 132 points in 65 games played with Halifax last season, he may earn that spot. If he can earn a spot playing with Little and Ladd, he is absolutely worth a late-round pick and he will produce. Ehlers has the ability to be the steal of your draft this season.
Born and raised Winnipeg sports fan and contributor with The Hockey Writers.