In the midst of the Winnipeg Jets' lower points during the months of February, before they acquired Kevin Hayes they were far too often a one-line team. With Patrik Laine slumping, it fell to Blake Wheeler, Mark Scheifele and Kyle Connor to shoulder the whole offensive load.
Now, however, Hayes coming to the team via trade in the early part of deadline day means teams facing the Jets can't just hone in on Wheeler's unit. If they do, they risk being eaten alive by the newly-formed second line.
Now that they're together, it feels like Connor and Nikolaj Ehlers should've been paired up a long time ago. Their deadly speed and offensive prowess make them a tough duo to handle anywhere on the ice, and both are crafty enough to set up the other or shoot when the pass option is denied them.
Hayes increasingly seems to be the straw that stirs that drink, however. He has the vision to get either of his speedy wingers the puck in scoring position and hasn't had any trouble keeping up with them.
Connor-Hayes-Ehlers (score/venue adjusted)
Mar. 1 – 66.49 CF%
Mar. 3 – 68.28 CF%
Mar. 5 – 51.65 CF%
Mar. 8 – 53.60 CF%#NHLJets

— Scott Billeck (@ScottBilleck) March 10, 2019
It should hardly come as a surprise that three skilled players like this trio have the puck on their stick a lot. Following that thought, it shouldn't surprise anyone that they're producing. They had combined for 14 points in their five games together entering play against the Washington Capitals on Sunday, March 10.
Looking a little deeper, the trio seems to have the perfect mixture of skills to blend together for lethal results. Every important offensive skill is ticked off by at least one member of the unit and in some cases all three.
Hayes Spreads Teams Out
A player like Hayes, whose vision is perhaps his deadliest asset, has a similar effect to in one respect to Wheeler. When he's on the ice, every other player for the Jets becomes a viable pass target. Other teams can't afford to leave anyone open.
When Hayes can hit everyone on the ice at any given time, and when his targets are moving as fast as Ehlers and Connor do, defending them becomes a difficult task. Teams can keep them off the scoreboard if they're lucky, but keeping up with Hayes's passing and Ehlers and Connor's speed will exhaust them.
Not only does Hayes spread the opposition out when he's on the ice, but he also forces them to spread themselves thin just by his presence on the bench. It's no coincidence Wheeler has been on such a tear of late. Teams can't just zero in on his line alone any longer.
It's also no coincidence that Laine has been playing far better lately. With Hayes anchoring a solid second line, the Jets no longer have to worry about concentrating their firepower too heavily, allowing Laine to play with the players who bring out the best in him.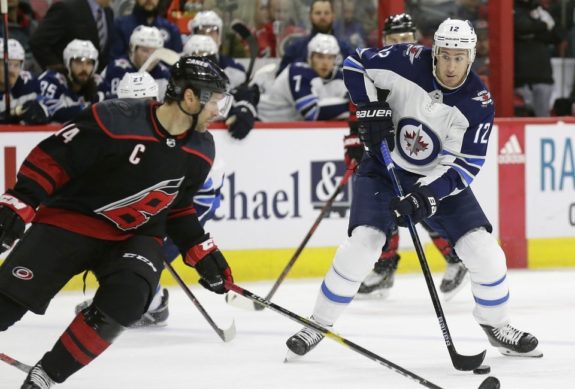 One play you'll frequently see the Ehlers-Hayes-Connor line run is to have one player, typically the agile Ehlers, cut to the middle as he enters the zone while both his linemates slip in behind the defense. It works remarkably well, and with Hayes coming through the neutral zone, his passing ability makes getting Ehlers the puck to start the play a breeze.
Defending this line almost invariably involves over-committing, especially off the rush. Ehlers will beat just about anyone one-on-one with his speed, so teams can't leave him alone. But focus too heavily on Ehlers, Hayes's primary pass option, and he can sling the puck to Connor instead or unleash a deadly shot.
Shooting, incidentally, is perhaps the one weakness of Hayes' game. It's not that he doesn't possess a good shot, it's just that he's a pass-first player. Luckily, his two linemates have no issue with shooting, as Connor had 189 shots entering play on March 10 and Ehlers, despite missing 20 games, had 124.
Hayes Adds Defensive Conscience
As quick as Ehlers and Connor are, there are still holes in their games. As younger players, and as more offensively-minded ones, their defensive game is improving but still well behind their other talents. This is where the slightly more experienced Hayes comes in.
The 26-year-old isn't exactly an elder statesman, but he does have five years of experience in the NHL. He has the experience, the hockey sense and the long reach to help improve what might be a bit of a blind spot for that line.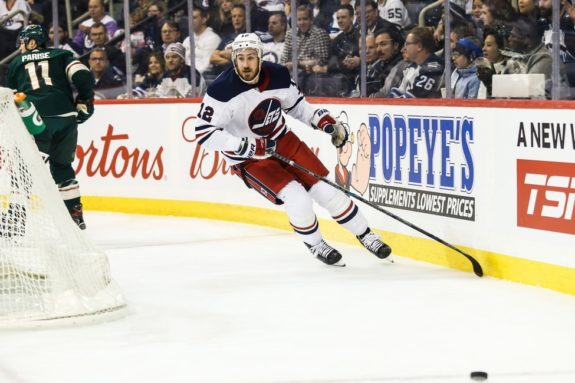 Indeed, the perceived lack of defensive awareness may be exactly the reason Jets head coach Paul Maurice has been reluctant to put Ehlers and Connor together before now. While they seem to be a perfect duo in the offensive zone, in their own end they can be a bit too adventurous.
Now that the dynamic duo has Hayes between them, however, that's not as much of a concern. And we haven't even touched on Hayes' size, another element Ehlers and Connor don't exactly have in spades. He's the perfect size of centerman for a long, grinding playoff run.
And make no mistake, with their first-round pick gone to acquire Hayes, a long playoff run is the only thing that would make this season a success in Winnipeg. Hayes goes a long way toward making that happen, now that they seem to have found the right combination of players to play with him.
When the playoffs begin, teams' top scorers see an awful lot of each other's defensive specialists. The Jets' first line will get a heavy dose of the number one defense pairing and top checking line of every team they play against. Now, thanks to Hayes, the Jets have an effective second line to help carry the load. In crunch time, that's not just a luxury, it's a clear-cut necessity.