Jack Roslovic probably wasn't happy to see Paul Stastny leave the Winnipeg Jets this offseason. Then again, Stastny's departure may have been the best thing for him.
Stastny's exit opens a hole in the Jets depth chart that Roslovic seems destined to fill. Both Jets fans and Roslovic himself should be excited about it because he could keep the Jets offense operating at high gear and give Winnipeg yet another weapon up front.
Roslovic's skill has been evident from day one. He quietly put together a strong freshman season (his only season) in the NCAA before moving to the Manitoba Moose, where he posted another strong freshman campaign.
Roslovic followed that up with his finest work yet, a stellar second pro season that saw him earn spot duty with the Jets and stick with them into the playoffs. He posted over a point per game in the AHL and notched his first NHL goal.
Now it's time for Roslovic to do what Kyle Connor did during the 2017-18 season and parlay his NHL stint into full-time duty in a scoring role. Goodness knows Roslovic has all the tools.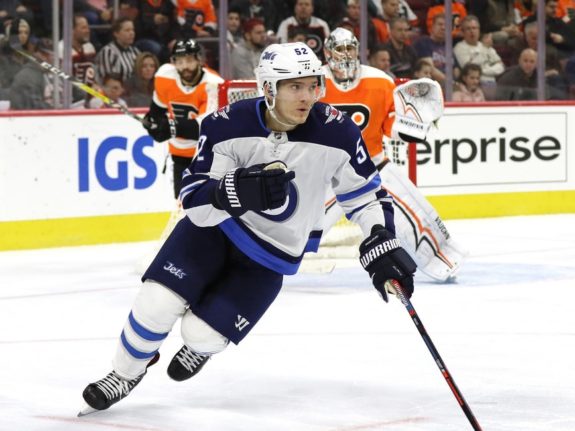 Roslovic has deceptive speed, a good shot, above-average vision, and a surprisingly strong lower body that makes him hard to knock off the puck. Combine all of those elements and the opportunity he could seize, and we could have another Jets rookie sensation on our hands.
Roslovic's Style Fits Right In
The void Stastny leaves in the Jets lineup is obvious, and one Roslovic seems perfectly qualified to fill. At least, in terms of his skillset.
The vacant position between Nikolaj Ehlers and Patrik Laine needs to be filled. Roslovic has the speed to keep up with Ehlers, something a bare handful of players can say. He also has the vision to find Laine for that superb one-timer.
#NHLJets forward Jack Roslovic, who could get a look between Nik Ehlers and Patrik Laine next season, has switched his number from 52 to 28. Creates the potential of a 27-28-29 line.

— Mike McIntyre (@mikemcintyrewpg) July 14, 2018
The temptation may be to slot the veteran Bryan Little in that position, and I've no doubt we'll see him there at some point. Yet Little's declining overall production and comparative lack of speed don't seem well suited to the dynamic young duo.
Roslovic, on the other hand, seems to have all the necessary tools for the job. It won't be his first go with highly skilled players. Roslovic spent his draft year playing with Matthew Tkachuk and Auston Matthews on a line for the USNTDP.
Some saw Roslovic as a beneficiary of this line rather than a driver of it, and that may have been the reason he dropped to number 25 overall in the draft. The Jets, however, saw Roslovic had a rare talent for playing with the best players and acted accordingly.
Roslovic certainly wouldn't be awed or intimidated by his ultra-skilled linemates. His numbers in his first NHL stint (14 points in 31 games mostly on the third and fourth lines) show a player ready for more responsibility.
The Jets also have some recent history to demonstrate why they should give Roslovic an opportunity. After all, Connor scored in his first game with new linemates Mark Scheifele and Blake Wheeler, and never really stopped.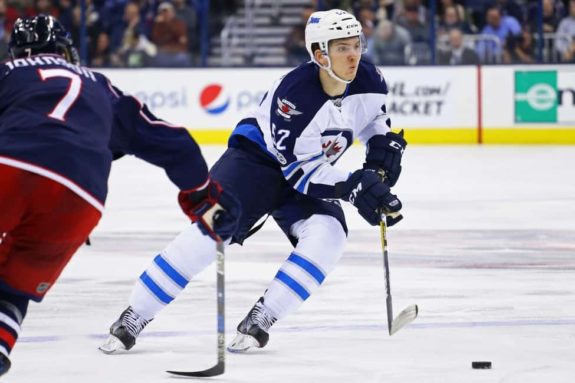 This would be a line that could mature together. Certainly, there would be hiccups, defensive zone miscues and the occasional slap of the forehead when one player tries to get too cute. Yet Roslovic is mature for a young player and has shown greater defensive conscience than most.
Jets Need Roslovic Now
The window for the Jets to win is here and now. Sure, it won't close completely for a long time, not with the talent they've assembled, but their best chance is before them.
In the harsh reality of the salary cap, good teams don't always last long. Winnipeg is fresh off a run to the conference finals and two of their better players, Wheeler and Dustin Byfuglien, are nearing the end of their prime years. And who knows how long Jacob Trouba will stay around? The time is now.
Roslovic looks ready, and the Jets will need him to be. To compete in the Central division, they can't afford any weak links. Roslovic needs to take the next step.
There won't likely be veteran reinforcements for the Jets this time around. They simply don't have the cap space to go after another Stastny right now. Their young guns are going to get thrust into the deep end and they'll need to swim.
Perhaps Winnipeg will make moves in response, but C Paul Stastny headed to Vegas and C Joel Armia to Montreal could be very beneficial to Columbus kid C Jack Roslovic. Perhaps a bigger role coming with the @NHLJets. #localhockey

— Aaron Portzline (@Aportzline) July 1, 2018
There's no reason to doubt Roslovic can swim, however. He's been paddling into steadily deeper waters since his draft year, from college to the AHL to the NHL, and has yet to drop his head below the surface.
Now it's time to see how well he and some other young Jets can really swim. The window to win is open, and the Jets will need Roslovic to help push them through.