Jacob Trouba is a top-tier defenseman in the NHL. The evidence to support this has been piling up for years. Now the time has come to pay him like one and, for once, the Winnipeg Jets are getting it wrong on a contract.
It's not very often those words are true of Jets general manager Kevin Cheveldayoff. His list of re-signings is long and impressive and features such steals as the exceptional Mark Scheifele contract, a great extension for Nikolaj Ehlers, and a long-term solution in goal with Connor Hellebuyck.
Sure, not every contract is going to turn out the way Scheifele's did. After all, Scheifele, the quintessential hockey good guy, took a hometown discount, and not even the most optimistic of Jets fans could've guessed he'd turn into a true superstar within a year.
Yet the list of smart deals by Cheveldayoff goes on and on and is by no means limited to Scheifele. On July 24, he inked what might be one of the best value contracts of the summer by bringing back Tucker Poolman for just $775,000 for three years.
https://twitter.com/EmDubWpg/status/1021905289199722496
Poolman's deal is an outstanding one. So few competent third-pair defensemen make under $1 million, and Poolman showed himself more than capable of being such a defenseman this past year. His deal is excellent.
The deal for Marko Dano, completed not long after Poolman's was good if unspectacular. A depth forward signed at a depth forward's price and with a prove-it-or-lose-it term.
So the Jets, it seems, can nail down every signing they're presented with. What's the problem with their efforts to re-sign Trouba?
Trouba Deserves Top Dollar
One can somewhat understand why the Jets rejected Trouba's reported request for $7 million a year. It's hard to justify paying him more than your franchise center. Their reported counter-offer of $4 million, however, was an undeniable lowball.
The arbitrator's ultimate decision of $5.5 million made perfect sense mathematically. Say, however, the Jets had offered Trouba a multi-year deal at $6 million annually. We'd be singing Cheveldayoff's praises again right now had he signed it.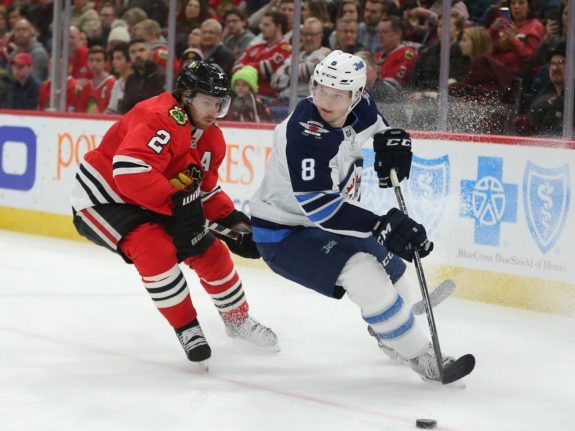 A look at Trouba's offensive production might make some question his salary demands. After all, he put up just 24 points in 55 games in 2017-18. Considering he battled a concussion most of the year, however, he came out looking ok.
Then factor in his underlying numbers. Trouba starts more shifts in the defensive zone than any other Jets defenseman. He sees penalty kill time but virtually zero power play minutes. Yet he still consistently drives play.
By any metric, the Jets are a better team when Trouba is on the ice. They have the puck more, they direct more shots to the opposing net, they keep pucks away from their net better. Even his physicality is at a higher level than most defensemen.
Jacob Trouba led Jets defensemen in primary assists / 60 in 2017-18 and in 5-on-5 pts / 60 too.

In both cases, the guys who placed second will likely come as a surprise.

— Murat Ates (@WPGMurat) July 19, 2018
Trouba was never drafted to be an offensive juggernaut. His draft year comparable was Adam Foote and those of us who remember Foote as a defenseman knew Trouba would never set the scoresheet on fire. Yet Winnipeg is demonstrably better offensively when he's out there, even though, like Foote did, he draws the opposition's top lines every night.
It's true the young defenseman hasn't been perfect. As mentioned, the offense hasn't been there even though he teases it at times. He still makes the occasional mistake associated with a young defender. His injury history is concerning as he's played just one full season out of five.
None of that changes the fact that Trouba has been playing like a top-pair defenseman for a long time now. Winnipeg would be devastated by his loss, especially when you consider Tyler Myers may not be a Jet much longer and Dustin Byfuglien is 33.
Trouba Polarizes Jets Fans
Some Winnipeggers have not forgiven Trouba for his 2016 contract holdout. There's always been something of an inferiority complex among a certain segment of Jets fans, and anyone who shows signs of not wanting to be there is quickly shunned.
Yet leading up to the offseason Trouba said all the right things. He said he wanted to be a Jet long term. Sure, he'd have hardly been likely to say otherwise, but he was making the right moves in the media circus.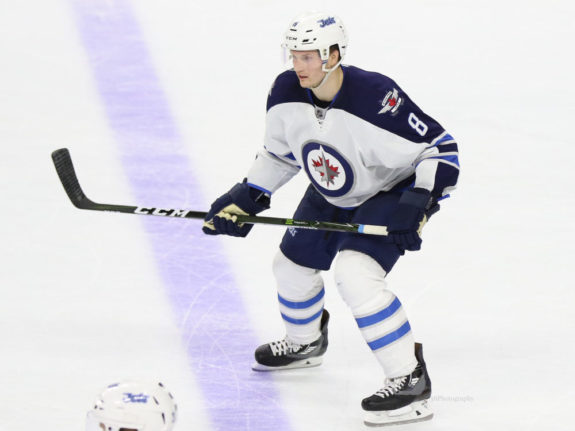 On the ice at least, it's clear the Jets need Trouba. His increased ice time and defensive zone usage indicates the trust they have in him. Power play time should be forthcoming too, as frankly he's been underutilized there.
So the Jets need Trouba, and Trouba claims he wants to be there. What's the holdup? Did the holdout really leave that bad a taste in the mouths of Jets management? Are they really convinced Trouba is only worth $4 million?
Winnipeg has been exceptional at convincing their young players to re-sign at good value. We didn't even mention Adam Lowry's recent contract above, which is a steal for a third-line center who can hit, score, and win faceoffs.
For whatever reason, however, Trouba has been a roadblock the Jets have consistently stumbled over since his first contract negotiation. At some point, they need to realize he is a valuable player and pay him as such.
No, you're not going to get Trouba to sign the team-friendly contract Scheifele did. He knows his value, and he's clearly got a far more aggressive agent in Kurt Overhardt.
Winnipeg needs to get it right with the Trouba contract after getting it right with so many others. After all, Trouba is a young, talented right-shooting defenseman, the hottest of commodities. If the Jets won't pay him what he's worth, plenty of other teams will.