Excitement is in the air for the upcoming hockey season at the University of Massachusetts in Amherst for the first time in many years. Entering head coach Greg Carvel's third season at the helm, UMass has high expectations after a surprisingly successful 2017-18 that saw the team host a playoff series for the first time since 2007. With a talent-filled young roster, UMass is poised to compete with the best of the best in Hockey East.
UMass Ready to Build on Last Season's Rejuvenation
The dark days are over for the UMass hockey team, and boy were they dark. For four straight seasons between 2013-14 and 2016-17, the team failed to win more than five games in Hockey East, placing them dead last in three out of four years. In 2016-17 UMass tied for the second-fewest amount of goals scored amongst the entire NCAA Division I Hockey landscape. Things were looking very bad.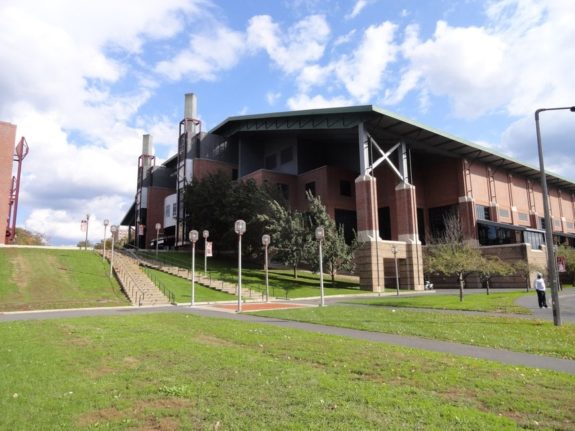 Through a change in leadership and Carvel's infusion of youth into the lineup, UMass found their hockey program rejuvenated in 2017-18. The team looked and felt vastly different on the ice compared to the last few seasons, and it showed in the standings. Not only did UMass host a home playoff game for the first time since 2007, they won their first playoff series 2-1 over Vermont on the backs of superb offensive plays from freshmen Cale Makar and John Leonard.
Related: Greg Carvel and the "NewMass" Movement
Sharks Reward John Leonard's Great Season
When coach Carvel brought in his youth movement to the team before the start of last season there were concerns that the freshmen would not be ready to take on such large responsibility. Those concerns were left by the wayside rather quickly as young players like Mitchell Chaffee, Oliver Chau, and even goaltender Matt Murray showed what they were capable of. All five of the team's top points-scorers at the end of the season were freshmen and Murray was an important part of the team's success down the stretch. He was between the pipes in the final game of the season as UMass shutout nationally-ranked Providence to clinch home ice in the playoffs.
OMG John Leonard!
One of the slickest moves you'll ever see on ice!

"A double toe-drag there Donnie"

What a way to close out a play-off series for @UMassHockey!@ESPNAssignDesk #SCTop10 #CawlidgeHawkey pic.twitter.com/tiQKS7YHSR

— UMass Hockey (@UMassHockey) March 4, 2018
The breakout freshmen class included Leonard, an Amherst native, who led the team in points with 28 in 33 games. He was also instrumental in winning the playoff series against Vermont, putting up two goals and two assists through three games including the goal above that wound up on ESPN's Top 10 Plays. The San Jose Sharks must have noticed his goal-scoring ability as they picked him in the sixth round of the 2018 NHL Entry Draft. While Leonard will be returning to UMass this fall, it is great to see NHL teams take notice of the talent on this team.
Carvel Continues Youth Movement With 8 Freshmen
One of the biggest reasons to be excited about next season is the team's continued commitment to youth. After filling the team with 13 freshmen last season Carvel is bringing in another eight for this season. Four defensemen, three forwards, and a goalie fill out the group who have signed National Letters of Intent for UMass.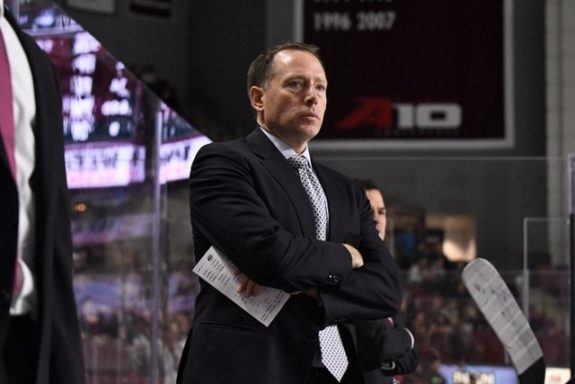 Brothers Anthony and Marc Del Gaizo come to Western Mass with the most hype, both having been named as USHL All-Stars last season. Anthony is a forward who led the USHL in points on his way to being named the league's Player of the Year while Marc is a defenseman who ended up ranked by NHL Central Scouting ahead of the 2018 Entry Draft. The incoming class also includes forwards Bobby Kaiser and Robert Trivigno, defensemen Ty Farmer, Colin Felix and Kolby Vegara, and goaltender Filip Lindberg who was also ranked by NHL Central Scouting as the 13th-best available European goalie.
Cale Makar Committed to Growing Program
An undeniably pivotal centerpiece on this team is Makar. He was one of two UMass defenders to be named a Hockey East Rookie of the Year last season along with fellow freshman and 2017 NHL draft pick Mario Ferraro, and his skill was on clear display when he put up eight points in seven games at the World Juniors to help Canada take the gold. Not to mention, he had a highlight reel goal of his own in Game 1 against Vermont that also made it on ESPN's Top 10. Makar was even rumored to be offered a spot on Canada's Olympic roster, although he declined so he would not miss any more time with UMass.
Here's why we're headed to OT….. 👇👀👀👀 🔥🔥🔥🔥@Cmakar16 #CoastToCoast #SCTop10 @Buccigross @Avalanche pic.twitter.com/oeiIVtYbUM

— UMass Hockey (@UMassHockey) March 2, 2018
Despite any flak he may have received for turning down the Olympic invite, it is clear that Makar is as loyal as he is skilled. Even after being drafted fourth overall by the Colorado Avalanche he still kept his commitment to a college team that was looking to be one of the worst in the NCAA. Makar was named a captain for this upcoming season along with Ferraro and Niko Hillenbrand, and although the future for him past this season is in question, the team knows he will leave it all out on the ice no matter what.
UMass Sends 8 Players to NHL Development Camps
Teams in the NHL are noticing the talent at UMass as well. Over the Summer eight players from the team were invited to NHL development camps. Makar (Avalanche), Ferraro (Sharks), Leonard (Sharks), and Ivan Chukarov (Sabres) were all invited as draft picks of their teams, but four other players also received undrafted invites. Those invited were Chaffee (Penguins), Philip Lagunov (Bruins), Jake McLaughlin (Blackhawks), and Farmer (Wild) who is a member of the incoming freshmen class.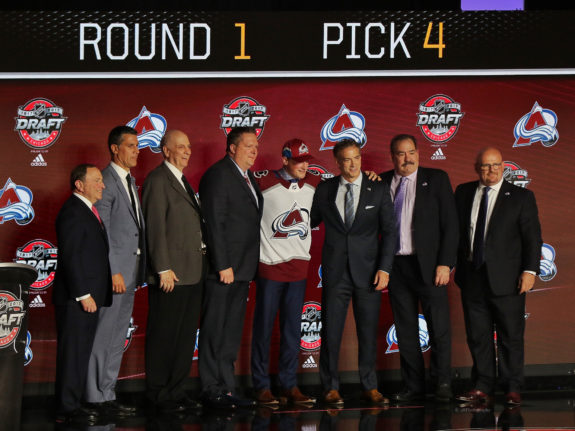 This kind of talent is what the team was lacking during the past few years. In a conference like Hockey East that has such big names as Boston University and Boston College, no team is going to be able to make a dent unless they have true top-end talent. Carvel and company have not only managed to recruit that talent but also keep them around. As long as the team continues trending upward talent will eventually be seeking UMass out themselves.
Related: Colorado Avalanche Development Camp Looks Sweet
Hockey East Better Be Ready for a New Combatant
There is no shortage of reasons for UMass fans to be excited about the upcoming hockey season. Last season the team made strides but still had a lot to work on. This season will see a more talented roster than UMass has seen in years. With Carvel at the reigns and players like Makar, Ferraro, Leonard, and Murray on the front lines Hockey East better be ready for a new competitor, this is not the pushover UMass team of the past. They have their sights set at the top of the Hockey East standings.
Mike was born and raised a big hockey fan. He is a recent Sports Management graduate from the University of Massachusetts at Amherst, and is now a writer for the Vegas Golden Knights. More of his work can be found at https://michaelmanleyahs.wixsite.com/mysite/work-samples.