It's not often an NHL team gets four days off in between games, especially over a weekend. The Winnipeg Jets have been afforded that luxury as the month of November comes to an end. They earned it, playing 15 games in the first 28 days of the month. With just five games being played at the MTS Centre in the stretch, the Jets still managed an 8-4-3 record. Key wins included 1-0 shutout victories over the New York Rangers in the first two games of the month.
The low scoring, tight games were prevalent late in the month as well. The Jets earned five of a possible six points on their three game road trip, but it ended with a bit of a heartbreaking loss to the Boston Bruins. The Jets had a 1-0 lead for 40 minutes until Milan Lucic tied the game late in the third. Michael Hutchinson looked brilliant in goal, stopping 36 of 38 shots.  Dougie Hamilton was the hero in overtime, putting a shot high over Hutchinson's left shoulder to end the game.
So, how will the team respond after the break and what will December bring?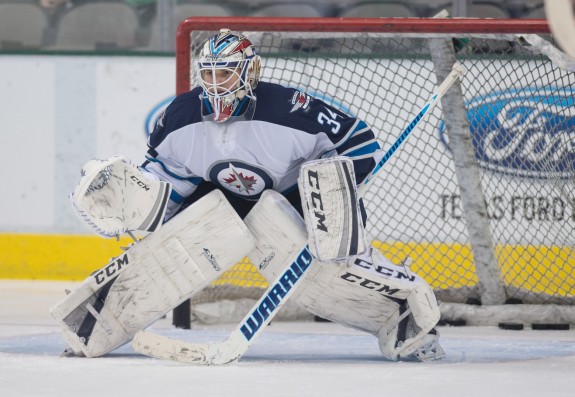 More Hutchinson?
The 24-year-old has incredible stats. He's 4-1-2 with a .947 save percentage and 1.56 goals-against average both of which rank first in the NHL. The only problem is it's a very small sample size. His first and only regulation loss came on October 12 against the Los Angeles Kings. Since then he hasn't allowed more than two goals in a game. In fact, he's been scored on just seven times, four times at even strength and three on the power play.
Hutchinson is proving he deserves more starts, but how many more? Is this simply a case of a backup thriving when called upon in an excellent defensive system? Ben Scrivens and now Martin Jones have accomplished similar feats with the Kings. Time will tell if that's true and how many starts he gets will obviously depend heavily on how Ondrej Pavelec performs. The Czech netminder was stellar for a few weeks and quieted his critics. Notice I didn't say silenced. Unfortunately, that didn't last long as he's lost or been chased in three of his last four games.
Overall he's be very good, certainly better than previous years. Pavelec sits 10th in save percentage (.919) and GAA (2.23) and is 17th in wins with eight (8-8-2).
#NHLJets Ondrej Pavelec sits 11th in SV% and 15th in GAA (ahead of Miller, Bishop, Bernier, Lundqvist and several other number ones)

— New Norway Rick (@ricktlu) November 29, 2014
How ironic would it be if #NHLJets Ondrej Pavelec lost his job because his good play wasn't good enough…

— Jim Toth (@JimTothSports) November 29, 2014
 Dependent on Defence
The Jets score 2.00 goals per game the 29th most in the NHL. Take that, Buffalo. Their goals against per game is 2.16 and that's the fourth best of any team in the NHL. Only the Blues, Blackhawks and Predators rank ahead of them. Yeah, that's right, three Central Division teams. The road to the playoffs isn't easy.
Looking at Winnipeg's roster and individual players' statistics one shouldn't be surprised at the lack of offence from Mark Scheifele, who has just three goals and seven assists for 10 points in 25 games. Dustin Byfuglien has just nine points and the normally offensively-gifted blueliners Jacob Trouba and Tobias Enstrom have seven and nine points, respectively. These players must be judged on how they are performing in this defence-first system, where they take fewer chances, turn the puck over less and play effectively without the puck in the neutral zone. Traits that weren't associated with the Jets in the past.
The problem is whether they can keep this up and more specifically, can they beat the teams that are just as good or better at keeping the puck out. Meaning those stingy division rivals. It may come down to goaltending. In a 1-0 game, can Pavelec or Hutchinson make the tough, improbable saves in the final five minutes to secure a shutout win? Can they do what Hutch couldn't against the Bruins and take a 1-1 contest into the shootout?
It's asking a lot, but asking for the playoffs in Winnipeg means asking a ton of your goaltenders.
A Cold December?
The Jets will play 13 games in December, nine against Western Conference opponents and two of their East opponents are the Bruins and Islanders. It's a tough schedule. The positive? Nine of those games will be played at the MTS Centre. Yes, the Jets have a better road record, as they're a mere 4-5-1 at home. An opportunity has presented itself and you can imagine the coaching staff has high expectations for those home games. Winning at least six of those games is an realistic goal and probably necessary if they're going to keep pace in the West heading into 2015. As for the playoffs, well, Martin Biron has made an interesting promise.
To all @NHLJets fans, if the Jets make the playoffs, I'll pick them to go to the finals and wear a Jets shirt on the playoffs preview.

— Martin Biron (@martybiron43) November 29, 2014
Next up: The dreadful Oilers come to Winnipeg on Wednesday.
Eric is a postgraduate public relations student at Humber College. Prior to that he obtained a bachelor's degree in communication studies from the University of Windsor. He covers the Winnipeg Jets for The Hockey Writers and is a featured columnist for Bleacher Report.