Everyone knew the Winnipeg Jets would face plenty of adversity this season, both related to COVID-19 and not.
But who knew they'd face so much, and so early?
Jets' Personnel Problems Pervade
Just one game into their 56-game-in-114-day regular season, the Jets will be down as many as four players for their Monday-night tilt with the Toronto Maple Leafs, and at least two for the duration of their three-game road swing that also sees them face the Ottawa Senators on Tuesday and Thursday nights.
Up front, the Jets may be missing their two most dynamic players in Patrik Laine and Nikolaj Ehlers when they take on Auston Matthews, Mitch Marner, William Nylander, and the rest of the high-octane Maple Leafs.
Ehlers didn't practice Sunday, but head coach Paul Maurice confirmed the Dane is not in COVID protocol. Ehlers had a sore throat last week, which led to a brief COVID Protocol Related Absence (CPRA) prior to the home opener, but was cleared in time to play in Thursday's tilt against the Calgary Flames. He skated 17:31 and recorded an assist.
Patrik Laine, meanwhile, left practice Sunday, with Maurice saying "he wasn't able to warm up right during practice." A Winnipeg Sun photographer captured of photo of Laine grimacing and pointing at his hip. The Finnish sniper lit it up in his first showing of the final season of his two-year bridge contract Thursday, scoring two goals — including the overtime game winner — and adding an assist.
On the blue line, Tucker Poolman has become the second Jet to be sidelined with a CPRA this season and won't make the road trip. Whatever is happening with Poolman is the reason Maurice chose to cancel Saturday's practice out of an abundance of caution.
While being placed in CPRA does not mean Poolman has COVID, it does mean the soonest he'll play again is Friday when the Jets return home. Poolman opened the season paired with Josh Morrissey and skated 18:03.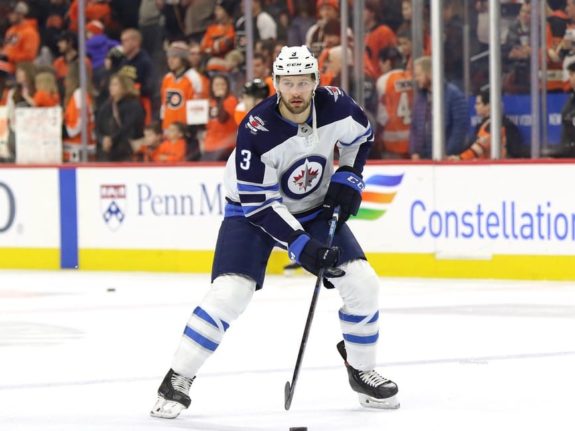 Dylan DeMelo also won't make the road trip, although it's for a happier reason: he's a new dad! He and his wife welcomed a baby into the world last week (they're both doing fine, Maurice reported) and he's going to stay at home to help out.
Taxi Squad Members Will Have to Step Up
Up front, Kristian Vesalainen is the most likely to draw in if Ehlers can't play, while either David Gustafsson or CJ Suess (who was added to the taxi squad Sunday along with defenseman Nelson Nogier) would draw in for Laine if he can't go. How Maurice will deploy them will have to be seen. Mathieu Perreault, who began the season on the taxi squad for salary-cap reasons, will also continue to play.
On the back end, Maurice wouldn't get into specifics about defensive pairings, but it's a safe bet that Sami Niku will continue to play with Nathan Beaulieu in DeMelo's stead.
Poolman's absence on the right side means either Logan Stanley or Dylan Samberg will make their NHL debut. It's this author's opinion that going with Samberg, one of the Jets' two top defensive prospects and someone the organization has "a lot of faith in" already, over Stanley is a no-brainer.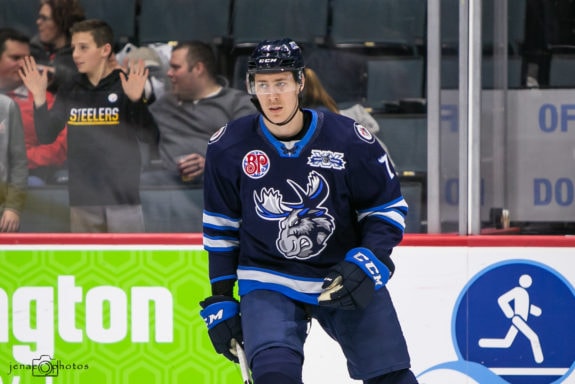 Jets No Strangers to Adversity
Luckily, the Jets know how to handle adversity. Last season, they faced their fair share, with many freak injuries and other extenuating circumstances making it look like they'd broken a mirror or maybe walked under a ladder. The team became extremely tight-knit as a result and qualified for the post season against the odds and despite a lot of their games being far less than perfect.
Related: Fire Forged Jets Soaring During Stretch Run
However, the three-game road trip this week won't be easy. The Maple Leafs — although they have trouble keeping pucks out of their own net — can score in bunches. The Senators, 1-1 so far, have shown they're no "free space" on the North Division bingo card, beating the Maple Leafs 5-3 on Friday and falling by only one goal on Saturday.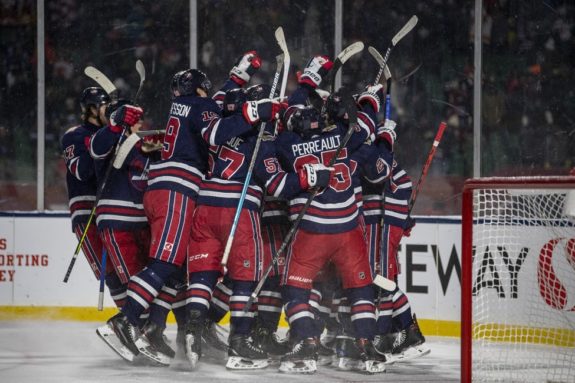 Perhaps it's better the Jets face these types of problems early on, if only to see if they're made of similar stuff to last year's earnest and hard-working squad, which made "staying in the fight" a rallying cry and a big part of their collective identity.
If they are, they'll be alright.
---
---