How dare they? The Winnipeg Jets have done it again. For the third consecutive time this season they have defeated the Chicago Blackhawks. In regulation. At the United Center in Chicago. These are impressive, important wins and to many they are surprising.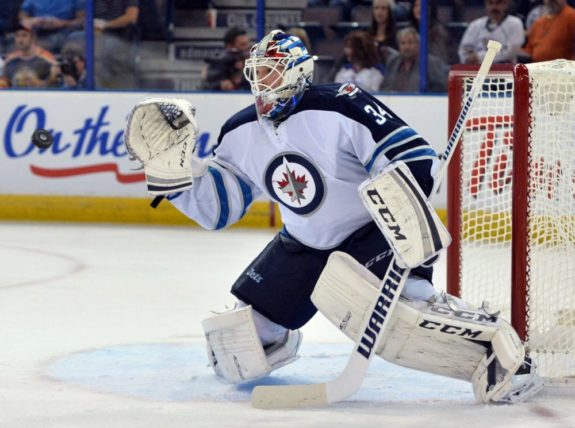 3 Wins in Chicago
How have they done it? Well, the first game was a physical battle with the Jets outhitting the Blackhawks 26-16 and blocking 30 shots to the Blackhawks' nine. Michael Frolik scored 20 seconds in and 59 minutes later Michael Hutchinson had made 33 saves to secure the shutout.
The second contest came just before Christmas.  Again, the Jets faced tons of pressure as they were outshot 39-26.  Mathieu Perreault scored two goals and Blake Wheeler and Andrew Ladd had two points each as the Jets won 5-1. And, by the way, it was Hutchinson in goal putting on a remarkable 38-save performance. The loss ended an eight-game home winning streak for Chicago.
The third game, played Friday evening, saw the Jets go down early. Brandon Saad scored less than a minute in, before Zach Bogosian tied it up 10 minutes later. Meanwhile, for the third time it was Hutchinson between the pipes making timely saves and facing a heavy workload overall with 33 shots against. He would allow one more goal, but it was back-to-back goals 28 seconds apart midway through the third that gave the Jets the edge they needed. They won 4-2.
Paul Maurice had this to say after the game.
"It was a game like the way we play. It wasn't all pretty, but we fought for every puck, we battled, we blocked shots… We play on energy and I can't imagine (the players) had any. Just great leadership in the locker room. They got themselves up and ready to play."
Hutchinson was the constant factor in all three games. He's looked confident in what is one of the toughest buildings in the NHL to play in. Tough, physical defence against some of the league's top stars has helped limit the number of quality scoring chances against, while goals from unlikely sources such as Chris Thorburn have gone a long way.
Looking Back on the First Half
The Jets sit fifth overall in the Western Conference, just two points behind the Blackhawks and St. Louis Blues, although both teams have two games in hand. The Nashville Predators are eight points up on Winnipeg and have only played 43 games, compared to 46 for the Jets.
Few could have predicted the Predators would be in this position, but almost as surprising is the Jets ascension into playoff contention with a roster nearly identical to that of the past couple of years. That said, while the roster looks the same, the lineup has often varied. The injury report has been long and yet the Jets won often in the first half of the 2014-15 season.
Here are a few thoughts, facts and stats on the first half.
1. The Jets are tied with the Washington Capitals for 10th overall in the NHL with 56 points (24-14-8). However, their 21 regulation and overtime wins ranks 15th in the league.
2. Is Ondrej Pavelec proving you wrong or right? Few fan bases have deliberated over the legitimacy of their starting goaltender more than the Jets in recent years. Pavelec has been inconsistent this season. He's had a number of stellar performances, including Thursday's 2-1 win over Dallas. But, he's also had many dreadful showings.
Overall he ranks: T-23rd save percentage (.913), T-21st goals-against average (2.46), T-21st shutouts (one), 26th shots against (746).
An impressive 46 saves for Ondrej Pavelec, but none more insane than these. http://t.co/16OgCZ1Qun

— NHL (@NHL) January 16, 2015
3. More bang for your buck. One of the more underrated signings of the offseason is turning out to be that of Mathieu Perreault. The Jets signed him to a three-year, $9 million deal. So far, he has 15 goals and 14 assists for 29 points in 45 games. That's the 70th most points in the league and fifth most on the Jets. Of those 29 points, 23 have come in his past 21 games.
4. Defence down, Ben Chiarot  gets a shot. Chiarot has taken advantage of his opportunity. The 23-year-old blueliner has appeared in 21 games so far and hasn't looked out of place. He's racked up five points, 40 hits, 41 blocked shots and is averaging nearly 20 minutes per game in ice time. Maurice trusts him and so should you.
#NHLJets Ben Chiarot is a big boy and he uses his size perfectly how he plays angles. Impressive for a rookie #Ducks

— Jim Toth (@JimTothSports) January 12, 2015
5. Shorthanded advantage. The Jets have killed off a solid 83.6 percent of their penalties. That ranks ninth in the NHL. Not bad considering many describe their goaltending as suspect. But, what's more exciting is their seven shorthanded goals which is only matched by the New York Islanders. Michael Frolik leads the way with three shorthanded markers.
6. Hits and misses. The Jets rank third in the NHL with 1,350 hits behind only the Toronto Maple Leafs and Los Angeles Kings. Make what you want of that stat and note that six of the top 10 teams in hits are in playoff position. What are the misses? The misses come in the faceoff circle where Winnipeg is winning just 48.1 percent of its draws.
In Closing
Overall it's been a superb season so far, when you compare reality versus expectations. That's both preseason expectations and those in-season, specifically when the team was without its top four defensemen. Paul Maurice has found a way to get the most out of this team, despite injuries and despite its struggles in certain areas. They keep winning and they are doing so against some of the league's best, such as the Blackhawks.
So, what are expectations now? Well, holding down the first wild-card spot in mid-January means many fans will expect to see at least a couple of playoff games in Manitoba come April.