The Devils roster is getting so inundated with injuries that the bumps, breaks, and bruises are beginning to overshadow the actual play on the ice. In fact, Peter DeBoer spends so much time talking about the team's various maladies as of late that it seems his title could just as easily be "M.D." as it is "Head Coach."
Martin Brodeur is expected to miss his fourth straight game with a sore shoulder, and forward Eric Boulton did not skate today because of a bruised right hand, courtesy of Doug Murray's face: http://www.hockeyfights.com/fights/105941 .
With Travis Zajac recovering from his torn Achilles tendon, and Jacob Josefson expected to miss three to four months with a broken clavicle, the Devils center position has been hit especially hard.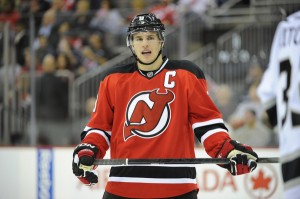 DeBoer decided to take a slightly unorthodox step today, placing  left winger Zach Parise at center during the team's morning skate in Los Angeles. Parise, who the Devils originally drafted as a center, last played the position during the 2007-2008 season. He skated on a line with Ilya Kovalchuk and Nick Palmieri this morning. Although he was surprised by the move, the Devils Captain took it in stride, telling the Newark Star-Ledger:
"They didn't say anything to me about it before, so I didn't know it was happening. With Josefson going down and Travis (Zajac) being out, they needed some help up the middle. I don't know how many guys in here played center before so they didn't have much to choose from."
With their two top line centers injured for the foreseeable future, Patrik Elias was also skating at the center position, along with Petr Sykora and Dainius Zubrus. Center Adam Henrique, recently recalled from Albany, was unimpressive in Saturday night's loss to Pittsburgh, registering one shot and a minus one rating in 15:24 on the ice. He partnered with Mattias Tedenby and David Clarkson on the third line this morning.
Moving forward, it's always a possibility that GM Lou Lamoriello will acquire a center, but for now, Pete DeBoer will have to do his best "Hawkeye Pierce" impersonation and keep this team of walking wounded competitive in the tough Atlantic Division.
DEVILS NOTES
– Eric Boulton had an MRI on his bruised right hand and is considered day-to-day.
– Brodeur is traveling with the team, but isn't likely to play on this road trip, which concludes Saturday in Dallas.