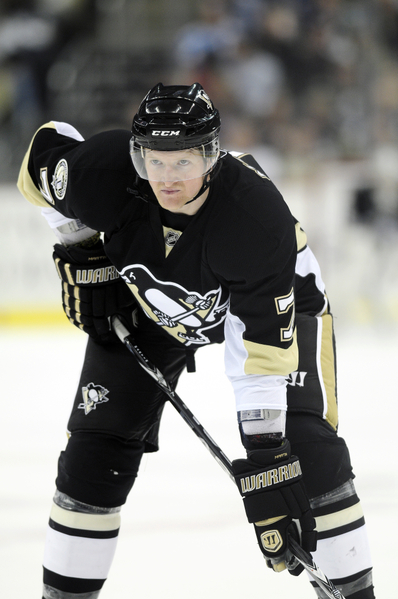 Contributors come from far and wide in fantasy hockey. Some you may know and some you should know. Victoria Matiash of ESPN is one you definitely should know. In our last column for the "Women In Fantasy Hockey" series, here was our Q&A.
===================================
1. How did you get started at ESPN?
Serendipity and excellent fortune. Current colleague (and friend) Sean Allen brought me on board the now-defunct fantasy website, talendtedmrroto.com, back in 2005. While the NHL was my main focus, I also tackled a bit of football and soccer. Then ESPN acquired the Talented Mr. Roto himself – Matthew Berry – and he brought several of his contributors (including yours truly) and editors along as a package deal. So, yes, I've been very, very lucky. Not only for the opportunities that have come my way – including the regular gig at NHL Rumor Central – but for the chance to work with such outstanding people.
2. What was your favorite position growing up? Was it forward, defenseman, or goalie?
As a fan, I've always appreciated defensemen the most (go figure). There's nothing like watching a world-class blueliner cap off an end-to-end rush with an unassisted goal. As a competitor myself – teen-aged and adult – I've always played left wing.
3. When compiling lists, how do you come up with your Top 75 defensemen?
Contrary to what my more candid critics might suggest, guzzling mouthfuls of whiskey while whipping darts at a sheet of names plays no part of the process. If only. Stats figure in largely, of course – as does following beat reporters and analysts committed to individual teams. They're the best collective source of inside knowledge and breaking news. Plus, I actually watch as many games as possible (my PVR gets an intense workout October to April). That's key. Statistics will only tell you so much about a player's potential – immediate and long-term.
Insight gathered through those avenues, while weighing other factors such as strength of schedule, usually provides a reasonable picture of how players stack up against one another. But there's no strict formula in looking forward week to week, if that's what you're asking.
4. What was the biggest disappointment last year on the defensive side and why?
Not the most prominent, but Kurtis Foster's name is the first to mind. After disappointing turns with the Ducks and Oilers, I honestly thought he would experience a strong resurgence with the Devils. Nope. And the last few post-trade games with the Wild were just disastrous. As a power-play performer, Foster was one of the best in the fantasy biz with Tampa Bay back in 2009-10. Now the guy doesn't even have a job (at the time of this writing). It's too bad.
5. What was the biggest surprise and how did they keep surprising you throughout the season?
Did anyone – including his biggest supporters – expect Jason Garrison to score 16 goals last season? I certainly didn't. And, to his credit, he remained a steady contributor after the surprising start. It will be interesting to monitor how Garrison reacts to increased expectation – including a nearly $4-million average annual raise – and new role with the Vancouver Canucks. The hockey press is a much different animal in Vancouver, as compared to Florida.
6. What was the one trade for a defenseman that affected the fantasy marketplace the most?
The deal sending Jack Johnson to Columbus for Jeff Carter had a tangible ripple effect for both the Los Angeles Kings and the Columbus Blue Jackets. Marek Zidlicky's fantasy value benefited eventually from the Minnesota/New Jersey trade, but that transaction took far too long to unfold – it was agonizing. The Johnson deal unleashed the greater fantasy impact on the larger number of defensemen altogether.
7. When your early 2012-13 rankings came out, I noticed Slava Voynov down at 51. How fast could be
shoot up the charts next season?
The potential is there. Scouts – pro and otherwise – have been really high on this kid for several years now. However, I'm a little concerned about the possibility of a post-Stanley Cup hangover, particularly coupled with the threat of a sophomore slump. Slava Voynov rose to the occasion in the waning months of 2011-12, but that was generally a reactive response to Jack Johnson's sudden departure. And his production dried up significantly in the postseason. How the young lad prepares himself – physically and mentally – this summer could have a big influence on his first NHL encore performance.
8. If this is really it for Chris Pronger, how is his fantasy hockey career looked at as opposed to his hockey
career?
Interesting question. Let me put it this way: any general manager – real or fantasy – would much rather have an able-bodied Chris Pronger on his/her own roster than otherwise. A consistently nasty and productive force since the mid '90s, his legacy is beyond striking. As an opposing fan, I couldn't stand the guy – but only because he was so effective at both ends of the ice. A healthy comeback would be reason to celebrate for all hockey fans.
9. Will Paul Martin ever be that top level defenseman so many thought he could be?
I don't believe so. And the intense pursuit of Ryan Suter by the Penguins this offseason suggests the club's management doesn't have much faith either. Fortunately, Ray Shero only has to deal with the inflated $5-million annual contract for three (as opposed to seven or eight) more seasons.
10. What is the one piece of advice you would give fantasy hockey GM's about the defensive crop next
season?
Don't sweat the draft too much. So many lineup changes take place in the first few weeks of the season, there's no point in lamenting over every initial selection. And that's when you want to pay the most attention – in the last few days of training camp and first four to six weeks of the regular season. Roles and responsibilities settle into place during that period. Oh, and snag Erik Karlsson if you can – ha.
======================================
As always we searched high and low for the best and brightest in the fantasy hockey world. Hopefully this series has opened a few eyes and just think next year there will be a "State Of Fantasy Hockey" roundtable. The ideas always keep coming here at The Hockey Writers so if you have one, never hesitate to ask or let us know.
Simply a hockey writer who is a jack of all trades. No question is too big or too small and in fantasy hockey there is no such thing as a stupid question. Now a proud, accredited member of the FSWA. I am also a New Jersey Devils lead writer, prospects writer, humorist, and so much more. You can find me on Twitter at @ChrisWasselDFS