After a dismal season for the  Sabres and Derek Roy, it became apparent his time in Buffalo was nearing an end. After an ugly year end interview it became a matter of when. The only hiccup was what the Sabres could get in return for Roy. Based on what the Sabres were able to get in return, the value just wasn't there. Instead of trading Roy plus valuable prospects, GM Darcy Regier played it smart and looked for a replacement through the draft.
Regier got lucky.  The perfect prospect to replace Roy fell right in his lap. Drafting 12th overall he was able to select NHL ready centreman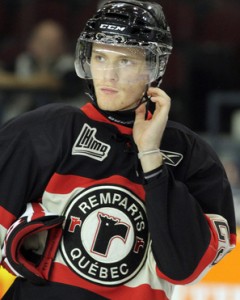 Mikhail Grigorenko. Grigorenko has drawn many comparisons to Penguins forward Evgeni Malkin and should turn out to be a better player than Roy once he develops his game. After Regier traded up for the 14th pick in the draft, he was able to select another centre in Zemgus Girgensons. If Girgensons is given the proper time to develop he should be able to put up numbers similar to Roy's if not better. Taking both Grigorenko and Girgensons set the Sabres up at the centre position for years to come.
After the first round in the draft the Sabres restocked their depth at centre. Cody Hodgson, Tyler Ennis, Derek Roy, Cody McCormick, Matt Ellis, and Luke Adam are just six of the centres who have played a game for the Sabres.  Add Grigorenko and Girgensons to that mix there are now eight capable centres. Having eight ready centres with more waiting in the AHL gave Regier a little room to play with and the option to trade Roy and be okay with a lesser return.
Had Regier "jumped the gun" and traded Roy before the draft would have necessitated giving up more key pieces to acquire a number one centre than they were willing to part with. Letting go of too much via trade would have hurt the Sabres and set them back. Instead of losing too much the Sabres didn't have to give up anything and landed two solid prospects who will no doubt help in the future.
While Steve Ott a gritty 3rd/4th line centre/winger isn't exactly what fans had in mind when using Roy as trade bait, it's a decent return that adds more character to the forwards.
Steve Ott won't score for #Sabres like Derek Roy did, but he's a polar opposite in terms of passion, snarl and follow-me leadership.

— Kevin Oklobzija (@kevinoROC1) July 2, 2012
By waiting till after the draft the Sabres were able to add two key pieces which one day will fill Roy's place in the lineup in Grigorenko and Girgensons which made him expendable in the lineup and help to build a brighter Sabres future. Since the 2004-2005 lockout the Buffalo Sabres have done a complete face lift, with Roy now gone there are only two players left on the roster from 2004 are Ryan Miller and Jason Pominville. Miller played just 18 games before the lockout, far cry from his 60 games now. Perhaps the Sabres are moving towards a youth movement. Getting rid of players who don't want to compete hard and bringing in young enthusiastic players who play with heart and passion.
Caitlin is a former goaltender who turned journalist after a few too many concussions. She's a Buffalo Sabres fan living in the hockey crazed market of Toronto. She's spent time writing with Chat Sports, Fansided and The Fourth Period. Her work has been featured on Puck Daddy, Bleacher Report, Sports Illustrated and Grantland among others.