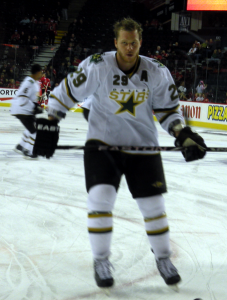 The Sabres came out swinging during day two of the NHL free agency, when they traded Derek Roy to the Dallas Stars in return for Steve Ott and Adam Pardy. Roy had been on Buffalo's trading block for quite some time, and was considered a for sure trading chip when he had a few negative comments towards Sabres' coach, Lindy Ruff, at the end of last season.
The only question was, when and who would the Sabres bring in when Roy was shipped away?
Well, the answer has finally arrived, and it is a 6'0" agitator that has proven he has the skill to be an offensive threat and that he can get under the skin of almost anyone in the league.
The 29 year-old Canadian, was drafted by the Stars 25th overall, in the '00 draft and has recorded 85 goals and 220 points in 556 games played, but has amassed an astounding 1,170 PIMS in those games.
Ott is a versatile player, who is comfortable playing both wing and center, but will likely be used in the middle when he comes to Buffalo.  Buffalo has addressed their hole at center this off-season, drafting bright young centers, Mikhail Grigorenko and Zemgus Girgensons, which will pay off in the long run. But the addition of Ott will have an immediate impact in Buffalo.
An impact that Ott seems ready to embrace.
Now to my new Team Buffalo, I can't wait to Rock the East.

— Steve Ott (@otter2nine) July 2, 2012
Last season, Ott boasted a 55.5% faceoff win percentage; he took 1,011 face-offs, a stat that Sabres fans should be drooling over. Only Roy took more than 1,000 face-offs last season, 1,329 to be exact, and won only 50.6% of those draws. Buffalo's number two guy, Cody Hodgson, only took 710 face-offs and won 46.3%, a steep drop.
Ott will bring a complete game to the Sabres line-up. He will likely put up around 40 points next season and hit everything that moves, Ott had the fourth highest hit total last season with 278 hits in 74 games played. The Sabres already had enforcer Patrick Kaleta in their line-up, and with the addition of Ott, the Sabres could be one of the grittier teams in the league next season, a big difference from seasons past.
Ott has two years left in his contract, with a cap hit of $2.9 million each year, compared to Roy's $4 million cap hit for the one year remaining on his contract; the Sabres may have grabbed a bargain.
Packaged with Ott, was big 6'4" defenseman, Adam Pardy, who has a $2 million cap hit on the final year of his contract next season. Pardy has only played in 183 games in the NHL over his four-year career and will likely be a Rochester American if he makes it to the regular season.
This added depth to the back-end could keep the Sabres active in the trade front of the free agency, which could result in Pardy getting shipped out of Buffalo just as fast as he got there.
But for now, with the additions of Ott, Pardy and John Scott, the Sabres have become much bigger and nasty team, a good medicine for a team that was all too easy to play against last season.