While most attention in Buffalo Sabres-land has turned to who the team will pick with the second overall selection at the NHL Draft, June 27-28 in Philadelphia, many forget that some Sabres' players are still in action playing for their countries at the IIHF World Hockey Championships in Belarus.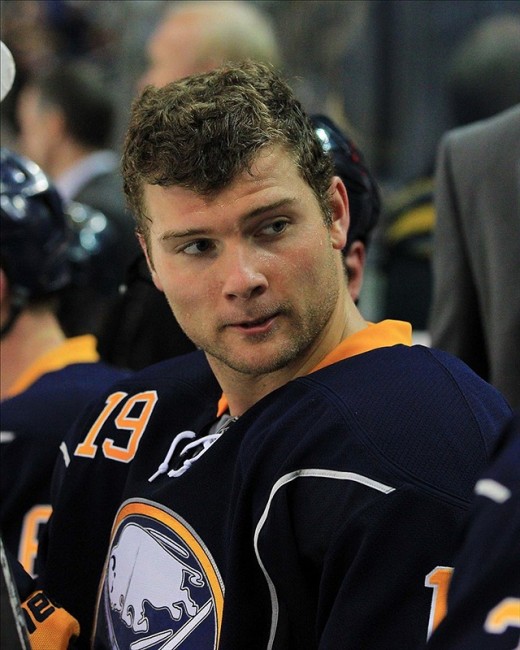 The competition began on May 9 and wraps up with the gold-medal game on May 25. The Sabres know all too well how this event can help in a player's development after seeing goaltender Jhonas Enroth lead Sweden to the gold medal at the event in 2013.
This year, there are four Sabres players participating along with the head coach Ted Nolan who continues his role behind the Team Latvia bench. Tyler Myers and Cody Hodgson are suiting up for Canada, Jake McCabe is manning the Americans blue line and Zemgus Girgensons joins his NHL coach with Team Latvia.
Cody Hodgson
The breakout Sabres player, at least after the round robin, has to be Hodgson. The 24-year-old has spent time on the wing during the competition but it hasn't seemed to affect him, perhaps even increasing his value to the Sabres by showing some versatility. Hodgson has been scoring well in the tournament with six goals and two assists through seven games. He sits 10th in points and tied for second in goals.
Hodgson's performance is a very good sign for the Sabres. Hodgson has been criticized for not being good enough defensively and if he could continue to show progress on the wing, a position that doesn't demand as much defensively as centre, it could help to create a role for him as the team moves forward. It could also solve the problem the team could encounter about whether to move on from either him or Tyler Ennis after they presumably take a centre in the upcoming draft. In the end, Hodgson's performance at the event only opens up more options for his NHL team.
Tyler Myers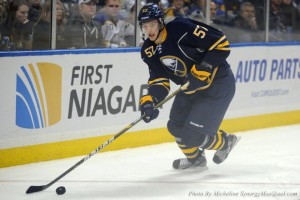 Ok who out there had Myers ever wearing the maple leaf again? If your hand is up, you are either lying or related to him. The fact is that it was Myers' play down the stretch that got him back on the Hockey Canada radar.
Myers is averaging close to 20 minutes per game (19:36) through seven games at the tournament. More importantly, he is a plus player at +2. In 2013-14, Myers was a -26 so the fact that he is playing with a good team and being on ice when it counts should do numbers for his confidence, which has taken a hit in recent years. It also doesn't hurt that he has chipped in a pair of assists. If Myers can use this opportunity to rebuild his confidence he could finally start reaching his potential as a dominant defender in the league. He has the tools and maybe after a good showing at the World's he can start to put it together.
Canada plays Finland in the quarter-finals May 22.
Jake McCabe
McCabe only saw seven appearances with the Sabres last season, after joining the team from the University of Wisconsin, but as the team continues to transition and rebuild he could be another key piece to what looks like it will eventually be a very dominant blue line. In the mean time, it doesn't hurt that McCabe is getting a chance to test himself against strong players and in new situations. He has appeared in all seven of the United States' round robin games averaging 11:41 in ice time. He doesn't have any points and is a -2 but it is more about the experience that the Sabres should be focusing on. At just 20-years of age, to have a chance to play against the talent at the tournament is a great opportunity for McCabe. Hopefully he can take some of his experiences back and use them to help the blue line as they move forward.
The U.S. takes on the Czech Republic in the quarter-finals.
Zemgus Girgensons
After helping Latvia pull off their biggest international win at the 2014 Sochi Winter Olympics, Girgensons and the Latvians were hoping for more magic at the World's. Unfortunately, it was not meant to be. The team did manage to win a trio of round robin games, but fell just short of qualifying for the medal round. Girgensons appeared in six of seven games and scored a pair of goals off of 12 shots. The reason he only appeared in six games was because he was assessed a one-game suspension for a spearing incident in the fifth game of the tournament against Russia.
It seems as though all Sabres fans are waiting for that breakout performance but with just another two points, the same as his Sochi total, Girgensons hasn't hit it yet. The Sabres are very excited about Girgensons, who is still just 20-years-old. His time will come where he is able to achieve his potential but it just isn't there yet. Still, the fact that he did play at the World's is another good step in his development.
Even though there is still more tournament to be played, the fact that the Sabres have had representation can only be viewed as a plus for the organization. If their players get just the smallest things out of the tournament that they can bring back to their NHL game, than the organization has to be pleased with the showing.