The World Cup of Hockey is returning in 2016 with a bit of a twist. Not only will the tournament be held in one location (Toronto), a pair of hybrid All-Star teams will join the Big Six to round out participation. But while the goal of resuscitating the international tournament last played in 2004 may be predicated on growth, is there a hidden agenda? Could the World Cup of Hockey become an Olympic replacement?
Modified Format
The World Cup of Hockey will remain an eight-team tournament, while featuring a more inclusive flavor in 2016. Instead of deploying eight teams representing specific countries, the Big Six – Canada, USA, Czech Republic, Russia, Finland, and Sweeden – will be joined by a European team comprised of countrymen from dwellings not listed, along with a North American under-23 All-Star team.
"Each team will be composed of 23 players, 20 skaters and three goaltenders. Again, all games will be played at the Air Canada Center startingSeptember 17th, and if the final goes the distance, the last championship game will be played on Saturday, October 1st," NHL Commissioner Gary Bettman announced during last week's NHL All-Star Weekend in Columbus.
The return of the World Cup of Hockey strikes a close resemblance to the World Baseball Classic, although the two tournaments have certain differences.
Both were modeled after the Fifa World Cup, despite baseball's four-year gap between each WBC, while both tournaments feature stars from each respective sport's top leagues – the NHL and MLB.
Both tournaments were heavily influenced by the NHL and MLB, with the NHL Players' Association contributing to the original birth of the Canada Cup (later changed to the World Cup of Hockey) in 1976, and MLB proposing the WBC to the International Baseball Federation (IBAF) in 2005.
Both tournaments now involve NHL officials, and MLB umpires.
"The World Cup of Hockey 2016 will be played on NHL ice in accordance with NHL rules and will be officiated by NHL officials," added Bettman. "The NHL and the NHLPA retain and are responsible for all commercial rights associated with the World Cup, including with respect to pre-tournament games and training camps."
The future vision, of course, is to add a play-in tournament in 2019 for several European teams to play for the final two tournament spots, currently held down by the pan-European team, and the under-23 All-Star team.
If plans go smoothly, the Ryder Cup-style tournament would be played in 2018, followed by another World Cup in 2020. In 2019, there would be a play-in tournament for European teams to compete to be the seventh and eighth teams in the 2020 World Cup. The hope would be that other countries would be strong enough to ensure a fully competitive tournament by then. — Kevin Allen, USA Today
But with the goal of rolling out a best-of series in 2018 between a North American All-Star team against a European squad comprised in the same manner, where does that leave the NHL's Winter Olympic status in 2018?
"We have had no discussions and made no decision, and this decision has no bearing on, whether we will return to the next Olympics. Something we still have to discuss," said Bettman.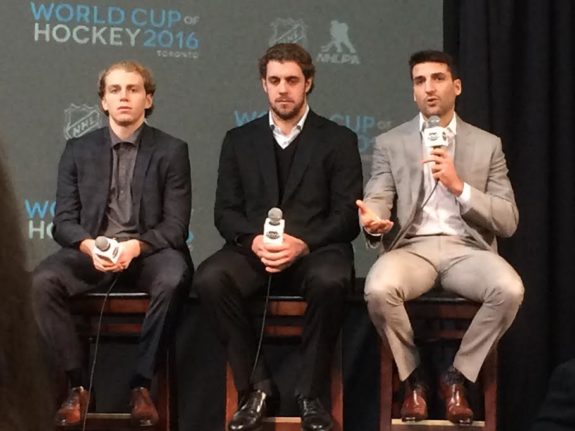 NHL Participation
Unlike the Olympics, the World Cup of Hockey was originally created to involve NHL player participation. In fact, Olympic hockey would go from 1920 to 1998 as an amateur event. And although the current crop of NHL stars are quite fond of skating in Olympic competition, they're equally as excited about the rebirth of the World Cup of Hockey.
"Well, I think the countries that I guess were left out or are potential to be eligible to make Team Europe, I think we have a lot of good players from Switzerland, Slovakia, Denmark, Norway, you name it," said Anze Kopitar of the Los Angeles Kings, who was born in Slovenia. "I think it's going to be competitive.
"I think to start it might feel a little bit weird just because you're bringing everybody together, but I guess one similar thing would be in golf when they bring together the Ryder Cup team, Team Europe. I think we can kind of draw on that maybe, and like I said before, the guys are always professional, and we're competitors, and it will be a hard tournament."
While NHL players look forward to the World Cup of Hockey, though, getting them on board with nixing the NHL's presence in the Winter Olympics remains to be a tough sell.
"Well, it's definitely going to be something special, something that every — for myself as a Canadian, everyone would want to be a part of, and I don't know if it can necessarily replace the Olympics," said Bruins forward Patrice Bergeron. "I had two great experiences in Sochi and Vancouver, and that was something that definitely I'll never forget. I can't really say that it's going to replace it, but it's definitely going to be something very special for us as players to be part of. Definitely it's going to be competitive, and for fans it's going to be something very exciting, as well."
"Yeah, I'd have to echo that. I agree," added Chicago's Patrick Kane. "I think every time you get a chance to pull on your nation's jersey, it's just another opportunity for us to do that. Like Patrice said, I think we all enjoy playing in the Olympics, and that's probably the biggest stage for any type of athletic event, and then you can add this World Cup, and that can be maybe the biggest stage for a hockey international tournament. I think you kind of get the best of both worlds."
It's difficult to blame either side when it comes to placing NHL players in the Olympics. While the players compete on a world stage, representing their home countries, the league is forced to go into a two-week hiatus, freezing its ability to maximize profits it'd otherwise capitalize on.
"There have always been a lot of issues [around the Olympics], including stopping the season for 17 days," said Bettman via Alexandra Wolfe of the Wall Street Journal. "The Olympics are very proprietary about letting others promote and market what's going on, so we shut down for 17 days, and they don't let us do a whole lot in return for giving our players to them. We don't get compensated, and we've never looked for compensation."
Unlike the NHL, MLB doesn't face the challenge of losing their ball players to Olympic play. Before the sport was dropped from Olympic competition in 2008, the league refused to place their season on hold; and from a business standpoint, can you really blame them?
Fans and players alike love NHL participation in the Olympics. It's exciting, it's entertaining, and it provides a unique subplot to the seasonal storylines that are already placed on pause. The World Cup of Hockey appears to be the solution for allowing the league's players and audience to have their cake and eat it too.
The timing and format appear to be the first step in eliminating NHL participation in the Olympics. And if all goes well, we'll all be just fine with that.
Andy is a contributor for The Hockey Writers, covering the Philadelphia Flyers. He holds a Bachelor's Degree in Communications from Walsh University. He enjoys spending time with his family, golfing, and reading. He is married with a daughter. You can follow Andy on Twitter @ADudones.