Taylor Hall was Traded. It Actually Happened
It's too soon to make a judgement. Adam Larsson is the right-handed defenceman the Oilers desperately needed. He's only 23 years-old, a former fourth overall pick. He signed a six-year contract in 2015, and costs just over $4 million per season. He may end up being a perfect fit in Edmonton. He moves the puck well, he's a physical player, and is a classic shutdown d-man. He plays big minutes and certainly has the potential to be a top-pairing guy. Larsson really is what the Oilers need. I just don't like the cost he came at.
Taylor Hall is a top-five left winger in the NHL. He is an elite talent. There was talk about Montreal acquiring him for P.K Subban, a Norris Trophy winner, and one of the better defenders in the league. You could argue that Hall was the Oilers second best player after Connor McDavid. If he was to be moved, it would have to be for a legitimate number one defenceman, like a Subban, or Oliver Ekman-Larsson. Well the Oilers got a Larsson, all right. Just not the right one.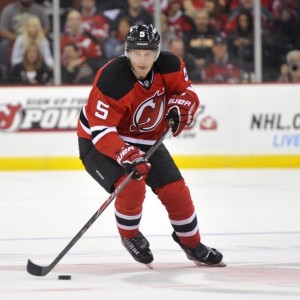 The unfortunate thing for Adam Larsson, is that he'll forever be known as the guy traded for Taylor Hall. He may go on to have a fine career as an Oiler, but the weight of expectation on this guy will be immense. It's not his fault he was the player coming back in the deal, but he's going to wear this for the rest of his hockey life. As for Hall, this doesn't necessarily mean the Oilers value other players more than him. I would imagine guys like Jordan Eberle and Ryan Nugent-Hopkins were being shopped too. But you need two to tango, and Hall was the more coveted guy.
At the end of the day, I'm surprised there wasn't a better offer on the table for a player of Hall's caliber. And if Twitter was any indication, maybe there was, but it seems as though Peter Chiarelli had his sights set on Larsson. Was there trouble in the room, as we've heard so many times? At this point we don't know the answer, but as I've said many times before, Hall has been able to co-exist extremely well for team Canada, and win gold medals, so all of that talk is likely exaggerated.
The Oilers haven't made the playoffs in 10 years. Hall has been part of the organization since 2010, and they've done nothing with him. But it's hardly his fault. The team has done a dreadful job of surrounding their young talent with the right pieces, they've been terrible at asset management, and they allowed the management of a losing culture to stay around far too long. Hall has had his injury trouble and tough times, but I just have a hard time understanding why he's the one to take the fall, and a for a player way below his talent level.
When Peter Chiarelli was the GM of the Boston Bruins, he traded Tyler Seguin for a package that wasn't even close to being worth it. I thought he learned from that mistake. But clearly, he felt that Hall was expendable (the shocking drafting of Jesse Puljujarvi likely expedited that), and he thinks that Larsson is going to make them better. I would venture to say he's better than most of the defenceman they already have, maybe all, though I don't know what Darnell Nurse and/or Oscar Klefbom will become.
It took a while for Larsson to find his footing in the NHL, but he's taken a lot strides, in particular this past season. Even still, it's tough to stomach this deal for Oiler fans. Taylor Hall is a proven commodity, and Larsson, well we don't know exactly what he can be, especially on a weaker Edmonton team. I really hope he's great. I hope he becomes that top defenceman that he was projected to be when the Devils drafted him, and the Oilers obviously think he can be.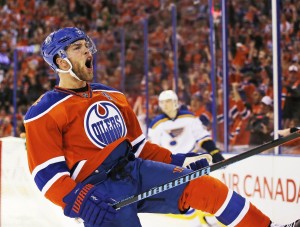 There's a chance Milan Lucic will sign with the Oilers. He isn't nearly as skilled as Hall, but he plays the same position, and he brings a completely different game, one that the team feels they need. He shouldn't be seen as a replacement, but if he does sign in Edmonton, it would feel that way. But that isn't to say the Oilers like Lucic better than Hall. The reality is that Chiarelli needed a particular defenceman, and he wasn't afraid to make a bold move to get one. It doesn't mean they're done. It doesn't mean that in 10 years time everyone will still hate this trade.
Right now, as it stands, the one-for-one deal of Taylor Hall for Adam Larsson is a loss for the Oilers. It makes them better in one area, but worse in another. I don't know how Hall couldn't bring in a superior piece. Maybe none were available (as we learn that the Habs traded P.K Subban to Nashvlle for Shea Weber). They might have a huge day in free agency and make the fans feel better. But losing your second best player for a defenceman who may not even be considered in the top-30 in the league is a hard pill to swallow.
Peter Chiarelli on trading Taylor Hall: "This is the price you have to pay". And a hefty price it was.