Despite only having a combined 58 total games in the NHL under their belts, there are already expectations…high expectations for the progress of Reid Boucher (34 games) & Stefan Matteau (24 games) as they head into the summer ahead of the New Jersey Devils 2015-16 season. The team desperately needs scoring help and the two youngsters may have even more pressure upon them depending on if GM Lou Lamoriello is able to bring in outside scoring help via trade, free agency or the NHL Draft.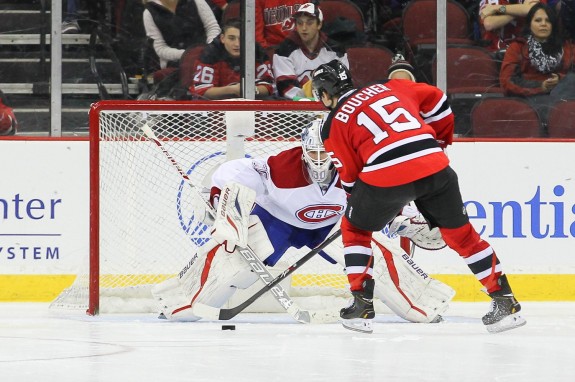 The GM-turned interim coach got a close up view of how two of his best prospects handle themselves in nightly game situations during the last few weeks of the season from behind the bench. "They're very quiet (on the bench), they're concentrating; you can tell they don't want to make any mistakes," said Lamoriello. "What we want them to do is just go play, not to worry about making mistakes. They're both very detail oriented."
There is even the outside possibility of Joseph Blandisi joining them as young guns with the Devils next season (can you say kid line?), but regarding Boucher and Matteau (both 21-years-old) their teammate Patrik Elias had some high praise for the maturing young men. "I really like the way Motts played in training camp," he said of Matteau. "He's hard to play against. I played alongside him a few times — he played hard; he played tough, good speed.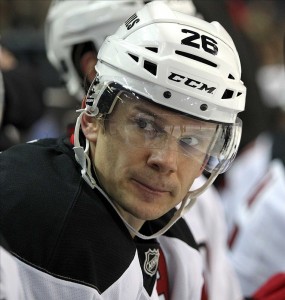 Elias was impressed the way he played against a top NHL team also, "Tonight (against Montreal) he got a good goal and made a couple of great moves (and he made) good decisions. I like the way he's been playing this year. For Boosh, he's a goal scorer so he has to be around the net and get into the spots where he can get those opportunities."
Both players seem a bit more mature — just in their mannerisms, their interviews, they're not as wide-eyed or enthusiastic following games anymore. Which is not a bad thing; at all, it seems they are learning the Devils way already. When The Hockey Writers asked Boucher about his first goal of the season after the game against the Habs he responded, "I felt like I didn't have a good first (period), but as the game went on I felt better and better" When we asked if it was special to get his first of the season: "Oh definitely; it feels nice. But it was a good team win and Keith (Kinkaid) stood on his head tonight."
First career goal for Reid Boucher, like a true goal scorer he finds an open spot:
Matteau who also scored in the same game, was equally able to downplay his efforts; at first. "It's always a good feeling (to score goals) but most importantly we got the win," he said like a ten-year veteran. "It's definitely a boost (to your confidence) when you score at this level," he added. "(But) it's got to be every night, my physical play; tonight I thought I did a good job at it."
"I think the way they carry themselves in the locker room, they've matured with their years in Albany; I know I did," explained Kinkaid to THW. "You just have to learn the ropes of being a pro, I think they are the way they carry themselves here. They never give up on plays, they're hard working and they've had a few good games up here already — they're really earning their keep."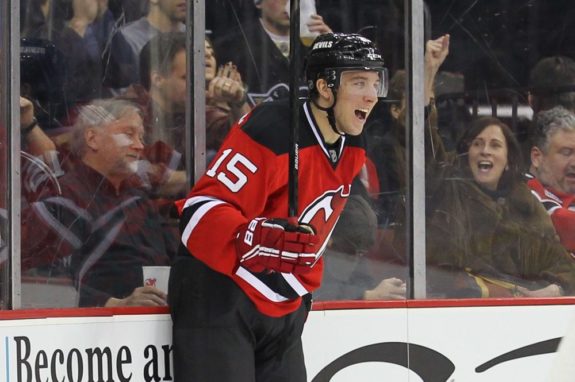 These two aren't all business though; they are still just 21 and like to have a little bit of fun, which comes out here and there. When THW asked Boucher about he and his buddy scoring in the same game, he smiled and said, "Stef and I are good friends and it's nice to see him (also) succeed; I tried to follow up his act."
The reality of the situation is that the two of them likely wouldn't have been in New Jersey at all this season if players like Michael Ryder, Martin Havlat or Damien Brunner had lived up to their scoring potential (or contracts). But here they are, and their older teammates are taking notice. "They were good tonight; they were both good, it's nice to see them get on the scoreboard," said the team's leading goal scorer Mike Cammalleri. "It's a result of some good stuff and hard work. I like Matteau's physicality too."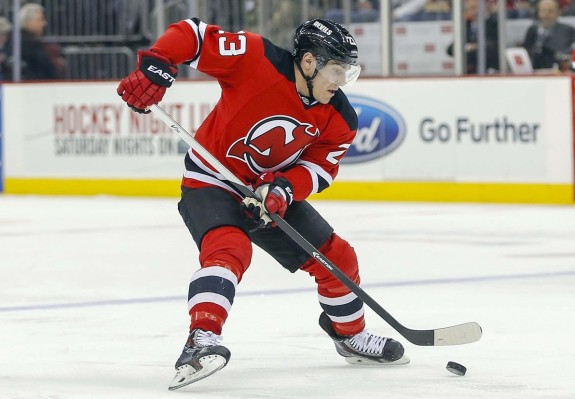 "Because of the situation that we are in, these two are getting a good opportunity here and every minute, every game — it's a great experience for them," explained Elias. "For them to soak it in and to learn; not just about their own (games) — they can watch the other guys and see how they respond or react in situations. All of those things, there is a lot to learn in this game on the ice and off the ice."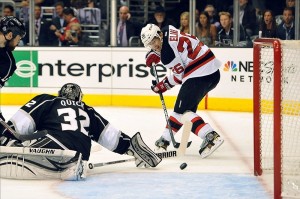 The longtime Devil admitted to us that he isn't one of the players that has tried to explain too much to them, knowing it can be overwhelming if 25 different people are talking in your ear. "They're comfortable (here); they've been up and down quite a bit," he said with a confident grin. "They know what they're doing, and they have a lot of people in their ears. Sometimes (as a veteran) you give them some space and let them relax a little bit."
When Matteau was asked about what the message was since his last stint in the NHL (17 games in the 2013 season) he said it was a simple one. "They tell me 'just stay physical and don't try to complicate things' don't try to change my game," he said the message was the same after being one of the last cuts in training camp. "Be in a straight line, stay in my lane and it really comes down to hard work." He also noted that the experience he was gaining, regardless of point production (in the AHL and NHL) was invaluable to him. "It's huge (these games); I'm looking forward to a good summer of training and next year we'll see what happens then. Right now I'm still gaining ground and playing games; just gaining experience."
Notice that Stefan Matteau scores from almost same exact spot Boucher did in earlier clip aka the area where goal scorers score goals:
The goal that Matteau scored against Montreal is a goal that the Devils and their fan base hope he scores 100 times over his career; 200 if he has a phenomenal career. "PK Subban won the race to the puck, I got my stick wedged in there so he couldn't move and finished my hit," he recalled afterwards. "When you're playing with a Cammalleri and Travis Zajac you know they're always close so they were able to pick up the loose puck. It went back up top (to the blue line) I beat (PK) to the net, the shot got through and I got a couple of whacks at it and luckily it went in."
Like Boucher, Matteau really seems to get what he has to do to be successful and neither seem frustrated that they aren't NHL regulars yet; they both understand it's a process and they are equally happy in their progression after competing in over 100 AHL games and both at 21 years of age. Next year is the year they should be winning a spot on the opening night roster.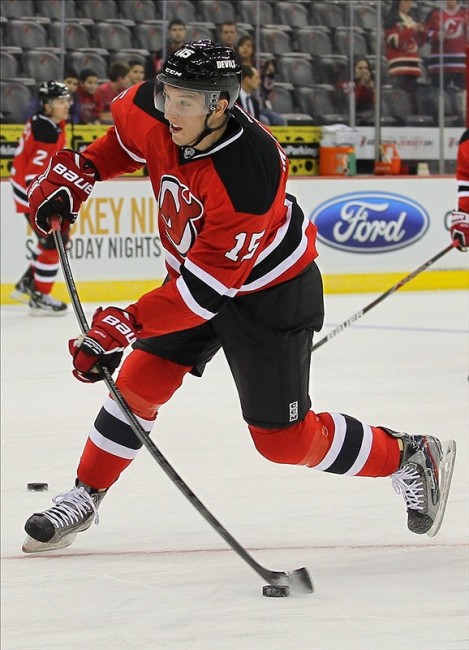 "Finishing my hits, beating guys to the net, being strong on pucks (are all things I need to do to be a successful power forward)," Matteau recalled again the message or mission the coaches have given him. "Same thing they told me after camp; no matter where I'm playing I just have to play the same way. So when I get called up or sent back down its just work on my game and not change my style of play."
He did finally crack a smile when we asked if he'd be disappointed not making the team after the 2015 Devils training camp. "I've matured as a person and a player, learning the pro game," he said grinning and admitted he's more focused on summer training at the moment. "I'm looking forward to the next step."
Dan Rice can be reached via Twitter: @DRdiabloTHW or via Email: drdiablo321@yahoo.com
Dan Rice is in his 9th year of reporting for THW & has covered NJ Devils home games for 15+ years at various websites. He began his journey working for legendary broadcaster/writer Stan Fischler from 2002-04 & completed an internship at the ECHL; he also has been writing features for the NWHL (nwhl.zone) website since 2016.