When goaltender Zachary Fucale was drafted with the 36th pick of the 2013 NHL draft by the Montreal Canadiens, it was met with mixed feelings. Some praised the pick as he was arguably the best player available on the board and the Habs needed goaltending depth behind Carey Price. Others felt that there were other needs that were more pressing than a goaltender, especially so early on in the draft. With Price entrenched for the foreseeable future as the number one in Montreal, especially since he is only 27 years old, does Fucale have a future in Montreal or he is destined to wear the colours of another team?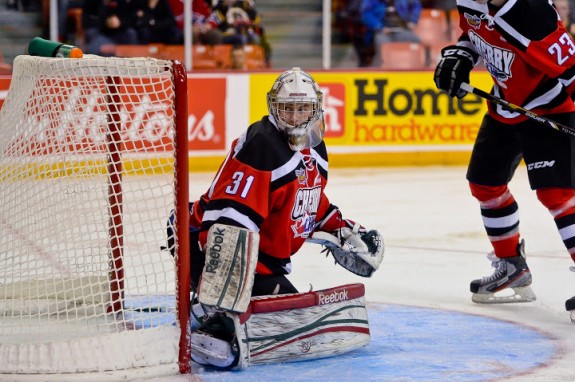 An impressive resume
Fucale has built a very impressive resume in his time in major junior hockey. With the Halifax Mooseheads, he has a President's Cup as QMJHL champions and a Memorial Cup. He was recently traded to the Quebec Remparts who are hosting this year's Memorial Cup tournament so Fucale has the rare chance to backstop another team to a CHL championship.
With Team Canada, Fucale has a gold medal from the 2012 Ivan Hlinka U18 tournament. But more importantly, he has the distinction of being the goalie to break Canada's gold medal drought at the 2015 World Junior Hockey Championship. Fucale was solid in net for Canada but gave fans a scare when the Russians nearly came back in the gold medal game which no doubt triggered memories of the infamous third period meltdown in 2011. In recent years, the Americans and Europeans have cranked out more quality goaltenders than Canada so it was encouraging to see Fucale come through in the big game. Former NHL executive and current hockey analyst Craig Button gave this ringing endorsement about Fucale during his draft year.
Craig Button just said #Habs Zach Fucale is the best goalie he's ever seen at 16-17 years of age.

— HabsLinks (@HabsLinks) June 30, 2013
Attributes
As a goalie, Fucale has decent size at 6′ 1″ 178 LBS (according to NHL.com) and his athleticism is a big hallmark of his game. His glove hand could use some work as he had trouble catching pucks at times during the World Juniors, while he is also guilty of letting in soft goals at bad times. What's most impressive about Fucale is his mental strength. Despite letting in soft goals, he has the ability to move on from his mistakes pretty quickly.
The gold medal game is a good snapshot of Fucale's mental strength. Playing on home soil in Toronto against Russia in the gold medal game would be tough for anyone. But what happens when four goals are put past you in the second period knowing what kind of magic the Russians are capable of in the third period? A lot of goalies would have crumbled under the pressure. But Fucale was able to move on and shut the door in the third to secure gold. The team in front of him was pretty good but the goalie still has to make the saves.
Starting at 1:38, Fucale arguably makes the best save at the 2014 World Junior Hockey Championship.
Keep or trade?
The Habs have some of the best goaltending depth they have seen in a while. With Carey Price being one of the best goaltenders in the world, Dustin Tokarski as a young promising backup and Mike Condon looking good as the starting goalie in AHL Hamilton, Fucale has his work cut out for him. Fucale has already signed an entry-level contract with Montreal but it's anyone's guess to what his future holds as a Habs prospect.
There is a chance he could become trade bait. If the Habs want to make another long playoff run, they could use some more pieces. Despite a lacklustre playoffs, Thomas Vanek gave Montreal a nice injection of elite talent in the top six and they could more high end talent on the wing. To get Vanek, it only cost Montreal prospect Sebastian Collberg and a second round pick but I'm sure if the Islanders could get a do-over, it would take a lot more to get a talented player like Vanek. Another steady defenceman that could play big minutes would be mighty nice for the Habs so could a deal involving Fucale get something done?
The other option for Fucale is to just let him develop in the minors. There is absolutely no rush for Fucale to make the big leagues, a luxury not many teams have. But like anything, things can change. When Price was drafted in 2005, he had Jose Theodore, Cristobal Huet and Jaroslav Halak ahead of him on the depth chart. Fast forward 10 years later, Theodore is retired, Huet is playing in Switzerland and Halak is with the New York Islanders.
For now, it's best for Montreal to hang onto Fucale. His tools and impressive resume hint at immense potential and if Fucale develops as expected, he will either give Price some competition or be the centerpiece of a trade that could benefit the Habs greatly.