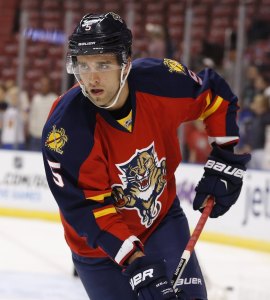 Between the 2012 NHL Lockout and the 2014 Sochi Olympics, fans felt like there might never be another NHL All-Star Game. Now the big weekend is only a week away, and a few unexpected characters found their way onto the roster.
As fans often concentrate on their own team's division or conference, the 2015 NHL All-Star Game is an opportunity to get to know players around the league. Though these six rookies will only participate in the NHL All-Star Skills Competition, these players are the future of both the All-Star Game and the NHL. Let's get to know the guys a little better.
Jonathan Drouin – Tampa Bay Lightning
Before embarking on his NHL career, Jonathan Drouin earned the title of CHL MVP in 2012-13 with the Memorial Cup champion Halifax Mooseheads. In 2013, the Lightning took Drouin third overall in the NHL Entry Draft. Shortly after, Drouin signed a three-year entry-level contract, but returned to the Mooseheads for development at the beginning of the 2013-14 season.
Despite missing the beginning of the 2014-15 season due to an injury in training camp, Drouin finally made his NHL debut in October. Drouin is now a Calder Cup contender in his rookie season, topping E.J. Hradek's list of favorites in the early season. So far, Drouin has two goals and 16 assists with the Lightning.
Fun Fact: Drouin hitched a ride to school with Colorado's Nathan MacKinnon in juniors. However, he shows an affinity for BMWs over MacKinnon's favored Ford F-150 Raptor.
Jiri Sekac– Montreal Canadiens
When Tanner Pearson lost his chance to participate due to injury, a spot opened for Czech-born left wing, Jiri Sekac. The undrafted forward earned seven goals and eight assists in 34 games with Montreal. During the summer, Sekac signed a two-year entry-level contract worth $1,850,000.
Despite posting 45 points in 58 games with the Youngstown Phantoms of the USHL, NHL scouts passed on Sekac in the 2010 and 2011 NHL Entry Drafts. After Sekac spent two seasons in the KHL, Montreal signed him despite European prospects' wild card notoriety. On a line with Lars Eller, Sekac is good at battling along the boards, which is unsurprising considering his reputation as a perimeter player. While his total shots look low this season, Sekac holds a 20.6 shooting percentage, the highest among rookies invited to the NHL All-Star Skills Competition.
Fun Fact: While Sabres correspondent, Joe Yerdon, spoke with Brendan Gallagher in the Canadiens' locker room, Sekac proved a distraction.
Fun thing in the Habs room today: I was talking with Brendan Gallagher and Jiri Sekac distracted him by stuffing tape down his hockey pants.

— Joe Yerdon (@JoeYerdon) November 28, 2014
Mike Hoffman – Ottawa Senators
Like many rookie players his age, 25 year-old Hoffman spent part of his professional career working through injuries to take a stand in the NHL. In his first full season with the Senators, Hoffman posted 15 goals and seven assists in 39 games. He has a shooting percentage of 16.0, which is consistent with his scoring in 51 games with the Binghamton Senators in 2013-14.
Fun Fact: Mike Hoffman currently leads the Ottawa Senators in goals, none of which were scored on the power play.
Aaron Ekblad – Florida Panthers
Straight from the Barrie Colts of the OHL, Ekblad was taken first overall in the 2014 NHL Entry Draft. As the only rookie defenseman invited to NHL All-Star Weekend, Ekblad has five goals and 19 assists in 41 games with Florida.
It's rare for defensemen to play their first professional season in the NHL without development with a minor league affiliate, but Ekblad is pulling it off on a rising team. As the second junior player, and first defenseman, granted exceptional status by the OHL, Ekblad developed his reputation from an early age.
Fun Fact: While living with Mathew Dumba during the 2014 World Junior Championship, Dumba referred to Ekblad as "Shrek," due to his overwhelming size at age 17.
Filip Forsberg – Nashville Predators
If anything, Forsberg is a shooting machine, and it's paying off at the NHL level. So far, the 2012 first-round draft pick has scored 15 goals and 24 assists in 42 games with Nashville. He has 131 shots, 11.5 shooting percentage, and four game-winning goals. While I rarely put stock in a player's differential, Forsberg currently holds a stunning +23 rating.
Fun Fact: Before earning the nickname, "Prince Filip", Admirals teammates dubbed Forsberg  "Fil the Thrill."
Despite sharing their surname, Filip is no relation to Hall of Famer and former Nordique, Peter Forsberg. Nevertheless, Predators teammate, Mike Ribeiro, still likes to call him Peter.
Johnny Gaudreau – Calgary Flames
Though he's the lightest player on a current NHL roster, Gaudreau made a statement in his time on ice with Boston College. Gaudreau has consistently proven himself as a point-per-game player or better, posting 36 goals and 44 assists for a combined 80 points in 40 games in his final collegiate season. The fourth round pick also scored his first NHL goal in his first game with the Flames in 2013-2014.
Representing the United States in the 2014 World Championship, Gaudreau scored two goals and eight assists while making a strong offensive statement. Since then, Gaudreau posted 13 goals and 19 assists in 43 games this season. His offensive prowess slowed predictably in his first professional foray, but still ranks above average for his experience level. As Gaudreau develops and puts on weight, he'll be a real match for the top scorers in the league.
Fun Fact: Gaudreau's favorite pro athlete growing up was Danny Brière, whose son Gaudreau's father also coached.
Check out his first NHL hat trick to bring the Flames back from a 3-0 deficit versus the Stanley Cup champiom L.A. Kings.
Injured: Tanner Pearson – L.A. Kings
While Pearson was invited to the NHL All-Star Weekend, the 22 year-old left wing will be out for three months due to a broken leg. This is especially unfortunate considering Pearson's strong start last season. In October, the NHL named Pearson the rookie of the month. Though his scoring slowed toward the end of 2014, Pearson recorded 12 goals and 16 assists in 42 games with Los Angeles.
Watch the Rookies in the NHL All-Star Skills Competition
Though fans won't see these rookies in the 2015 NHL All-Star Game, their participation in the 2015 NHL All-Star Skills Competition proves that they're the future of the league. These guys are posting some impressive stats this season, and they each worked hard to earn this opportunity. To see how your favorite rookie measures up to other top NHL All-Stars, watch them at Nationwide Arena from 7-9:30 pm ET, Saturday, January 24 on NBC Sports Network.