The Boston Bruins have quite a few questions to answer this offseason as they prepare to build on their return to the postseason. Once again, Bruins GM Don Sweeney and his team will have to look at the backup goaltender position and determine who should fill the role.
First and foremost, the Bruins' brass will need to decide whether or not a change is necessary behind starting netminder Tuukka Rask. For the majority of this season, veteran netminder Anton Khudobin served as Boston's backup.
Khudobin is currently under contract with the Bruins for one more season—2017-18 will be the second year in his two-year, $2.4 million deal he signed with Boston last summer. He's set to become an unrestricted free agent prior to the 2018-19 season.
Questions Behind Rask
A poor start to the season and concerns regarding the netminder's consistency has raised questions about the 31-year-old's future with the Bruins. Sweeney spoke about Khudobin's turnaround back in April and hinted at the possibility of a change this offseason.
"Anton is firmly in the mix," Sweeney said, per the Boston Herald. "You look at what he did down the stretch and how can he not be. But that's the goalie we need. I can't have any doubts or reservations, so we're going to meet as a group to make sure we're making the right decision."
The Bruins have several options to fill the position should they decide Khudobin isn't the answer they're looking for. For starters, they'll look within their organization, specifically at Providence netminders Malcolm Subban and Zane McIntyre.
"If someone passes Anton, whether it be Zane or Malcolm, then we move in that direction," Sweeney continued. "But we've been patient for the development standpoint to try and look internally. But it's a position we've sort of been chasing our tail on a little bit for a couple of years now. I'm very aware of it, do not run from it and I'd like it to be resolved."
Given the consistency issues that Subban has had at the AHL level, it's pretty safe to say the Bruins won't roll the dice with him, at least for the start of the season. However, fellow Providence goaltender McIntyre has given the Bruins plenty of reason to consider him for the role.
McIntyre in Providence
McIntyre first made the jump to Providence during the 2015-16 season after three years at the University of North Dakota. After three stand-out seasons with North Dakota, McIntyre struggled in his first season in Providence. In 31 games in 2015-16, McIntyre posted a .898 save percentage and 2.68 goals against average.
This season, however, McIntyre showed tremendous signs of improvement with the Bruins' AHL team. In the same number of games, McIntyre earned a league-leading .930 save percentage, accompanied by a 2.03 goals-against average. So far, he's carried that success into the playoffs—he currently boasts a .919 save percentage and 2.14 goals-against average in 14 playoff games with Providence.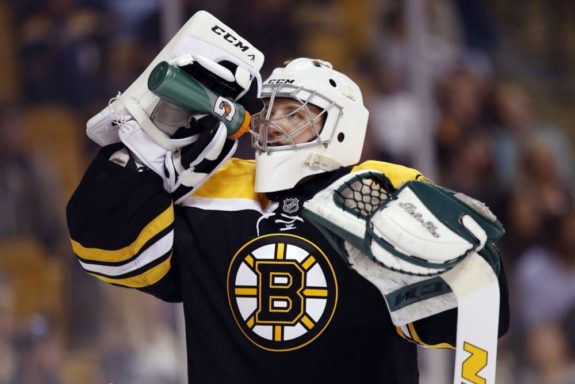 At the NHL level, McIntyre demonstrated various levels of success. In eight games with the Bruins' NHL team this season, McIntyre posted a .858 save percentage and a 3.96 goals-against average. Those numbers aren't spectacular, but they aren't unusually bad for a goaltender making his first appearances at an NHL level.
Sweeney said that despite McIntyre's less-than-stellar NHL stats, he did see good things from the 24-year-old goaltender this season. The struggles, Sweeney said, are just something that the young goalie needs to work through.
"You'd love to see a guy go on a run. We've said that about Malcolm since he's been part of this organization. Zane came up and he had a couple of games where you thought 'He's got it' and it slipped away from him at the end. Nashville, the Rangers and Montreal were three games I thought he played pretty well and had a chance to close out. Those are experiences he has to go through in the National Hockey League level," Sweeney said.
The Case for McIntyre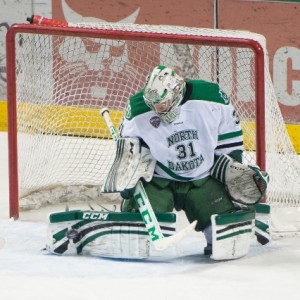 Clearly, there's a case to be made for McIntyre to serve as Boston's backup next season. He excelled at the AHL level this season and has carried Providence for a good portion of the season, including the playoffs. And while he's struggled in his eight NHL appearances to date, his dramatic improvement at the AHL level from last season to this season shows that the netminder is capable of adjusting to higher levels of play.
That being said, the Bruins need to be careful that they don't rush McIntyre into a position he's not comfortable with. For a goaltender, confidence is key, and the Bruins need to be sure that they don't bring McIntyre up to get shelled if he isn't really ready for the jump. Essentially, if they're going to bring him up, they need to be certain that he's ready—it shouldn't be a slapdash call-up.
Ultimately, the Bruins will have to weigh their options this summer, after the expansion draft, so they know exactly what they have to work with. In the meantime, keep an eye on McIntyre has he carries the Providence Bruins deeper into the Calder Cup Playoffs.