Being a hockey goaltender is to be among a unique breed. For New York Islanders prospect Eamon McAdam, a debut season in the American Hockey League (AHL) with the Bridgeport Sound Tigers had a special parallel.
In his first full season in the AHL, McAdam, 22, played alongside and picked the brain of veteran Jaroslav Halak, where the tandem struggled through their own share of hardships. Halak was demoted to the Sound Tigers by the Islanders, while McAdam, after winning his first seven starts was sent down to the Missouri Mavericks of the ECHL on Jan. 3.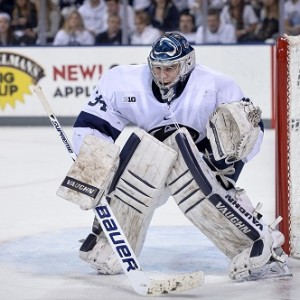 "It's an experience that almost no other guy would get in an AHL career, much less, especially the first year of your AHL career," McAdam said. "You don't get extended time with someone who has really honestly dominated in the the NHL. He's had great seasons, he's had a lot of really good contracts and a lot of really good years of hockey in the NHL. That was definitely something looking back that I'm really going to remember and it was probably my favorite part of the year."
McAdam now prepares to enter his second professional season.
Sharing the Ice with Halak
Although the Sound Tigers fell short of a playoff berth, McAdam finished the season with a record of 15 wins and eight losses and a goals-against average of 2.90 in 26 games. His first career AHL victory came on Nov. 19 against the Lehigh Valley Phantoms. He made his AHL debut during the 2015-16 regular-season finale, playing all 60 minutes against the Providence Bruins giving up six goals before the team secured a playoff berth.
"It was a bit of a rough start, but it was nice to get that out of the way and it gave me more of an understanding of what I needed to be ready for coming into my first full season of professional hockey," he said.
McAdam learned from the veteran presence of Halak, who also had his ebbs and flows during his professional career.
Halak was called back up to the big club almost three months after being down in the minor league system. He had a 17-7-3 record with a 2.15 goals-against average during his time with Bridgeport. Prior to his demotion, Halak had played in 388 NHL games.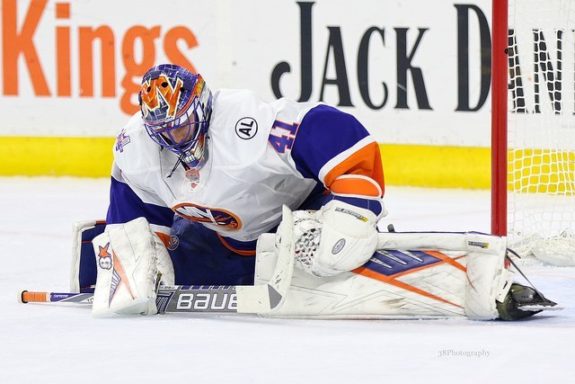 After his struggles in his AHL debut, McAdam was able to improve his numbers and complete his first season on a positive note.
"He [Halak] was a really good guy, honestly," McAdam said. "It was a cool experience. He could have been nose in the air and stuck up about it and pouted, but he's an awesome guy and he went to work and dominated down here until he went back up and then did the same up there, so it's pretty cool."
After arriving in Bridgeport and starting off on a winning streak, the freshly acquainted AHL goaltender experienced turmoil of his own, allowing 13 goals in his next four appearances.
"There's definitely growing pains, there's ups and downs," McAdam said. "A lot of pro hockey and especially being a goalie is that mental battle and the ability to be able to put those things behind you and learn from them, but also just to be able to forget those things short-term so it doesn't bog you down and turn into too much of a downward trend."
McAdam Moving Fast
Growing up in Pennsylvania, McAdam idolized the Philadelphia Flyers. Last preseason, McAdam was called upon to go between the pipes for the Islanders at the Wells Fargo Center for the final 15:55 of the contest on Sept. 27, 2016. With family watching from the seats, the former Flyers fan turned Islanders goaltender stopped all five of the shots he faced after being unsure if he was going to enter the game at all.
"It was a pretty awesome experience," McAdam said. "I was preparing the way I do for anything else. You always have to be ready as a goalie especially, early in the season, you never really know what's going to happen. It was one of the things that was perfect for me."
Before starting his journey to the NHL, McAdam played three years between the pipes for his alma mater Penn State University. He was selected 70th overall by the Islanders in the 2013 NHL Entry Draft. McAdam donned a goalie mask which paid tribute to Penn State during his first AHL season. For the upcoming season, McAdam said he plans to continue to honor the Nittany Lions, the team he played 44 games for.
"Hopefully sooner rather than later I'll get a full game and an actual start, and maybe even a regular season game," he said. "It's cool because you can see the steps I've been taking and the hard work I'm putting in I think is being rewarded. I think that's one of the coolest parts about it, is that I can see the progress I'm making and the rewards that I'm getting from the organization for the hard work that I'm putting in."
Taking the Next Step
McAdam's biggest adjustment has been his ability to skate and try to stay ahead of pucks at the higher rate of play in the AHL, something he learned in his first full professional season.
"Everything just happens quicker and crisper, especially in the AHL," he said. "I felt like I needed to be extra prepared in that facet of my game, just being able to skate and stay ahead of plays, so I gave myself a chance to compete."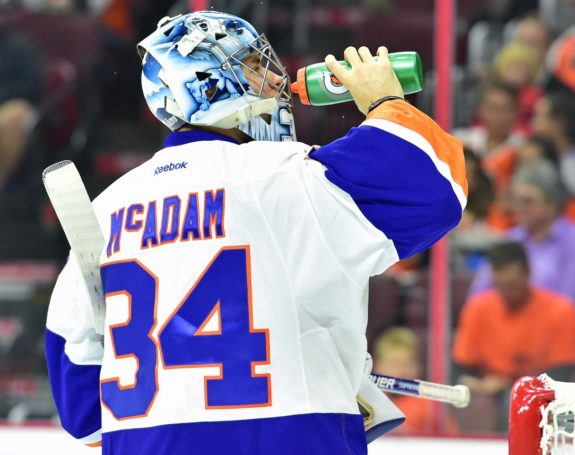 Last summer, McAdam's work was on skating and making sure he could keep up with the pace of the higher levels of hockey. Now, his preparation is geared on controlling and catching pucks while focused on his upper half more so than the lower.
Just like every offseason, McAdam has been working with his lifelong goalie coach Chris Economou, who works in his hometown of Perkasie, Pennsylvania to prepare for the upcoming campaign. The duo has been working together since McAdam was young.
"I know I can move and can stay with the play at this level, now it's just a matter of taking that next step," he said. "One of the things I really admired and picked up on from my time with Halak is that he controlled everything. Everything that hit him, he absorbed. I think that's going to be huge for me moving forward, and hopefully making that next step."
Additionally, the Islanders' staff guided McAdam, and with the unlimited access to a goalie coach in Bridgeport, the young netminder improved his game by getting in extra work and reps.
Always Wanting More
It is the life of AHL hockey player to see teammates and companions come and go. This is the case for McAdam. He watched as 22-year-old Josh H0-Sang took the ice with the Sound Tigers and then got his chance with the Islanders in the NHL.
"Pro hockey is kind of crazy," McAdam said. "A guy like Josh [Ho-Sang] and I became friends and we did a bunch of extra work after practice for probably a month straight, and then he ended up getting his call-up and he definitely made the most of it."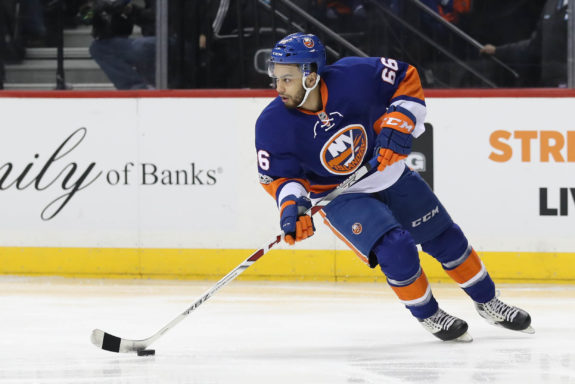 Ho-Sang, 21, made his NHL debut with the Islanders on March 2 against the Dallas Stars, and finished the year with the blue and orange, compiling four goals and six assists in 21 games.
"It's awesome," McAdam added on seeing his friend succeed with the Islanders. "Obviously, he's extremely skilled. He's off-the-charts good, so it's a little bit easier for him to make that jump.
It's one of those things where I was skating with him every day, we're on the same ice and I was competing with him. He stepped into the NHL and he made an impact. It's really cool for me just to be able to see that and it gives me confidence going forward knowing that I can compete against guys like that who are going to be good hockey players in the NHL."
But McAdam gives credit to all of his teammates for helping him improve. Everyone in the AHL and especially the Sound Tigers is putting in the extra effort and work every day, giving him a plethora of talent to face shots from in goal, he said.
The Islanders will be looking for all of their young talent to take the next leap for the upcoming 2017-18 season. Development camp begins next month.
"My main goal is to come in strong and on my game so I can make that statement and show them that I'm ready to be the guy in the AHL this year and go from there," McAdam said. "It's a process and it takes time. You can't rush anything. I'm definitely looking forward to [development camp] and seeing the guys again and getting back playing against some high-level players and going from there."
I am a diehard Islanders fan who also plays hockey, usually against all men. My favorite bands are Pond, Tame Impala and The Black Keys. #cellyhard