When a Conn Smythe Winner and 90 point forward signs a long term contract with an organization you can expect much of the NHL to take notice.  In Zetterberg's case the rest of the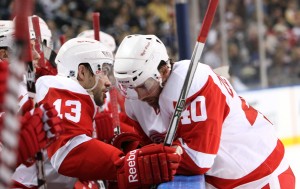 organizations and players around the league may have taken a particular interest in the salary provided to the Detroit Red Wings Stanley Cup quality center.  It's not every day that a true NHL superstar signs a "lifetime" deal, and this one will take the Champion well into his 17th season with the club.  The cost of Zetterberg for 12 more seasons though isn't quite the cost that many would have expected Wings General Manager, Ken Holland, to be forced to fork over.  Many expected a high salary hit for such a valuable player.  Instead Henrik's frontloaded contract carries a cap hit of $6.08m a year, something very managable for the most dominant organization of the last decade and a half.  So what is it that we can assume from such a bargain deal for one of the NHL's best forwards?  Is this the prime example of the fabled "home-town discount" that players will take in order to stay wih an organization, or is this an ominous sign for those seeking fortunes on the free agent market over the next couple of seasons?
Despite rumors that a home-town discount was at play here in the Zetterberg deal it is clear that other forces were at work. Zetterberg is quoted claiming that he couldn't imagine taking a higher salary than the Wings most valuable player, blueliner Nicklas Lidstrom. That is likely very true based on Ken Holland's reputation for keeping his contracts in order. There is no doubt that the Red Wings General Manager is one of the best currently in the game. Even when star winger Marian Hossa was signed to the Wings this offseason it was almost certain that he wouldn't return and that he was brought in only on a lucrative one-year deal in order to help the Red Wings repeat as Stanley Cup Champions. With Zetterberg resigned it is almost impossible to imagine Hossa remaining in Detroit for another season. Though the roughly $6.08m a season cap hit for Zetterberg is relatively small compared to similar stars around the league it is proof that the Wings organization is determined to go in a certain direction.
So what does that mean for Hossa as he will likely test the free-agent waters once again this season? It may mean that the hopeful for a contract upwards of $8.00m a season could be disappointed by his options. Rumors of a salary cap plateau or even decrease in the upcoming seasons has every team playing dangerously close to the cap on edge. To sign any player to a deal like the Brian Campbell contract with a cap hit of rougly $7.14m a year over the course of many seasons could leave the organization with a very good player but with an albatross of a contract nonetheless.
Contracts signed in the last couple of seasons such as Crosby's ($8.70m over 4 years), Malkin ($8.70m over 4 years), and Ovechkin's $9.54m cap hit that seems to go on forever may end up being problematic for teams trying to build around their star players. As always it remains better to sign from an organization's own prospect pool or acquire players through trade than it is to hunt for that difference maker on the inflated free-agent market. Teams with bargain deals such as Mike Richards' own 12 year contract with Philadelphia at a cap hit of $5.75m a year and of course Henrik Zetterberg's own contract will be able to use the extra cap space to put better talent around their core.
Future free agents such as Marian Gaborik, Jay Bouwmeester, and Ilya Kovalchuk could feel the direct effects of Zetterberg's deal as it signifies not only a sign of the NHL player economy but also the realization by general managers league wide that albatross contracts can be more devastating than first thought. Even players like Vincent Lecavalier that have signed "lifetime contracts" at over $6.50m a season in cap hit will be harder and harder to move if necessary. While rumors spread that teams are inquiring about Lecavalier's status with the Tampa Bay Lightning there may not be any teams willing to take on his contract. Whether this leads to more and more waivers and contract buyouts in the future is yet to be determined, but one thing is for sure: organizations that have gone out in the past few seasons and signed a player to a contract over $6.50m a year in cap hit for longer than 3 to 4 years may end up stuck with thier decision.
Either way you look at the scenario the contracts in the UFA market this season may be considerably more in favor of the organization than the player as opposed to the last few seasons where the prices have been inflated. This will undoubtably help the large number of teams with such albatross contracts already in place, but in places where the general managers have been able to control the market factors in their organization since the lockout there will be a considerable advantage going into July 1st, 2009.