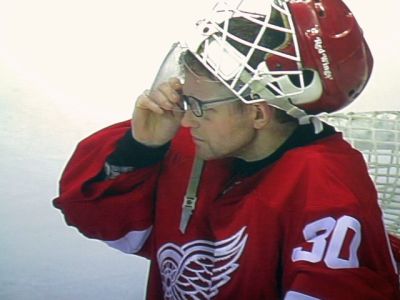 As I sit here wallowing in my morning cup of go-go juice I can't help but reflect on the embarrassment that was Detroit's loss to the Dallas Stars last night. Not to take anything away from the Stars mind you, because they put on a clinic, but it just seemed like Detroit wasn't interested in the game on any level. The Stars were shooting more, skating faster and jumping on loose pucks much quicker than Detroit. Point blank, Dallas simply seemed to want it more. But who was to blame for the the Wings lame excuse for competition last night? Where do I begin?
First and foremost goalie Chris Osgood should be ashamed of himself for allowing 3 goals on 12 first period shots, the third of which could have been stopped by a mini-mite. It happened off a face-off to the right of Osgood at 18:32 of the first, and if the short-side shot by Chris Connor was any weaker it would have been considered a fan. In the replay of the game you can literally see Osgood's head point to the sky as if to say "are you kidding me?" Sorry Chris, no jokes today. Osgood was then yanked and replaced by Ty Conklin, who gets his own wrap on the knuckles for allowing Loui Eriksson to lure him so far out of the net on the Stars fourth goal that he was almost blocking traffic on Jefferson. Said Detroit head coach Mike Babcock:
"Tonight is not good enough, it's not acceptable for a good team like us to play and give up goals like that."
Of course a few of those goals could have been avoided if Detroit could have actually moved the puck out of their own zone, but Dallas was spot on when it came to puck possession. A few times it actually looked like they were toying with Detroit, especially while on the power-play.
"The (power-play) goals were tough to take when you had one (puck) on the line and another a foot from the line and we didn't get it out, so you give them second chances," Babcock said.
And then there was the questionable call that negated a goal that would have have closed Dallas' lead to 4-3 with :37 to play in the first period. It occurred on a Detroit power play, and as Thomas Holmstrom parked his big caboose in front of Marty Turco Nicklas Lidstrom fired a bullet from the point. It went in, but according to referee Dan O'Halloran incidental contact was made between Holmstrom and Turco. With Holmstrom being pushed back against him by Dallas defenseman Trevor Daley Turco sold the slight contact and flopped on his back like he'd been shot by an elephant gun. O'Halloran bought it and the goal was waved off. After the controversial call Babcock did everything but send up smoke signals in order to get O'Halloran to come explain things to him, but O'Halloran shunned Babcock like he had leprosy.
"O'Halloran just thought he knocked Turco down. Obviously, he saw it a different way," Babcock said.
Overall the effort by Detroit last night was more disappointing than frustrating. This is a team who had the best penalty-killing percentage at home going into last night's game, and the Stars had the worst-rated power play on the road. Marty Turco had never won a game in Detroit in the regular season (1-8-2), and Osgood had a pretty stellar record against Dallas (28-11-4) before getting pulled. So much for trends. Detroit played so bad even Turco was surprised by their effort:
"It was an awesome display of shutdown hockey. I was ready for an onslaught in the third period. I'll take what I got tonight."
Of course Detroit was without recent jaw-dropping contract signee Henrik Zetterberg, but one has to question if his presence would have made much of a difference. The only positive feedback to come out of The Joe last night was Aaron Downey's return to the lineup, who looked good in his limited minutes of ice time.
Unfortunately one crash-and-bang player laying on the body every once in a while doesn't equal two points, and if Detroit has any desire to keep the Stanley Cup this coming Spring they clearly have a few things to work on.
They better get started quick.