When drafting Claude Giroux 22nd overall in the 2006 NHL Entry Daft the Philadelphia Flyers couldn't have possibly known what they were getting.   It wasn't as if they were drafting in the top 5 selections which almost always guarantees a successful pick.  While various teams in NHL history have always managed to draft well even with selections later in the first round, the Philadelphia Flyers certainly have put their name out there as one of the best drafting organizations of the past two decades.  Giroux of course has been no exception to that since he was drafted.  All he has done since is quietly win the QMJHL title, score 51 points in 19 postseason games, and make it to the AHL All-Star Game in his first season with the Flyers AHL affliliate Philadelphia Phantoms.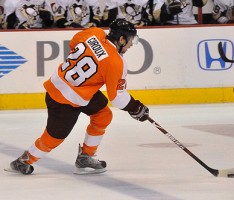 When the Flyers drafted the QMJHL rookie they only knew one thing about him; he could score upwards of 100 points in the Q.  That of course is no big deal in the Canadian Junior league that specializes in offensive weapons such as Mario Lemieux, Dale Hawerchuk, GuyLafleur, Mike Bossy, and Sidney Crosby.  Still Giroux quietly improved year to year starting with his 39 goal, 103 point rookie season.  His second season in the Q would show more of his ability to score goals as he netted 48 more with 112 points by the end.  Even though it seems as though his 38 goal, 106 point third season seems to be a drop off from the previous two it is just as impressive when you realize that he did it in an average of 11 less games than his earlier seasons.
All this of course would pale in comparison to his playoff run with the Gatineau Olympiques team in 2008.  On the way to the QMJHL championship and a Memorial Cup birth Giroux tallied up an incredible 17 goals and 34 assists for 51 points in only 19 games. Gatineau would win the championship, and Giroux would earn a spot in the record books tied for fourth all-time in playoff scoring for the league.
2001 – Simon Gamache – 57 points in 21 games
2006 – Alexander Radulov – 55 points in 23 games
1984 – Mario Lemieux – 52 points in 14 games
1974 – Jacques Locas – 51 points in 16 games
2008 – Claude Giroux – 51 points in 19 games
1987 – Marc Fortier – 51 points in 19 games
1997 – Frederic Bouchard – 51 points in 21 games
All that was in the past for the young Giroux as he came into the Flyers camp this past offseason.  The expectations for him were high, and he expected to make the Philadelphia Flyers already deep offensive unit.  It was not to be as he struggled in the preseason.  His struggles continued in the AHL until in November he finally found his rhythm.  After a terrible start he ended up with 17 goals and 17 assists for the Flyers affiliate in 32 games.  Because of this, when the Flyers found themselves in trouble in late December due to a seemingly endless pile of injuries Giroux earned himself a call up.  He played with a spark that hadn't been seen from him before in the preseason; he was now putting things together at the NHL level.  He seemed poised to score his first NHL goal.  It seemed that it was only a matter of time before he found the back of the net.  Unfortunately he experienced a minor set back soon after joining the Flyers.
On Friday, January 2nd during a road game against the Anaheim Ducks disaster struck for the young Giroux in the form of an elbow from Duck tough-guy Corey Perry. Perry would be suspended for four games due to the hit, but Giroux would miss many more than that for the Flyers due to the mild concussion suffered from the blow.
Upon his return just before the All-Star break Giroux seemed determined not to let the cheap shot bother him.  He came back without losing a step.  Because many of those injured players that had brought about his call up had already returned to the lineup he found himself on third line duty with reserve center Glen Metropolit instead of the Flyers captain Mike Richards.  Still he made the best of his situation, and finally, in his 10th game with the team over two seasons, Giroux put a puck neatly past Tomas Vokoun in the 3rd period of the Flyers 3-2 loss to the Florida Panthers on Janaury 27th.  Giroux who has been a superstar on every team has played for in the past seems to have finally found his spark with the Flyers.  It was something that the entire organization had been waiting patiently for.  After nearly making the Flyers twice he may have finally found a spot with the NHL squad in the middle of the 08-09 season.  He isn't there yet of course.  There is still a long way to go before Giroux earns a name for himself in the NHL as well, but all the signs are there that this kid could be something really special coming out of the Flyers deep prospect group.