1. Filip Forsberg (NSH):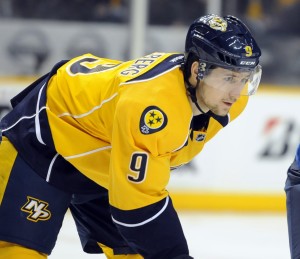 When the Nashville Predators received the young Swedish forward from the Washington Capitals in 2013 they could not know what kind of a rookie season he would have. They lost Martin Erat and Michael Latta, but they gained the clear front runner for the Calder Trophy.
As of February 14, 2015, Forsberg leads all rookies in points (50), goals (19), assists (31), and plus-minus (22). In points, assists, and plus-minus he far outshines his rookie counterparts. Johnny Gaudreau has 41 points to Forsberg's 50, and 26 assists to Forsberg's 31.
Filip was one of the rookies lucky enough to play in the 2015 All-Star game, replacing Evgeni Malkin who pulled out due to groin injury.
The twenty year old has surpassed two Predator rookie records, both held by Alexander Radulov. Just 38 games into the season he notched 39 points, it took Radulov 67 games to accomplish that feat. Then he scored his 19th, passing Radulov yet again to put the Swede on pace for a 29 goal season. If he can surpass 33 goals, he will knock off Jason Arnott's Nashville record set in the 2008-2009 season. Passing three long-held Predator records would be a huge start to his career.
If in 55 games so far this season, he can not only lead rookies in goals, points, assists, and plus/minus, but get his name in the Predator's record books, then he has a long promising career ahead of him.
2. Johnny Gaudreau (CGY)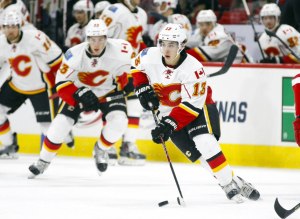 Thirteen is not an unlucky number for Johnny Gaudreau who in his rookie season already has an NHL All-Star game under his belt. While he does not hold as many records as Forsberg, that could be accounted to Calgary's position in the standing's versus Nashville's.
Gaudreau ranks third in goals, assists, and points in Calgary behind Jiri Hudler, Mark Giordano, and Sean Monahan. The thing the twenty-one year old will more than likely be known for this season though, being Jakub Voracek's prop in the NHL Skill's Competition Breakaway Challenge to rival Ryan Johansen's move. Standing at only five-foot-nine, he is child-size to many of the players.
That was not Gaudreau's first choice for his Breakaway Challenge move. You Can Play's Patrick Burke tweeted out during the competition that Gaudreau originally wanted to light his stick on fire, which definitely would have been something fun to watch.
https://twitter.com/BurkieYCP/status/559141129829232640
https://twitter.com/BurkieYCP/status/559141526929154049
It was Gaudreau who really had a heart attack when he experienced the Columbus cannons first hand. I do not blame you, Johnny, those cannons do have a way of giving you a fright.
https://vine.co/v/OTaL5zx0d3F/embed
3. Aaron Ekblad (FLA)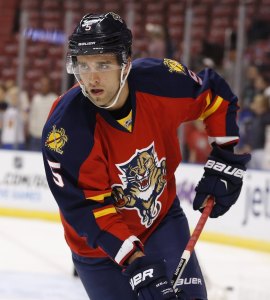 The third rookie to actually play in the NHL All-Star game in his first ever NHL season. Ekblad was drafted first overall in the 2014 NHL Entry Draft by the Florida Panthers and one of the rising star's on the team. He scored his first NHL goal on November 3, 2014 against Steve Mason and the Philadelphia Flyers.
Ekblad and fellow rookie defenseman, John Klingberg lead rookie defensemen by a longshot. Ekblad has 31 points on the season, 9 goals, and 22 assists in 54 games.
The Panthers have been lucky in the previous years with their first round picks and Ekblad is no exception. The nineteen year old has a long career in front of him. Being the top rookie defensemen will more than likely garner him a spot as a candidate for the Calder Trophy.
The one striking thing about Ekblad, as seen in this interview with Steve Mears, is that he has poise beyond his nineteen years. He sounds like a guy who has been playing in the league for years instead of just a couple of months.
4. Mike Hoffman (OTT)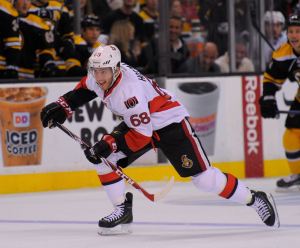 For Mike Hoffman, his path to the NHL was filled with twists and turns. He played with several CHL teams, splitting his junior career between four teams in the OHL and the QMJHL. It was not until the last place Drummondville Voltigeurs picked him up that he got to prove his worth with a team. In the 2008-2009 season he notched 52 goals in 62 games, and 21 goals in 19 playoff games. That season was what got him drafted 130th overall to the Ottawa Senators in the 2009 NHL Entry Draft.
Hoffman spent one more season in the QMJHL before going to the Binghamton Senators of the AHL. In his five professional seasons, four saw NHL action, but it was not until this season that he got to show his NHL worth. In 51 games this season, he has 19 goals, 13 assists, and 32 points to go with a plus/minus of 17.
The Senators are a team that go up and down constantly, but Hoffman is one member of the team who is on the rise.
5. Jonathan Drouin (TBL)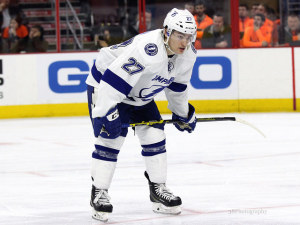 Being a Lightning fan, I have had the chance to see more of Drouin than most of the other players. I was lucky enough to get to watch one of his first practices with the team. I can remember my father looking at him and saying that he was going to an asset to the team one day, in so many words.
On a team full of young players, Drouin has proved his worth and why he deserves to stay in the big leagues. He was drafted third overall in the 2013 NHL Draft. Not making into the roster last season, he went back to the Halifax Mooseheads of the QMJHL with whom he had spent his entire CHL career.
While he is not on par with the players listed above him with a mere 2 goals, he does have 21 assists and 23 points. Drouin also won the Fastest Skater Competition during the All-Star Skills Competition.
He is an all around player who handles the puck well, shoots well, and passes well. While seeing him on ending in the top three for Calder Finalists would be a long shot, he has been a huge assist for Tampa Bay. Surrounded by a strong group of young guys, Drouin will only continue to flourish in the league.
6. Tanner Pearson (LAK)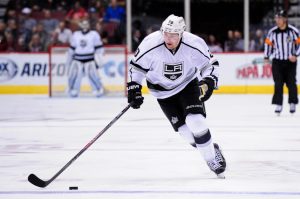 This rookie has one thing that the others don't, and that is his name on the Stanley Cup and the bling that comes a long with it. Pearson split time between Manchester and Los Angeles for most of last season, before getting a permanent spot on the roster at the end of February 2014. Throughout the rest of the season he would have the sporadic goal, assist, and point, but would be a valuable asset to the team.
He ranks third, behind Forsberg and Hoffman, in points on the season with 14. League-wise that puts him in at 28th. Since last season he has been starring on 'That 70's Line' with Jeff Carter and Tyler Toffoli. His chemistry with Carter and Toffoli has been a huge asset for the team.
To be in your full rookie season an already have had your day with Lord Stanley goes to show how lucky the former first round draft pick is.
7. Cedric Paquette (TBL)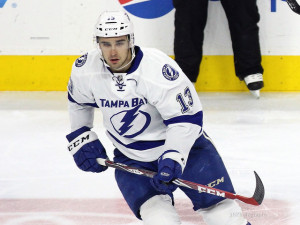 So Paquette is more or less on my list of top rookies because I get to see him play more than I get to see the other rookies not on the list.
Cedric is one of the Syracuse Crunch players who spends more time in the big leagues over the minors. He is their go-to recall from the minor league team. The Lightning signed him in May 2013 to a three year contract. Paquette only played two NHL regular season games in 2013-2014, but was with the team during their short playoff run. In four games he had two assists and two points.
This season he has improved to 11 goals and six assists for nineteen points in his 45 games with the team. He has been out with an upper body injury but will more than likely be making his return for the game gainst th San Jose Sharks.
What does Paquette have above everyone else, though? Against rookie goalie Petr Mrzak he scored his first hat trick on January 29, 2015.
For a more in-depth look at Paquette check out Brian Sklar's article on the rookie.
8. Anders Lee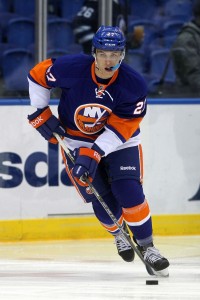 Not being familiar with Mr. Lee, I was certain I was going to be seeing a Swedish kid and was surprised to see an American. Anders was drafted in 2009, 152nd overall. Like most Americans, he chose the college route and went to Notre Dame.
Lee split his time between football and hockey during high school and was actually named the 2008 Minnesota Gatorade Football Player of the Year and was runner up for Minnesota's Mr. Football. This was not the only time he would be runner up for a Mr. award. One year later he lost out on the Mr. Hockey award to future Islanders teammate, Nick Leddy.
In Lee's final collegiate season, 2012-2013, he got the chance to play two games with the Islanders. The following 2013-2014 Season, he would split his time between the Bridgeport Sound Tigers and the Islanders. In his 22 NHL games he tallied nine goals and five assists. In 50 games this season he has doubled his last season stats with 18 goals, 10 assists, and a plus/minus of 11. His 18 goals on the season put him in third place for rookie goals behind Filip Forsberg and Mike Hoffman. His 18 goals also makes him second on the Islanders in goals behind John Tavares.
Anders Lee is looking to be a good fit with the Islanders who can be relied upon in the goal department.
 9. Michael Hutchinson (WPG)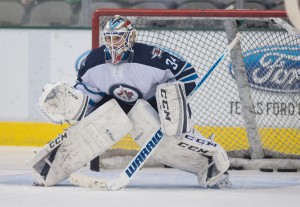 Hutchinson was drafted 77th overall in the 2008 NHL Entry Draft by the Bruins and got his first professional contract on March 30, 2010. The Barrie, Ontario native got one heck of a 22nd birthday present with the Bruins called him up one day after his birthday to play backup after Tuukka Rask was injured. Unfortunately he was not used and went back to Providence.
It was not until he signed a contract with the Winnipeg Jets that he got his chance to shine in the NHL spotlight. After he went 22-4-2 with the Ontario Reign, the second affiliate of the Jets, he  was called up to St. John's. In 24 games he shined with a 17-5-1 record.
This season he has played in 27 goals tallying a 16-7-o record. His .923 save-percentage and 2.24 goals against average put him 7th in the entire NHL. For a guy who had only played in three NHL games prior to this season that is a heck of an accomplishment. To compare, the Jets other goalie Ondrej Pavelec has a .910 save-percentage (26th) and a 2.55 goals against average (24th).
No doubt that the youngster has what it takes to be one of the future goalie stars in the league. I would expect to see his face in future All-Star and World Championship games. He is also able to take a Buff Bomb with grace.
10. Jake Allen (STL)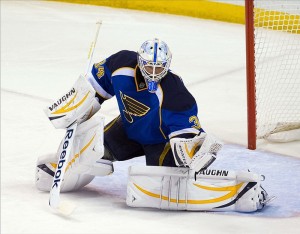 Allen got his start when the Blues drafted him 34th overal in the 2008 NHL Entry Draft. Usually if a goalie goes that high up in the draft order you know they are promising.
Allen is the second former Drummondville Voltigeur on the list, although he and Mike Hoffman did not play for the team at the same day. During his one year with the Voltigeurs he lead them into the playoffs with an 18-3-0 regular season record and a 9-5 post season record.
His season with the Peoria Riverman were less than stellar, having more losses than wins in two of three seasons. It does appear that his style if play is better suited to the NHL. While called up last season he ended the season 9-4-1 and this season 16-5. With the Chicago Wolves last season he played 52 games and went 33-16-3.
All Allen really needed was to get his feet wet in the NHL arena before he came into his own as a goalie. While he is no Michael Hutchinson, he is ranked first in goalies with 3 shutouts.