Growing up as a hockey fan in Montreal I was most certainly spoiled. Growing up during the heyday of the Greatest hockey team that ever played, the 1976-77 Canadiens made in that much sweeter. From the ages of ten to thirteen every year we enjoyed our trio of parades, first came Santa followed a few months later by St. Patrick then a few months after that came Guy, Larry, Serge, Steve and friends with the Glorious Stanley Cup.
During my lifetime the Canadiens had already won five Stanley Cups before my tenth birthday. Although I was a touch on the young side to really appreciate what that meant I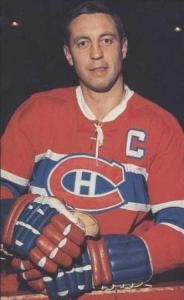 I'm sitting here tonight watching two legends chit chat between periods. Guy Lafleur and Jean Beliveau are on television talking about Lafleurs first few days in Montreal. They weretalinng about Lafleur asking Beliveau if there was a way he could continue wearing the number four, a number Lafleur wore juring his illustrious junior career. His advice was – take a new number and make it famous for you. In other words – be an original. And Lafleur became a Legend wearing the number 10. A little tidbit on Lafleur for those too young to remember his brilliance, back in 1971 Lafleur scored a combined regular season and playoffs 152 goals. His 130 goals that season has only been surpassed on one occasion by a young fellow named Mario Lemiuex (133).
A soccer fan will always say that his sport is the greatest team sport of them all and most folks south of the border would say the same about baseball. I'm a Montrealer and hockey is in my blood. The love of hockey was injected into my family by my father. Once upon a time he was a young star goalie, sharing drive to most home games with my uncle Buck and a new coach named Scot Bowman. I think this was while my Dad played for the Snowdon Remparts. It may have been when he played goal for the Ottawa Junior Canadiens, then managed by Sam Pollack. It was a good team, with the likes of Ralph Backstrom (NHL Rookie of the year a couple seasons later) and JC Tremblay. This is going back to about 1958. Jump forward 51 years and I'm at the St. Lambert arena skating with my two and half year old for the first time. He's still in diapers and we go skating every weekend. I have no idea where he'll go in hockey but I can garauntee that there will be many nights where we sit in the living room watching a Saturday night game together. And that's where the joy of sport really hits home, when it becomes intra-generational. When a father plays the game with a C on his chest, the son gets to know his dearest friends all at the rink and now the grandson takes his first slippery steps on the ice – it binds a family. It's not always easy for parents and children to find commonalities so when they can sit side by side enjoying a game, smiling, chatting and sometimes cheering it's in its own quiet way something special.
Mike Cammelari was just saying that shaking hands and meeting all of the Habs legends of the past brought tears to his eyes, it was one of the highlights of his life. He then topped it off with a three goal performance. It's nice to have a player like him in the Bleu Blanc Rouge. He continues a long line of gentlemen sporting heroes.
Although not blessed with superior hockey skills,I still played. I played either on the street on on the rink just about every day of my youth. From a heated high school contest to taking shots in the driveway with my brother, a stick and puck were never far away. From going to the Bell Center to watch a game against the Sabres with my father last season to doing laps with the little iron helper and my son last weekend – the river that is hockey runs through our family, our culture, our collective passion that lives here in Montreal. Like Camelleri said, I am a kid in the candy store.
Many thanks to the Club de Hockey Canadiens de Montreal for giving me not ony some wonderful moments, allowing me to see Cups hoisted by Richard & Mahovlich, Shutt & Lafleur, Roy & Carbonneau but for giving my famly a shared passion, a multi-generational joy that I hope my son will apprecite as much as I have.