With their 4-3 overtime win in Minnesota Tuesday night, the Dallas Stars have played through two-thirds of their 2015-16 schedule. September's training camp down in Cedar Park seems so long ago, and the halcyon days of October and November are now a distant, fond memory. January was cold, gray and utterly forgettable, but a 3-1-0 start to February might just be the first sign of spring in Dallas.
Over the first fifty-four games, I've learned quite a bit about these Stars. Just for fun, I decided to bundle some of my observations together in the form of a belief statement:
The Deep Prospect Pool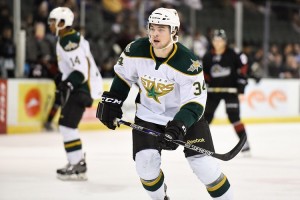 I BELIEVE the Stars have a deep prospect pool. At training camp, the kids who stood out for me were forwards Jason Dickinson, Cole Ully, Remi Elie and Radek Faksa, and defenseman Esa Lindell. When the puck dropped in October, Devin Shore took off like a rocket, putting up 15 goals and 26 points in 23 games with the Texas Stars before a shoulder injury ended his season. Defenseman Mattias Backman, the "other guy" acquired from Detroit in the Erik Cole trade last spring, is quietly having a solid season in Cedar Park and leads Texas in plus/minus with a plus-23. Brendan Ranford, Curtis McKenzie, Brett Ritchie and Matej Stransky all merit mention, as well. General Manager Jim Nill has done an excellent job of stocking the cupboard. The future looks bright, in more ways than one.
I BELIEVE as many as five players skating in Cedar Park this season (including Faksa, who is currently on his third call-up to Dallas) could be full-timers in Big D next season.
Jim Nill, Sheepskinner
I BELIEVE the trade of Erik Cole and a third round draft pick for Mattias Janmark, Backman and a second rounder (Roope Hintz) could go into the record books as the most lopsided trade in franchise history, bumping the Kevin Hatcher-for-Sergei Zubov deal into second. Second line wing, third line center, power play, penalty kill…Janmark can do it all, and will for years to come. It's hard to believe this is the young Swede's first season in North America. Even if Cole's hockey career hadn't been cut short by a serious injury just three weeks after moving to Detroit, this trade would qualify as grand larceny.
I BELIEVE someone needs to teach Nill the old adage, "You can shear a sheep many times, but skin him only once." With the Tyler Seguin, Janmark/Backman and Patrick Sharp/Stephen Johns trades, the Stars GM has skinned Boston, Detroit and Chicago. By now, opposing general managers have to wince when the phone rings and they see it's Jim Nill calling.
Growing Pains
I BELIEVE John Klingberg's second season in the NHL can be summed up perfectly in two video clips. First, this:
Next, this (in the same game, no less):
I BELIEVE the phrase you're searching for is, "growing pains." Klingberg's going to be just fine…next year. In the meantime, expect more nights like Tuesday in Minnesota. You'll curse. You'll cheer. You'll be thoroughly entertained.
I BELIEVE over the last couple of games, Patrik Nemeth has played his best hockey of the season. He's starting to look like the defenseman we saw last spring. If he continues on this trajectory, Nemeth will lock up a spot in the Stars' top six.
I BELIEVE like Nemeth, Val Nichushkin is a young player trying to find his way after a lengthy injury-induced absence. His name has been floated in some circles as possible trade bait, but I just can't imagine the Stars giving up so easily on a twenty-year-old former first round draft pick. Their patience will be rewarded, perhaps as early as next year. A restricted free agent this summer, I can see the Stars signing Nichushkin to a new contract in the vicinity of three years at $2.5 – $3 million per.
Coming Up Short
I BELIEVE the ridiculous number of shorthanded goals Dallas has allowed (nine, second-most in the NHL) is a serious problem. Not only is it directly costing the Stars valuable points, but it's eroded Dallas' confidence with the man advantage while boosting the confidence of opposing penalty killers, sending the power play into a death spiral. Coach Lindy Ruff has to figure out how to put a stop to the mental mistakes, because they're killing his team right now.
I BELIEVE several options for defensive upgrades exist, but Nill is likely waiting at least another week to see if his team gets back on track before expending precious assets on a "rental" player. The embarrassing 5-1 home loss to Chicago last Saturday was shocking on many levels. After that game (not to mention the entire month of January), I wouldn't be surprised if the Stars stand pat until the summer. This is a playoff team, but there's a big step up from "playoff team" to "Cup contender." I'm not convinced the Stars are ready to make that leap this season.
Last, but not least, I BELIEVE these Dallas Stars are the most entertaining team in the NHL today. Every Stars game is full of scoring chances, including the high-danger variety (and that's a double-edged sword). If you want to get a casual fan hooked on hockey, just take 'em to a game at the AAC. My colleague, Jordan Dix, has taken issue with the lack of national coverage of the Stars, and he's got a point. I'm sure the league knows this, and I'm sure we'll see Victory Green on NBCSN much more next season.
Matt blogged about all things hockey at On Goal Analysis/The OGA Blogs from 2008-2014 and has written several travel articles for The Dallas Morning News. He began covering the Dallas Stars and Florida Panthers for The Hockey Writers in August 2015. Matt is also writing a biography of "Tex" Rickard, the Texas cowboy who founded the New York Rangers and the Madison Square Garden Corporation.