What does the NHL want? More scoring!
When do they want it? Now!
Where do they want it? Apparantly not on NBC Sports Network.
The Dallas Stars appeared on NBCSN for the second time this season last night against the Minnesota Wild. They play the St. Louis Blues on NBCSN next Tuesday in what will be Dallas' final appearance on NBCSN in the regular season. The first time was a game against the Philadelphia Flyers in which the "national" broadcast was actually just the Flyers home commentary, but we'll count it as an appearance because it did technically appear on NBCSN (even though you couldn't see the last 15 seconds of a one goal game because of the innovative "sky cam").
I know what you're thinking, just another Stars person complaining about not getting any national recognition. I can assure you, that is not the case here.
The Dallas Stars have one of the best broadcasting teams in hockey with Dave Strader and Daryl "Razor" Reaugh. I would much rather hear some Razorisms 82 times a year than listen to a bunch of waffleboards and find out where Jamie Benn played junior hockey. I don't think there is a Dallas Stars fan out there who would prefer listening to any broadcast other than Strader and Razor. It just isn't about the Stars wanting recognition on a national level.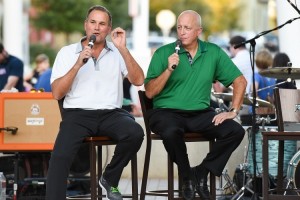 It's about the NHL. The league who is constantly trying to find ways to draw new fans into the game and reclaim old fans who may have left. The league who took away the two-line pass rule, who added the trapezoid and who changed overtime to 3-on-3. The league that is exploring new ways to create offense so they can make the game more "exciting" to fringe-fans.
Here's an idea. Try showcasing the most equal-opportunity team in the NHL.
Chances, Chances and More Chances
The Dallas Stars, before last night's games and according to war-on-ice.com, have created 1769 scoring chances so far this season. That is 125 more scoring chances than the second-place Toronto Maple Leafs (I was as shocked as you are right there). They have also given up 1475 scoring chances this season, 11th-most in the NHL. At even strength, Dallas has 568 high-danger scoring chances (those are the more fun ones). That is once again the most in the NHL by a pretty wide margin. They have given up 512 high-danger scoring chances at even strength, third-highest total in the NHL behind Colorado and Edmonton.
They have the most goals scored this season by an NHL team with 170. They are still in the bottom-half of the league in goals against with 142 given up.
They live for offense. What's not to love?
Maybe the Players Just Aren't Marketable?
Hmm, that might be it. Let's see, you've got young talent with Jamie Benn, Tyler Seguin and John Klingberg. Benn won the scoring title last season and both he and Seguin have been entrenched in the top-three of NHL scoring all year long. You've got players who can dangle all over the ice in Jason Spezza and Ales Hemsky. Those two guys are usually pretty fun to watch. You've got Cup-winning veterans with dashing good looks in Patrick Sharp and Johnny Oduya.
Maybe the NHL wants to get the Brad Marchand demographic on board? Well, you've got Antoine Roussel, who did this in Chicago (in one of the rare appearances on NBCSN).
You've also got goalies who are just out-of-position often enough to either let in goals or scramble back to make incredible saves. They have everything you need and more from a player standpoint.
Give the Fans What They Want, NHL
Go up to a big group of non-Star fans and ask them "Who would you want to see in the Stanley Cup aside from your favorite team?"
I'm willing to bet an overwhelming majority of them would answer "The Dallas Stars". I've talked to a lot of hockey fans over the past couple of years and most everybody enjoys watching their team play the Stars because it's always an exciting game.
So what do you do if you are the NHL?
More games on national broadcasts would be a good start. If you're worried about ratings, give the Stars NBCSN games against big-market teams like the Blackhawks, Penguins and Rangers. Draw people in to see some offense and more should follow.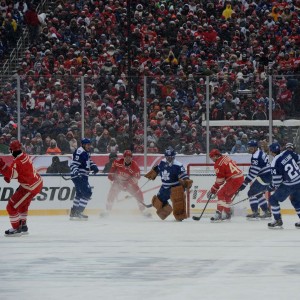 If the NHL truly wanted to market offense and show how exciting the game of hockey can be, they would put the Dallas Stars in an outdoor game. The Winter Classic has suffered its two lowest ratings the past two years. Probably because hockey fans are sick of having the same teams shoved in their faces every season. Those fans are just begging for something different.
Look at what happened in the All-Star game this year. The overnight ratings set a record for an All-Star game on NBCSN. Why? Because things were different. People didn't tune into the All-Star game specifically to see Patrick Kane or Evgeni Malkin. They can see that every year. They tuned in because the NHL changed the format to a 3-on-3 divisional tournament and John Scott was involved. It was different.
Instead of giving the same markets the Winter Classic time and time again because you know those fans will tune in, why not appeal to a larger audience who simply wants to see something they haven't seen before?
After seeing the recent ratings, it looks like it might just be worth the risk. If you want to market a more exciting game, put the Dallas Stars on more TV's and they will take it from there.
Jordan has been covering the Stars for The Hockey Writers since February 2015. He is originally from Iowa City, Iowa. You can follow Jordan on twitter @jordan_dix