You've read what John Davidson and Jarmo Kekalainen each had to say about the state of the Columbus Blue Jackets. It's now time to react to their interviews.
You Might Also Like
Welcome to the final part of this week's Blue Jackets' Long Read. I will now share my 13 thoughts in the aftermath of each interview.
13 Thoughts
Fixing the Blue Jackets is not going to happen overnight or in one offseason. Even if they land Connor Bedard at the NHL Draft, they have many holes to fix. As Davidson said, they have work to do with all areas of the franchise. This goes beyond the roster.
Whether fans want to hear it or not, injuries cannot be ignored. Both Davidson and Kekalainen cited the injuries as part of the reason for where they're at. They have to try to analyze the season knowing several key players were not available to them. That's not easy. That was why I framed the question to Davidson what is the fine line between injuries and everything else that contributed to this season. It's not only who was missing but also how long they've been missing. What I was curious to hear was at what point is it no longer about the injuries. Kekalainen said he was certain their wins and losses would be better as a whole. While he's probably right, how much better was not addressed. No one really knows the answer to that.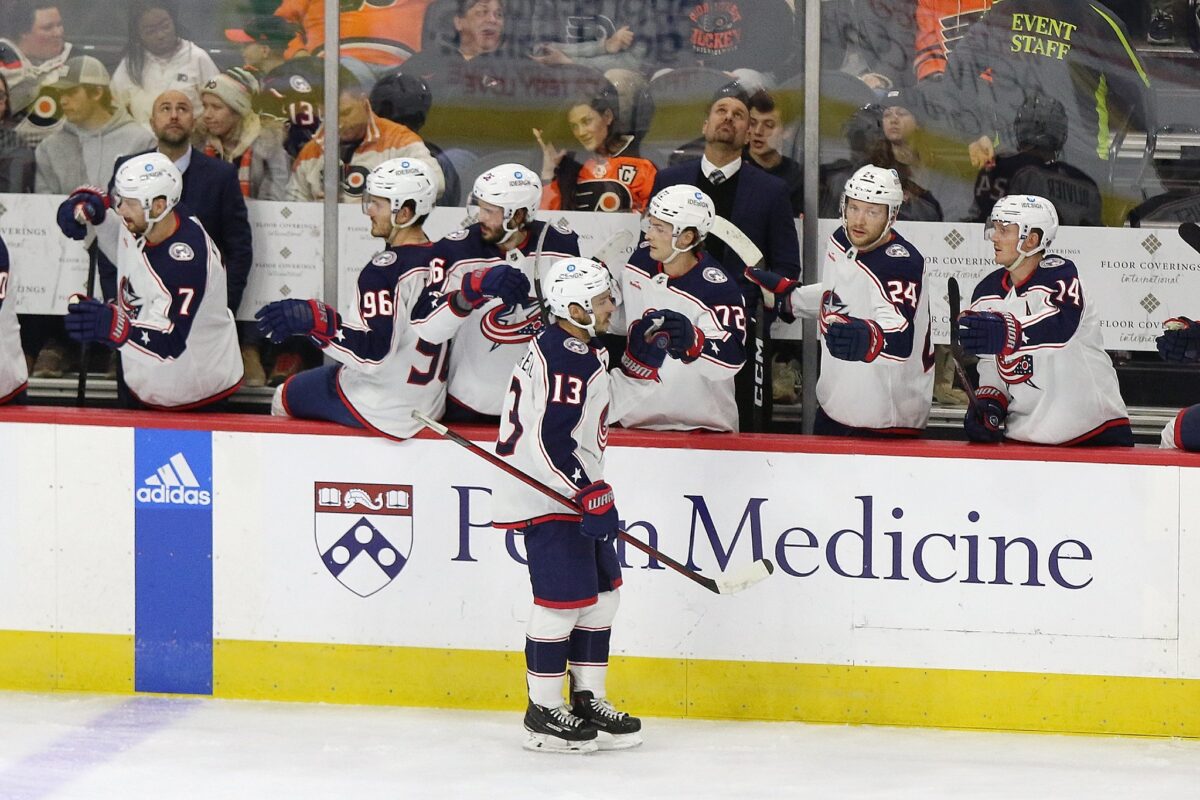 3. Davidson used the words sobering season. No question this season has been rough for everyone involved. No one imagined last place to be a possibility. It's opened eyes. It's not a matter of if changes will happen. It's how many.
4. Let's talk about center ice. Davidson went out of his way when he said: "We're going to have a great draft, we hope. And that'll certainly be beneficial. We've got a number of young defensemen besides Jiricek and Ceulemans, when you think of (Denton) Mateychuk too amongst others. We have a lot of wingers. We have to really analyze the center ice position and keep working at it. We'll see where it goes in the draft." That's an admission that they're going to take a hard look at this in the offseason. Between the draft and free agency, expect the team to address center head on.
---
Latest News & Highlights
---
5. The Blue Jackets are set to be among the youngest teams in the NHL again in 2023-24. That's what makes it noteworthy when Davidson said the team would be bringing in development coaches. Development must be a top priority. This seems to indicate the team agrees with that.
6. I do not get any sense there will be a coaching change this offseason. Davidson said the team competes most nights and hasn't phoned the season in. Kekalainen said for the most part, Larsen has done a good job keeping a positive environment. But if there's another slow start to next season…
7. Kekalainen said of Patrik Laine that he wants to see smarter decisions with the puck. That goes to other offensive players too. Kekalainen said while players get energy from creating offense, but "it's a team game." They want better decision making from some of their top players.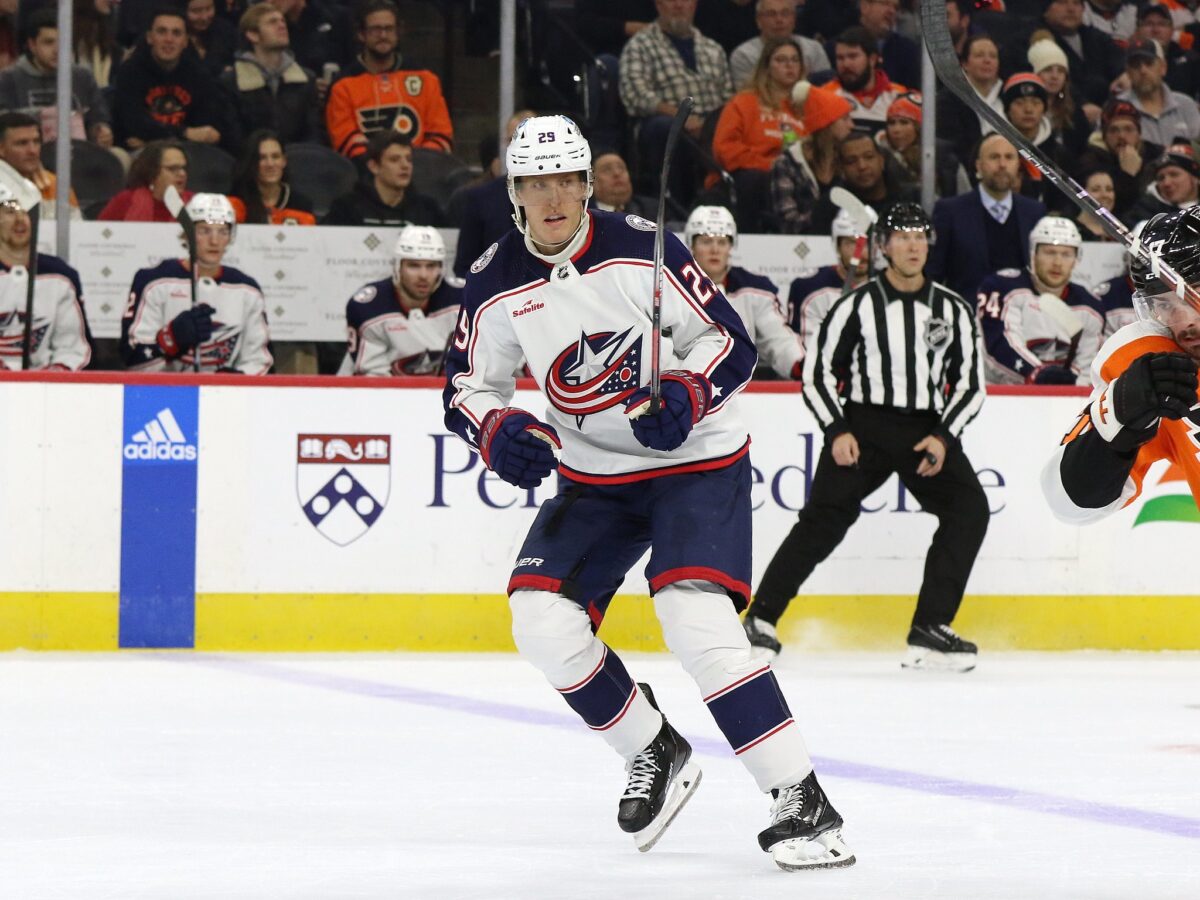 8. Elvis Merzlikins has a huge summer ahead. Davidson gave an honest assessment of Merzlikins and what is expected. Doesn't sound like a major trade is in the works in that respect. It's the Elvis show.
9. Liam Foudy is definitely in the conversation for next season and beyond thanks to his recent play. The Blue Jackets remained patient and are now seeing some results of that patience.
10. Johnny Gaudreau's influence on and off the ice is going to be felt. Watch who eventually comes to Columbus via free agency, trades etc. Coming to the Blue Jackets means coming to play with him. If they land Bedard, that's even more motivation.
11. The Monsters were gutted by the Blue Jackets' season. Watch if this means they'll take steps to ensure more depth there. If the NHL team is building, the AHL teams need to be in good shape.
12. Kekalainen said they could benefit from the flat cap again next season. We've heard this before. They're open to it. But that doesn't guarantee they will do something on that front. Being able to trade the full value of Voracek's contract was a big move that didn't get enough play. Over $8 million off the books for 2023-24. That's a huge difference.
I'll end with this final thought. In talking to both Davidson and Kekalainen this week, I could hear it in their voices. This season has been trying on many levels. Lots of long and likely sleepless nights. The season was out of hand before they knew what hit them. Both said on multiple occasions that there is a lot of work ahead. Once the game ends against the Buffalo Sabres in Game 82, the work isn't ending. It's just beginning.
They must make changes in order to continue on the right path. I don't get the sense things will stay status quo. Change is coming. It has to, especially at center. It's clear to me trust between the fans and the team has eroded to some degree as compared to the playoff seasons. This offseason could determine where that trust goes next.
The Blue Jackets believe in their plan along with hard work. In time, we'll see if that approach will be good enough to get to their eventual goal. Fans aren't going to wait forever for a winner.
The offseason will be the time to get to work to put their words into action. They said it themselves. It's now on them to deliver on their words.