Unless you've spent this Summer hibernating in a cave, you know that the Shea Weber saga has been the biggest story for the Nashville Predators this off-season. How big? Well, the Predators matched the Flyers offer sheet on Shea to the tune of 14 years and $110 million.
The front-loaded deal will pay Shea $14 million a year over the next four seasons and taper off in increments over the remaining 10 years. In other words, unless the Predators trade him at some point after the first year, Shea Weber will retire as a Nashville Predator.
Signing one of the most lucrative deals in NHL history, Shea has come a long way since being the 49th overall pick taken in the 2003 NHL Entry Draft. To commemorate his deal, I thought it would be fun to rank Shea's 14 greatest career moments.
You know, because it's a 14 year deal or he makes $14 million this season. It seems that if this article was an episode of Sesame Street, it would be brought to you by the number 14.
2003 NHL Draft
When Shea Weber traveled to Nashville on June 21, 2003, he had no way of knowing that Music City would be anything more than the first step in fulfilling his NHL dream. The Predators selected Shea with the 19th pick in the second round (49th overall) and little did they know that he would turn out to be the face of their franchise in less than a decade.
While Shea Weber is arguably the top defenseman in the league today, he was only the 12th defenseman taken in the 2003 Draft. In fact, he wasn't even the first defenseman taken by his own team. He was actually the third defenseman drafted by the Predators behind Ryan Suter (7th overall) and Kevin Klein (37th overall).
Still, the NHL Draft is a top career highlight for any NHL player, no matter when they are drafted. Without being drafted, the chances of making the NHL, and realizing their lifelong dream, go down significantly.
2004 Memorial Cup
The season after being drafted was what you might call a breakout year for Shea. In the regular season with the WHL's Kelowna Rockets, he notched 32 points in 60 games, but it was in the playoffs where Shea's legend was born.
He was a point-per-game performer, ending the 2004 playoffs with 17 points in 17 games. Despite the Rockets being eliminated in the WHL playoffs, Kelowna was the host team for the Memorial Cup and qualified automatically for Canada's premiere junior hockey tournament.
At the 2004 Memorial Cup, Shea continued the hot streak that he had in the playoffs by getting four points in four games, leading Kelowna to their first Memorial Cup championship. Shea was named to the tournament all-star team, recognizing his penchant for elevating his game when it matters most.
First NHL Game
Lacing up your skates before your first NHL game is certainly one of the top career moments of any NHL player. On January 6, 2006, Shea Weber made his NHL debut for the Nashville Predators against the Detroit Red Wings.
It was a rather pedestrian debut for Shea after a hand injury to defenseman Marek Zidlicky opened the door to his first minutes in the NHL. He ended the game with three shots and 18 shifts for 11:08 in ice time. He was a -1 as the home team fell to the visiting rivals from Detroit 3-1.
It's only fitting that Shea's first NHL game was against the Red Wings as it seems that many of Shea's career highlights are intertwined with the Predators' most heated rival. If he was looking for inspiration in his debut, all he had to do was look over to the other team's bench. Future Hall of Famer Nicklas Lidstrom paced the Red Wings with two power-play goals.
Little known fact: Shea actually wore jersey number 48 for the first six games of his career before changing to his more familiar number 6. A stick tap to OnTheForecheck.com for this little nugget that I had forgotten.
First NHL Goal
In terms of career highlights, closely following your first NHL game has to be scoring your first NHL goal. For Shea Weber, he didn't have to wait long.
Shea scored his first NHL goal on April 6, 2006 as part of a 3-0 Predators victory over the St. Louis Blues. Goalie Reinhard Divis was the unwitting victim, but he wouldn't be the last. While Shea only scored one more goal during the remainder of the regular season, he proved his clutch status by scoring two goals in four playoff games against the San Jose Sharks that season.
Shea has scored 99 goals and has 263 points in 480 regular season NHL games. In the 43 NHL playoff games that he has played in thus far, he has notched 10 goals among 20 points. In other words, on average in both the regular season and the playoffs Shea is scoring at a clip of a point in every other game. However, in the playoffs, he steps up his goal scoring. In the regular season, Shea scores once every five games but in the playoffs he scores once every four games. I would definitely call that clutch.
You Can Play
When you earn a certain status in the league, you become a role model for others whether you seek it out or not. While Shea has never been one to draw attention to himself publicly, he has been quite active in the community.
The You Can Play campaign strives to eradicate homophobia in sports. It was launched after the premature death of Brendan Burke, the son of Maple Leafs President and General Manager Brian Burke, who championed the issue.
Coming out in support of this issue speaks volumes for Shea's character. There are much less controversial issues that he could have chosen to back, but by selecting the You Can Play campaign, Shea showed great leadership and strength for an issue that for some reason continues to be quite divisive in society as a whole. With a simple message, "if you can play, you can play," the organization hopes to show that athletes should be known for what they do on the ice, not their sexual preference.
Shea, The Pugilist
Shea Weber doesn't fight often, but when he does, he fights to win. According to HockeyFights.com, Shea has had 13 regular season brawls in his seven NHL seasons. At roughly two fights per season, I think it's safe to assume that Brian McGrattan's job is secure.
Interestingly, Shea also has three preseason fights on his record. I mean really, who fights in the preseason? Shea Weber does apparently. He also has one postseason fight that no one could forget against Todd Bertuzzi in last year's playoff series with the Red Wings.
Speaking of the Wings, Shea's uncanny connection to them pops up here as well. On February 28, 2009 Shea squared off against Andreas Lilja after Lilja gave Weber a bit of a face wash and pulled him down. The fight wasn't much of a contest as Shea's fists concussed Lilja and forced him to miss almost an entire year of hockey.
The Beard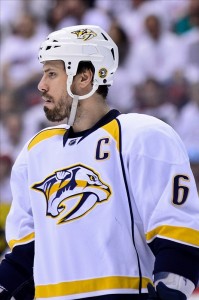 We all know that Shea Weber hails from the Great White North, specifically the Pacific Northwest, but every playoff season he gives us a little hint that there might be some lumberjack blood in him. Shea's superhuman ability to grow facial hair has spawned a Facebook page, a Twitter account and numerous fan blogs.
The Beard made its debut in the run up to the 2011 playoffs when Shea started his playoff beard early as the Predators were a dogfight just to make the playoffs that season in a hotly contested Western Conference. Since The Beard got an early start, by the time the playoffs started, it was already in mid-playoff form.
Last season, Shea took a more traditional route, starting The Beard at the beginning of the playoffs. So, when the Predators were eliminated in the second round, The Beard hadn't quite lived up to the previous season's high expectations.
Can you imagine though what The Beard will look like when Shea finally hoists Lord Stanley's Cup? Move over Rip Van Winkle.
From the 300 Level
Shea has developed quite the professional face when it comes to dealing with the media. While many hockey players are known for being characters and joking around when the press show up, Shea maintains a business first mentality and is keen not to give bulletin board material to the opposition.
So, it was a bit of surprise to see Shea show up in a promotional video for an upcoming Dierks Bentley album. Dierks is a huge hockey fan and plays in a local men's league in Nashville, so he thought it might be fun to challenge Shea to a game of P-R-E-D-S.
While the end result featured generous editing that made it appear that Dierks and Shea really made their trick shots, there was one shot that didn't need any special effects help from Hollywood. Shea unleashed a wrist shot from the 300 level and the puck soared over the protective goal zone netting before finally landing on the ice and sliding into the opposite goal.
Although, to be fair to Dierks, I didn't hear Shea call the bank off the goal post. You can watch the finished piece on the Predators' web site.
The Zetterberg Incident
In the waning seconds of the Predators 3-2 victory over the Red Wings in the first game of their playoff series this past season, Shea Weber and Henrik Zetterberg came to blows in what would become known as the head slam heard around the world. The outburst of brutality was uncharacteristic from Shea and while most simply said that Shea got caught up in the heat of the moment, some people actually started to call Shea a dirty player.
Was it a dangerous play? Yes. Was it a dirty play? I don't think so.
What people seem to gloss over in the replay is the initial hit from Zetterberg on Shea in which he cross-checks him and drives Shea's knee into the boards. Shea has a history of injuries on his knees dating back to his junior days and then a major knee cap dislocation in the NHL that caused him to miss six weeks of action. I won't claim to be able to get into Shea's head at that moment, but it is possible that he felt that the knee hit was intentional and reacted accordingly.
The Red Wings later claimed that Shea's head slam cracked Zetterberg's helmet, but the league did not suspend Shea, instead opting to fine him $2,500 for the hit, the maximum fine allowed under the current CBA.
Oh Captain, My Captain
There are few moments in an NHL player's career that would trump being named their team's captain. It is the one crowning individual achievement short of lifting Lord Stanley's Cup over one's head that defines who they are as a player. By earning the captaincy, a player proves that he's not only truly gifted on the ice, but also a leader in the locker room and a face that can sell your franchise.
On July 8, 2010, Shea Weber was named the fifth captain in the franchise's history. Given his recent 14 year contract, it's bound to be a long time before the Nashville Predators name their sixth captain.
He was the first player drafted by the Predators to be given this honor. While Shea was always dominant on the ice, you really saw his leadership jump up another notch in the last two seasons after being named captain.
106.0 MPH
As spectators who witnessed Shea Weber's slap shot up close at least 41 nights a season, we always knew that he had a very hard shot. On January 29, 2011, the rest of the world finally found out just how hard Shea can shoot the puck. Topping out at 104.8, he was unable to unseat Zdeno Chara for the title of "Hardest Shot in the NHL," but he certainly opened a few eyes.
At the rematch this past season in Ottawa, Shea set a personal best at 106.0 MPH and yet Chara still bested him with his own shot clocking in at 108.8 MPH.
Although he has yet to win the event, the exposure of pushing Chara to close finishes the last two seasons bodes well for the future.
Norris Bridesmaid
In a way, you could compare Shea Weber to the Butler Bulldogs Men's Basketball team. Just as they finished in second place in the NCAA tournament two years in a row, so too did Shea finish second in the voting for the Norris trophy in consecutive seasons.
In 2011, Shea finished just 9 points behind Nicklas Lidstrom. While in 2012, Shea finished 12 points behind Erik Karlsson in the voting.
While I'm sure that finishing second is of little consolation to Weber, his continued top finishes just demonstrates the level of his game and the respect that he garners around the league. I certainly don't think that I'm stepping out too far on this branch by proclaiming that Shea will win multiple Norris trophies before his playing career is over.
Through the Twine
I think that winning a gold medal for your country in the Olympics would be a close second behind hoisting the Stanley Cup as far as hardware goes. Shea Weber has represented Canada four times on the international stage winning three gold medals and one silver medal.
But it was a simple play on February 23, 2010 that will forever be etched into the collective consciousness of hockey fans for generations to come. At 3:32 of the second period in a preliminary match against Germany, Shea Weber wound up and unleashed a rocket that was so hard that the twine netting was no match for its awesomeness.
It was an unforgettable moment in otherwise forgettable game in which team Canada beat the Germans 8-2. We all grow up dreaming of the day that we shoot the puck so hard that it literally goes through the net. Shea Weber no longer dreams of that day, he just points to the video above.
The $110 Million Man
As I mentioned at the top of the article, this has been a busy Summer for Shea Weber. When Ryan Suter and Zach Parise signed their twin 13 year, $98 million deals with the Minnesota Wild, it was all but certain that Shea would soon be a $100 million man. But circumstances out of his control such as the expiring CBA and his restricted free agent status limited his bargaining power.
Given the likelihood that the new CBA will restrict these type of long-term, front-loaded contracts, Shea knew that this Summer was probably his last opportunity to make that type of ridiculous money. While we may never know the full story behind Shea's actions, he signed a 14 year, $110 million offer sheet with the Philadelphia Flyers and put the proverbial ball in Nashville's court.
Nashville matched the offer sheet and Shea Weber was officially a $110 million man. While technically it is the second most lucrative contract ever signed by an NHL player behind only Alex Ovechkin's $124 million deal, Shea will earn more annually ($14 million) in each of the next four years than any other player since the lockout. He joins Joe Sakic and Sergei Fedorov in an exclusive group as the only players in the NHL to earn at least $14 million in any single season.
When the new CBA is crafted, it is very likely that it will limit contracts either in length or in the amount of bonuses or both. So, Shea's contract will most likely be the last of its kind for the foreseeable future, or at least until the teams find new ways to circumvent the spirit of the CBA.
Shea Weber is only 26 years old and you could argue that he is just now entering the prime of his playing career. With so many wonderful career highlights already under his belt, you have to wonder what this list would like 5 years from now, let alone after he hangs up his skates for good. One thing is certain though, for the next 14 years all of Shea's career NHL moments will happen in a Predators sweater.