Last night's exhibition games shed some more light on what we can expect during the 1964-65 NHL season. The Detroit Red Wings, playoff spectators last season, are giving every indication that they fully intend to return to the post-season party this time around.
Last night's games
Last night, the Wings scored their fourth win in five exhibition games with a solid 4-2 victory over the Chicago Black Hawks.  The game, played at Hamilton, Ontario, featured a two-goal performance  by the Wings' main man, Gordie Howe.  Veterans Normie Ullman and Floyd Smith also bulged the twine for Detroit.  Pierre Pilote and rookie Doug Robinson replied for Chicago.  For Pilote, it was a night of highs and lows, as he also knocked one into his own goal.  The Hawks now have lost two in a row after starting the exhibition sked with three straight wins.
In other games last night, the Boston Bruins opened their exhibition schedule with a 5-2 win over the Victoria Maple Leafs in Victoria, the New York Rangers blanked Toronto 2-0 at Winnipeg, and Montreal defeated their Omaha Knights farm club of the Central Professional Hockey League by a 5-3 score in Valleyfield, Quebec.
At Victoria, five players shared in the Boston scoring, with Gary Dornhoefer, Tom Johnson, Leo Boivin, Forbes Kennedy and Tommy Williams each counting once.  Bill Shvetz and Larry Keenan scored for Victoria.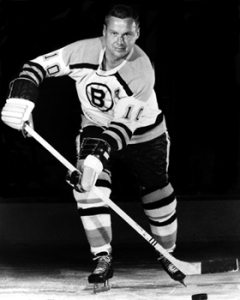 The Rangers – Leafs game featured a goaltending duel between Toronto's Terry Sawchuk and the Blueshirts' rookie Gilles Villemure.  Villemure, battling for a big-league spot with veterans Jacques Plante and Marcel Pelletier, made 28 saves in a strong performance.  Sawchuk, acquired from Detroit via the intra-league draft in June, was beaten only once while facing 36 shots.  That goal came on a Don Marshall deflection of a Don Johns point shot. The Gotham Six's other goal came off the stick of Earl Ingarfield with twenty seconds left to play, after Sawchuk had been lifted in favour of an extra attacker.
Montreal's victory over Omaha was particularly encouraging for the Habs, who saw big Jean Beliveau lead the way with a pair of markers. Henri Richard, Dave Balon and youngster Yvan Cournoyer added singletons.  The Knights, who trailed throughout the contest, got goals from Leon Rochefort, Jim Roberts and Gary Butler.  Omaha goaltender Ernie Wakely had a busy night, facing 45 Montreal drives, while Habs' netminder Charlie Hodge handled 27 Omaha attempts.
 Notes from around the NHL
The Canadiens yesterday signed six players to professional contracts, and all are expected to be in the minors for 1964-65.  They are defensemen Jean Gauthier and Noel Picard, centre Bill Inglis, left wings Keith McCreary and Germain Gagnon, along with goaltender Jean-Guy Morrissette.
The Rangers signed the two players who combined for their only goal on Terry Sawchuk last night, as Don Johns and Don Marshall inked deals.  New York also optioned 13 players to their Baltimore AHL farm club. Sent to the Clippers were forwards Bill Collins, Ray Brunel, Bryan Hextall Jr., Gord Labossiere, Dick Meissner, Sandy McGregor, Ken Schinkel, Billy Taylor, and defensemen Larry Cahan, Aldo Guidolin, Ron Ingram, Mike McMahon and Noel Price.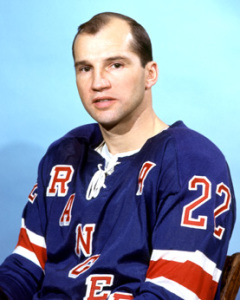 Just prior to leaving on their western exhibition tour, the Maple Leafs signed two Toronto Marlboro graduates to pro contracts.  Forwards Mike Walton and Andre Champagne will be assigned to Tulsa of the CPHL to continue their development.  Walton had initially been unhappy with Toronto's offer and threatened to return to Junior hockey but was convinced to turn pro by Leafs' Coach-GM Punch Imlach.
The Leafs headed west without veteran forwards Red Kelly and Dickie Moore.  Moore will undergo a medical checkup on his bad knee, and if he clears, he could meet up with the club in California.  Kelly, on the other hand, is healthy but is slated to represent the Canadian Government at the 1964 Olympics in Tokyo. He has not yet signed his 1964-65 contract.
A referee's life
NHL referee-in-chief Carl Voss, said yesterday that the highest paid NHL official received a salary of $18,000 last year.  With the average NHL player making only $14,500, and the men in stripes generally having longer careers, could we see more players making the switch to a non-playing ice role?
Voss told Dink Carroll of the Montreal Gazette that the referees also participate in a pension and savings plan.  Voss said that a referee who has been in the league for twenty years can draw a pension of over $800 a month at age 65.  He named Frank Udvari, a 14-year NHL arbiter, as a man who has a chance to hit the 20-year mark.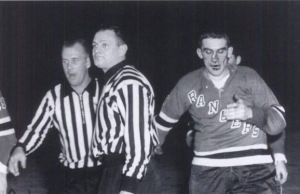 Linesemen, however, are paid only $6,000 per season, but that, according to Voss, is strictly a case of supply and demand.  "Good referees are a rare commodity but we can get all the linesmen we need."
Both refs and linesmen travel first class on tickets paid by the league.  They receive a $15 per day stipend for meals and accommodation.  They are urged to stay away from the same hotels used by the NHL clubs, although there is no specific rule preventing this.
Voss went on the say that the league's officials are a busy lot, handling games in the American , Central Professional and Eastern leagues as well as their NHL duties.  This year, the Western Hockey League has also been added to their workload.
Voss said that the league has scouts perusing amateur games across the country, looking for likely prospects who might develop into competent big league officials.  Those identified as possibles are given the opportunity to attend clinics where they receive instruction from NHL staff, and if they make the grade there, they might get work at the minor league level in order to develop.  Qualities of a top official are great skating ability, a knowledge of the rules that enables the official to make a call without delay, and  the ability to be firm, but fair.  Voss said that referees who aren't respected don't last very long at the NHL level.
Rule changes
Voss says that the rule changes enacted during the off-season were done with one goal in mind:  "…to make our game as attractive as possible." Voss feels that hockey is a game of speed and action and anything that disrupts that should be penalized.  Players won't be allowed to argue with referees, and only captains, or acting captains, will be able to ask for a rules interpretation.  Changes have also been made to the faceoff rules, and the jury is still out on how that will affect the game.