The Dallas Stars have only played two out of their six preseason games so far this fall, yet the conversation with who will go and who will stay on the team's final roster for their October 9 season debut is already in full swing.
It was no secret heading into the Stars' training camp that there were going to be some very interesting battles for roster spots going on, but the preseason has barely just begun and those battles are already red-hot, and still heating up.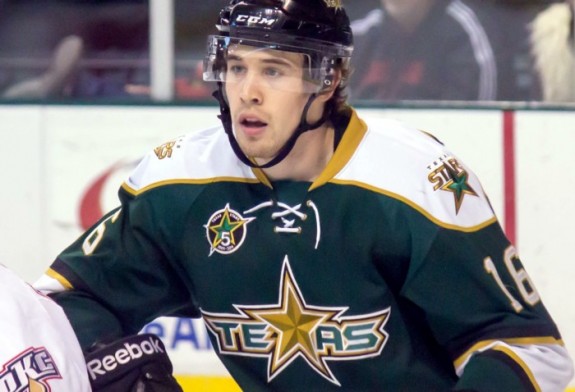 The Stars came out victorious in their first two contests, defeating the St. Louis Blues 4-3 on Monday and then dropping the Florida Panthers 3-2 in the shootout on Wednesday, with both wins being largely initiated by players on the fringe of cracking Dallas' NHL roster this season.
On Monday it was forward Curtis McKenzie that stole the show, scoring a beautiful game-tying goal in the third period, taking on former Star Steve Ott in a spirited scrap, and leading the team with four shots on goal. McKenzie was the AHL's Rookie Of The Year last year, and plays well enough at both ends of the ice that it's made him an attractive option to crack Dallas' Bottom 6 forward corps.
On Wednesday it was defenceman Jyrki Jokipakka's turn. The 23 year-old Jokipakka looked calm and steady on Monday, but really looked like a seasoned NHL veteran on Wednesday night, despite the fact that he has yet to play a regular season game at the league's highest level. He moved the puck smoothly and rarely made the wrong play, showing casing a reliability that was rewarded by head coach Lindy Ruff, who used Jokipakka for a whopping 27 minutes of ice time.
Jokipakka with 27 TOI tonight, in what was essentially his fifth game in six days. He's a machine.

— Brandon Worley (@brandonworley) September 25, 2014
Other fringe roster players making things interesting were blueliner Jamie Oleksiak and center Travis Morin, who both also played in the two games and both looked solid.
And that's not even counting John Klingberg and Brett Ritchie, two of the team's top prospects. Klingberg was the belle of the ball coming into camp, with many curious to see if the Erik Karlsson comparisons were accurate for the 22 year-old Swede who is going to be playing his first season in North America. He's still recovering from off-season hip surgery but is still expected to get into a preseason game or two, and even though he hasn't yet that hasn't limited his chances of making the Stars' roster out of camp. Ritchie has NHL-ready size and was an impact player for the Texas Stars in their 2014 Calder Cup Championship season, but broke a bone in his pinkie finger during the Traverse City prospect tournament. He's still very much in the mix for a spot and might be healthy in time to get into some preseason action and show that he is ready to move on from the AHL.
Why is this a potential problem for the Stars? There doesn't seem to be really be much room for any of the aforementioned players.
When taking a look at the Stars' roster, it appears that the Stars already have 13 forwards and six defencemen that are very unlikely to be sent down to the AHL. That link doesn't include Patrik Nemeth, but he's also unlikely to be sent down to the AHL after an impressive late-season call-up to Dallas last year and an even more impressive Calder Cup playoffs. It also lists Rich Peverley, who is still a Dallas Star but is not yet cleared to play by team doctors. That essentially leaves, barring future injuries, one roster spot open with at least six players that are currently in the mix for it.
In a weird plot twist, the ongoing contract negotiations between restricted free agents Brenden Dillon and Cody Eakin are almost something of a blessing in disguise. The two were core members of the Stars last year and are expected to be again this year, but the longer their negotiations continue, the more opportunities will be given to all the players on the depth chart behind them. The preseason is a good indicator of a player's level of ability, but not as good as actual NHL time. If a player like McKenzie or Jokipakka (or both) continues to really impress throughout the next few games, the absences of Dillon and Eakin could provide the perfect opportunity to see if the challengers truly are ready for full time NHL duty.
While it's certainly not a bad problem for a hockey team to have, having too many skilled players and not enough room for them, it certainly makes things interesting. Dallas' next preseason game is Friday against the Tampa Bay Lightning, and if the first two are any indication, the third is only going to create more questions than answers.
Derek Neumeier primarily covers the Dallas Stars, but also other various topics related to the sport of hockey. A Journalism graduate of Mount Royal University, Derek also writes for Defending Big D, and has done previous work with the Edmonton Oilers as a communications intern and Hockey Canada as a freelance writer. You can follow him on Twitter at @Derek_N_NHL