Two crowd favorites for the Washington Capitals must now cautiously ponder the coming months for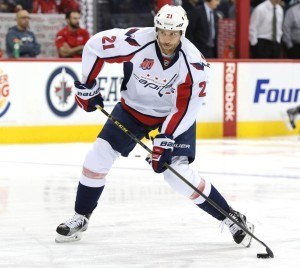 two different reasons. Right wing Joel Ward has the business of landing a new contract to avoid becoming an unrestricted free agent, while center Brooks Laich must get his numbers up to solidify his long-term future with the Capitals.
Laich, who turns 32 next month, has two more seasons remaining on his $4.5 million per year contract. He's the third-highest paid forward on the team, but this past season was one that didn't live up to that price tag. He spent almost the whole season on the fourth line and was a healthy scratch for one game.
Laich Excelled on Capitals' PK
Laich sat out 16 games of the regular season with a shoulder injury and the last few seasons have seen him endure recurring groin injuries. That said, this past season was a disappointment on a few levels. Laich went 26 games without a goal and spent less time on the ice than usual. On a positive note, Laich excelled on the penalty-kill, but how many well-paid forwards want to make headlines for that?
From 2008 to 2012, Laich had his best seasons with the Capitals. He tallied more than 40 points during that time span including 59 points during the 2009-10 season when the Capitals won The President's Trophy. However, he's only recorded 35 points in his last 117 regular season games. That's not going to cut it, and Laich knows it.
"After the injury, I felt like I was trying to play catch up a little bit, and never really hit my stride as well as I would've liked to," Laich recently told The Washington Post. "But I had some great stretches in the year where I thought I played very good hockey, and certainly this summer – going into the offseason healthy – looking forward to a great summer and not having to do rehab, and preparing to have my best season as a pro next year."
Let's hope he does, because Washington's fourth-line forwards have a history of being traded (see Mathieu Perreault and Tomas Fleischmann). General manager Brian MacLellan was his usual cryptic self when he addressed the media recently about Laich:
"I don't think he's happy with the year he had," said MacLellan. "I had a year-end meeting with him, and we want the two-way Brooks Laich playing, contributing offensively, scoring goals, making plays and the defensive part. I think he did a good job on the PK and defensive role, but I think we need more out of him to be a successful team."
Reading between the lines, one might assume MacLellan is telling Laich to 'shape up' or face being 'shipped out.'
Ward not on his GM's Radar
Conversely, Ward enjoyed one of his better seasons with 19 goals and 15 assists. He was also instrumental in the Capitals' solid performances in the postseason. However, the unrestricted free agency cloud looms for Ward if he cannot ink a new deal before July 1. And, MacLellan didn't mention the big right wing when he recently prioritized the players he wants to see put pen to paper soon.
"I think we can get reasonable contracts on all of them," stated MacLellan about his four top wants (Braden Holtby, Marcus Johansson, Nate Schmidt and Evgeny Kuznetsov). "Then we'll make decisions based on where the cap ends up and what amount of money we have left over after that, and how we want to invest it."
That's some troubling rhetoric for Ward, especially since he's 100 percent on record for wanting to stay in D.C. His agent, Peter Cooney, recently told The Washington Post that "Washington is his first choice over going to unrestricted free agency."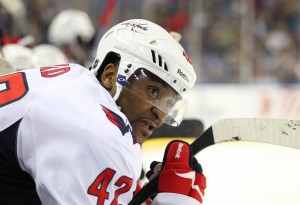 Also of concern for Ward is the fact that fellow forwards Eric Fehr and Jay Beagle are also entering unrestricted free agency in the summer. MacLellan is extremely unlikely to bring back all three of them. Compounding things is that Ward will want a raise and will want a longer-than-two-years deal. MacLellan is on record for saying that he favors a shorter spell for Ward. And, let's not forget that MacLellan stated that he's in the market for a new 'top-six right wing.'
So, there is seemingly little room to include Ward in next season's plans – making him the Mike Ribeiro of two seasons ago – an aging, yet extremely talented and fairly productive forward who moved on because, economically, it didn't make sense to retain his services.
Ultimately, hockey is a business. The Washington Capitals franchise is a business. Both Laich and Ward face some nerve-wracking months. Laich because he knows that the goals and points must amass quickly between October and February; Ward because he knows the hammer will fall on one of the Capitals' right wingers. It's just a matter of time.
Glynn Cosker is based in the Washington D.C. area. A professional writer and blogger, Glynn brings insightful news and information on all things related to the Washington Capitals for THW. Follow Glynn @DCPuckDrop