You can find the rest of the series here: Part 1 Part 2
With the selections of Zach Hamill and Joe Colborne fresh in their minds, the Boston Bruins had a lot of ground to make up in the 2009 NHL entry draft.  Despite their recent lack of draft success, the Bruins were riding high when they arrived in Montreal for the draft.  The 2008-2009 season saw the team finish first in the Eastern Conference and win their first playoff series since the spring of 1999.  Without their second, fourth and fifth round selections, the Bruins ability to maneuver throughout the draft was limited, which placed a far greater value on each draft pick.
Jordan Caron (RW)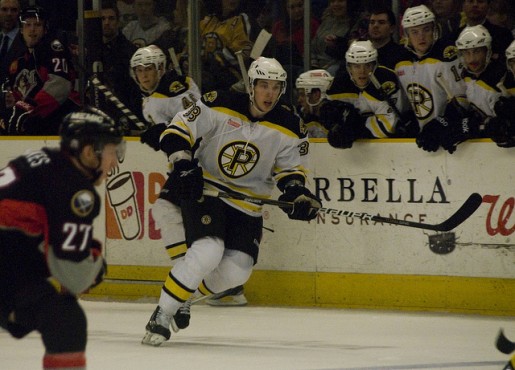 1st Round, 26th Overall Pick
The Bruins selected forward Jordan Caron from Rimouski Océanic of the Quebec Major Junior Hockey League (QMJHL).  Unlike the previous two first round picks of the Boston Bruins, Jordan Caron represented a safer selection, with a lower ceiling and higher floor than his counterparts.  Entering the draft, Caron was viewed as more of a two-way forward with some offensive potential, another sign of the Bruins changing course, as Colborne and Hamill were viewed as high-upside, offense-first players.  Although Caron was not selected purely for his offensive talent, he did have the ability to produce on offense, putting up 36 goals and 67 points in his draft year.  Following the 2009 draft, Caron returned to Canada for another season in the OHL.  Despite suffering an injury over the summer, Caron was still able to have a productive season.  He was traded mid-season from Rimouski to Rouyn-Noranda Huskies, and between his two teams, Caron finished with 26 goals and 27 assists over 43 games.  During the season, Caron played well enough to earn a spot on the Canadian Team for the World Junior Championships.  He wasn't a major factor on offense in the tournament, but he did notch four assists and finish second on the team in +/- with a +8 through six games, as Canada took home the Silver Medal.  In 2010, Caron stood out in Bruins training camp and managed to win himself a spot on the NHL roster.  With Tyler Seguin stealing the spotlight, Caron was able to fly under the radar and have a positive impact on the team.
His hot hand began to cool as November wore on and he began to be shuttled back and forth between Boston and Providence.  He finished the year with seven points in 23 games, numbers that fell far short of where many expected after his fast start.  The 2011-2012 season saw Caron take a step forward, playing in a career high 48 games and more than doubling his career high for points with 15.  While he took a step forward, he still spent a decent amount of time in Providence, averaging just short of a point per game in the AHL.  This past year was a lost season for Caron, as injuries and inconsistent play put an end to any momentum Caron had built in the NHL in previous years.
This season was viewed by many as Caron's last chance to make it in the Bruins organization.  He had a decent camp and, thanks in part to an injuries to Carl Soderberg and Loui Eriksson, he has been given a big opportunity on the third line.  Once again, he got off to a strong start and has started to blend into the crowd as of late.  Although he hasn't established himself as a full-time NHL player yet, Caron currently ranks as the Bruins most successful draft pick between 2007 and 2009.
(Note: Anaheim forward Kyle Palmieri was selected one pick after the Bruins drafted Caron)
Ryan Button (D)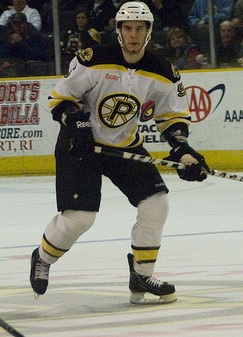 3rd Round, 86th Overall Pick
Lacking a second round pick, the Bruins next selection wasn't until the final stages of the third round.  With that selection, they chose defenseman Ryan Button from the Prince Albert Raiders of the WHL.  In his draft year, Button put up 37 points over 70 games for the Raiders, showing flashes of elite offensive talent, but struggling with consistency.  That talent was enough for the Bruins to select him, hoping that he could find that consistency in their system.  The year following his draft selection, Button returned to the Raiders and had another solid season.  In 67 games, he posted 33 points and improved his +/- by 24 points from -15 to +9.  This signaled an emphasis on defense for the year, and makes his steady offensive production all the more impressive.  In 2010-2011, Button was traded midseason to the Seattle Thunderbirds, totaling 35 points in 69 games between Seattle and Prince Albert.  At season's end, he made his professional debut with the Providence Bruins.  Over the next two seasons, Button would occasionally show sparks of the potential that got him drafted in the third round, but overall, he could not break through.  He would split his time in the Bruins organization between the AHL and the ECHL, totaling one goal and eight assists over 95 professional games through the end of last season.  His chances of making it to the NHL with the Bruins were slim to none, and that led the Bruins to include him in the deal that would send Tyler Seguin to Dallas.  He is currently playing for the Dallas Stars ECHL affiliate, the Idaho Steelheads.  There is still a chance that Ryan Button makes it to the NHL, given his raw talent, but as he enters his third season of ECHL hockey, the window is closing quickly.
(Note: Nashville forward Craig Smith was selected twelve picks after the Bruins drafted Button)
Lane MacDermid (LW)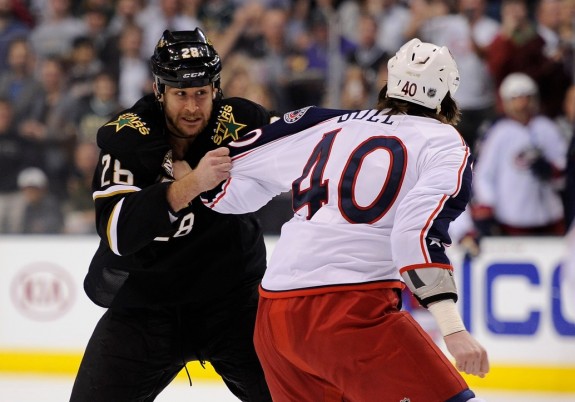 4th Round, 112th Overall Pick
Despite not having their own fourth round pick, the Bruins converted a conditional fourth round pick from the Flyers when Andrew Alberts re-signed in Philadelphia.  With that selection, the Bruins drafted winger Lane MacDermid from the Windsor Spitfires of the OHL.  As an overager, MacDermid put up 15 goals and 20 assists through 64 games in his draft year.  In addition to his improved production in his draft year, the Bruins were drawn to his physical play and his willingness to play in the dirty areas of the ice.  MacDermid went directly to Providence after being drafted, and quickly became a fan favorite.  His first season didn't feature the offensive production that he showed in his final year in the OHL, but his physical play was on display, as he racked up 155 penalty minutes in 65 games.  He made some major strides in his second AHL season, potting seven goals and twelve assists over 78 games.  He was able to keep up that level of play in his third AHL season, playing well enough to make his NHL debut.  He played in five games that season for the Boston Bruins, and put himself in a position to be one of the top call-up options in the organization.  After earning the "A" in Providence during the lockout last year, MacDermid played in three games for the Boston Bruins, recording no points and ten penalty minutes.  At the trading deadline, he was sent to the Dallas Stars in the deal that sent Jaromir Jagr to Boston.  He has spent all of this season with the Dallas Stars, playing in three games and recording one assist.  MacDermid is a solid fourth line player, but because of the Bruins forward depth, he became expendable, and was dealt.  He should remain in the NHL as long as his physicality holds up, so this was a decent pick that the Bruins were able to turn into decent value via the trade market.
(Note: Chicago forward Marcus Kruger was selected 36 picks after the Bruins drafted MacDermid)
Tyler Randell (RW)
6th Round, 176th Overall Pick
The Bruins had previously traded their fifth round pick to Ottawa in a deal to acquire their backup goaltender Alex Auld.  Their next pick was towards the end of the sixth round, where they selected winger Tyler Randell from the Kitchener Rangers of the OHL.  In Randell, the Bruins drafted a power forward with enough offensive potential to turn into a decent fourth line piece.  Randell would spend the better part of three seasons in Kitchener after being drafted, with his most impressive performance coming in 2010-2011, when he tallied 21 goals in 68 games.  Randell made his AHL debut for Providence in the 2011-2012 season, recording two goals in 30 games.  He split last season between Providence and the South Carolina Sting Rays of the ECHL, combining for four points in 45 games.  This year, he has been playing Providence, with one point through his first six games.  He was drafted as a long-term project, but even with a lot of development, Randell still has only an outside shot at best to make it to the NHL.  The pick provides the Bruins with good organization depth, as Randell is a tough player, but he has a long way to go before he makes anyone remember this draft pick.
(Note: Los Angeles forward Jordan Nolan was selected ten picks after the Bruins drafted Randell)
Ben Sexton (C)
7th Round, 206th Overall Pick
With their last selection in the 2009 NHL Entry Draft, the Bruins drafted centerman Ben Sexton from the Nepean Raiders of the CJHL.  Sexton, a Clarkson University commit, displayed a strong skillset with the potential to develop into a solid two-way centerman.  In his draft year, he posted just shy of a point per game for the Nepean Raiders, stepping up his game in the playoffs where he notched 12 points in 11 games.  Following his draft selection, he deferred his commitment to Clarkson and spent a year with the Penticton Vees of the BCHL.  His production remained pretty consistent, putting up 42 points in 50 games for the Vees, along with three points in five playoff games.  He would begin his collegiate career in the 2010-2011 season, playing in only 12 games for the Golden Knights due to an arm injury that kept him sidelined for most of the season.  In those 12 games, he recorded eight points, respectable production for his freshman season.  He would earn the "A" for Clarkson in his sophomore year, but once again, the injury bug got him, causing him to miss 12 games due to a head injury.  Despite another injury plagued season, he managed to top a point per game when he was on the ice, with 29 points in 27 games, good enough for third on the team.  As a junior, Sexton was named Captain of the Golden Knights, but once again missed time due to injuries.  He played in a career high 28 games last season, and while his personal production dropped off slightly, from 29 points to 20 points, he moved up to second on the team in scoring.  This season, Sexton enters his senior year with the Golden Knights.  The major goal will be to avoid injuries, while maintaining his high level of play.  If he can do that, he will be in a line for a look in Providence and a potential contract offer from the Boston Bruins.  He has a long road ahead of him if he's going to make it to the NHL, but for seventh round pick, he looks to have been a decent selection for the Bruins.
(Note: Detroit defenseman Adam Almqvist was selected four picks after the Bruins drafted Sexton)
After the 2009 draft, the Bruins had a change of fortunate, acquiring two future first round picks from the Toronto Maple Leafs that would turn into top ten selections.  In the process of drafting Tyler Seguin and Dougie Hamilton, the Bruins front office seemed to gain confidence and it showed in their draft results.  In this three year span, the Bruins added only one player to their current NHL roster (Jordan Caron), and have only three other players still under their control (Randell, Sexton, and Tommy Cross).
Since then, the Bruins have put a far greater emphasis on drafting, naming Keith Gretzky the Director of Amateur Scouting and adding PJ Axelsson and Keith Sullivan as scouts.  With those additions and the additional experience of the organization, Bruins fans will never have to struggle through a drafting drought quite as bad as this one ever again.
You can find the rest of the series here: Part 1 Part 2