Over recent years, the Hershey Bears have had a luxury of talented goalie prospects on their roster, whether it was future NHL goaltenders Braden Holtby, Michal Neuvirth or Semyon Varlamov. There's always been a helpful veteran on the roster to mentor the young net minders and also compete with them.
In the 2008-2009 season it was Hamilton native Daren Machesney, who helped out goaltender Semyon Varlamov reach the NHL soon after. While he didn't have the best of years (3.24 GAA, .876 save percentage), Machesney was able to push Varlamov (2.40 GAA, .916 save percentage), along with helping Neuvirth, who played in 17 games for Hershey that season.
Below is a table of recent Hershey Bears goalie tandems, with youth and experience leading them to the postseason.
| Season | Goalie Prospects | Stats | Veteran Goalies | Stats |
| --- | --- | --- | --- | --- |
| 2009-10 | Braden Holtby/Michael Neuvirth | 2.32 GAA, .917 SV %, 2.24 GAA, .913 SV % | Jason Bacashihua | 2.48 GAA, .911 SV % |
| 2010-11 | Braden Holtby | 2.29 GAA, .920 SV % | Dany Sabourin/Nolan Schafer | 2.45 GAA, .908 SV %, 2.37 GAA, .915 SV % |
| 2011-12 | Braden Holtby | 2.61 GAA, .906 SV % | Dany Sabourin | 2.76 GAA, .909 SV % |
| 2012-13 | Philipp Grubauer | 2.25 GAA, .919 SV % | Dany Sabourin | 2.72 GAA, .903 SV % |
This year, Hershey is coupled in net with Philipp Grubauer and former Rochester Americans goaltender David Leggio. Grubauer is in his first full season with the Bears, after 28 games last season in the AHL, where he played in Reading due to the NHL lockout.
Leggio, a 29 year old American, recording his first win of the season Sunday night in Hershey's 4-2 win over the Norfolk Admirals at Giant Center. He registered 17 saves on 19 shots in a game where the Bears dominated puck possession for the first time this season.
"They only had maybe two odd-man rushes," said Leggio after the win. "Sometimes those low shot games are harder, for me I'm used to getting a lot of shots. You just have to stay ready mentally. I got to touch the puck a lot, that helps you stay in it too."
Leggio and Grubauer could form a strong goaltending tandem throughout this season, and both will be sharing time in net, especially during consecutive game stretches.
"It's been really good," said the veteran Leggio of working with the young Grubauer. "We get along really well and we have a lot of fun. He's a good guy and I think we both have a great level of respect for one another."
"He's a younger guy, I'm and older guy and I think we've learned from each other. Hopefully with all the three in threes we have, both of us are going to have plenty of time to play. We just got to keep pushing each other to get better and be positive. It's been a really good experience so far."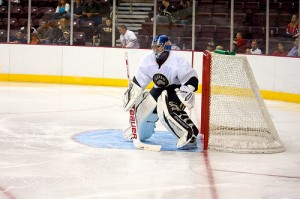 Hershey plays three games this weekend, leading to both Grubauer and Leggio starting in goal at some point from November 1st-3rd. Grubauer has a 1-2 record with a 2.64 goals against average and .908 save percentage and Leggio also has a 1-2 record through three games to go with a 3.33 goals against average and .885 save percentage.
"He was great," Hershey forward Michael Latta said of Leggio's first win as a Bear. "He shut the door when we needed him to. That's all you want for a goalie. That's one thing you need to win, a good goalie and we have two of them."
If Hershey can play a puck possession game like they did Sunday night, there is an opportunity for Leggio and Grubauer to become one of the best goalie pairs in the American Hockey League. Something that could be crucial during a playoff run.
You can follow Matthew on twitter @m_speck and email him at mspeck21@yahoo.com with any questions or comments.
Matthew Speck covers the Washington Capitals organization for The Hockey Writers. He provides coverage of both Washington at the NHL level and prospect related content. Matthew also covers local sports for the Lebanon Daily News in Central Pennsylvania. You can email him at mspeck21@yahoo.com with any questions or comments.