The Hershey Bears (2-3-1-0) were outshot in their first five games of the year by a combined total of 35 shots on goal. The Chocolate and White completely changed that Sunday night, picking up their first home win with a 4-2 victory over their East Division rival Norfolk Admirals (5-2-0-2). Hershey outshot the Admirals 38-19.
"We played hard from the start," said Hershey head coach Mike Haviland. "We set the tone, that's the play we're going to play. We did it for sixty minutes and that's the way we have to play. We have to take this as a learning lesson, keeping moving forward, keeping getting better and build off of this."
"That's the foundation of how we have to play. That's the identity that we want here as our team. We know it's in that room we just got to get consistent on it and it's a process."
Nathan Walker registered his first pro goal and Julien Brouillette totaled a goal and an assist in Hershey's win, their first when leading after one period (1-2). Hershey forward Peter LeBlanc recorded the game winning goal for the Bears, finding twine past Admirals goalie Igor Bobkov (0-1) with 17.1 seconds remaining in the third period.
"I though Bru played really well," said an encouraged Haviland. "Solid, strong performance by him. He's steady and reliable. (Nathan) Walker had energy."
With his goal, Walker became the first Australian born player to score in the AHL.
"I didn't have the best first two games," said the relieved Walker. "I really wanted to come back her and make a point that I belong in the lineup. I just take it as another player playing the game and another guy that scored a goal."
Hershey goalie David Leggio (1-2) recorded 17 saves on 19 shots for his first win of the season and his first start at Giant Center.
"He shut the door when we needed him to," said forward Michael Latta, who recorded an assist on Dane Byers' insurance goal with less than a minute left in the final frame. "That's what you want from a goalie. It's one thing you need to win, a good goalie, and we've got two of them."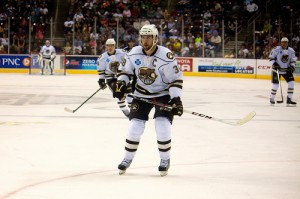 "Sometimes those low shot games are harder," stated Leggio. "For me I'm used to getting a lot of shots, you just have to stay ready mentally. I thought our defense played awesome our team defense played probably the best we've played all year."
The Admirals answered Walker's opening goal in the first period with Alex Grant's fourth goal on the year, setup by Anaheim Ducks' prospect Rickard Rakell. Norfolk enforcer Zach Stortini also scored for the Ads, tallying his first of the year, deflecting a shot past Leggio from Skinner.
Hershey returns home next weekend for games against the Wilkes-Barre/Scranton Penguins and Norfolk Admirals on Saturday and Sunday.
Game Notes
Attendance: 10,125
Hershey Healthy Scratches: Forwards John Mitchell, Brandon Segal, Ryan Stoa, Nicolas Deschamps and defensemen Patrick Wellar, Tomas Kundratek and David Kolomatis
Bears Injuries: Josh Brittain
Hershey has a career 68-48-9 record against Norfolk
The Admirals play Hershey seven more times this season, with four of them occurring at the Norfolk Scope
John Mitchell has yet to play in a game for Hershey since the trade from Anaheim
Hershey fired 16 shots on goal in the opening stanza, reaching a season high, passing a total of 14 against the Adirondack Phantoms on opening night.
Three Stars
Peter LeBlanc (game winning goal, three shots on goal, plus one)
Julien Brouillette (goal, assist, four shots on goal)
Brett Skinner (two assists, one shot on goal, minus one)
You can follow Matthew on twitter @m_speck and email him at mspeck21@yahoo.com with any questions or comments.
Matthew Speck covers the Washington Capitals organization for The Hockey Writers. He provides coverage of both Washington at the NHL level and prospect related content. Matthew also covers local sports for the Lebanon Daily News in Central Pennsylvania. You can email him at mspeck21@yahoo.com with any questions or comments.