Christopher Ralph is a sportswriter with a focus on hockey prospects, the entry draft, as well as occasional Flames coverage here at THW.
"Full Potential" Prospect Profile:
Please "Click Here" for "Notes Up Front" and the "Legend" for various topics covered below in my "Live Updated" NHL 2010 Draft Preview article.
Kirill Kabanov (Click on name for up- to- date stats)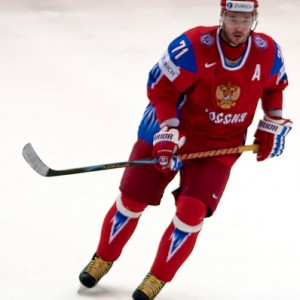 Date of birth: July 16, 1992
Place of birth: Moscow, Russia
Ht: 6-2 Wt: 173
Shoots: R
Position: RW
2009-10 Team:  Moncton (QMJHL)
NHL Status: Draft Eligible 2010
One-Timer:
Perhaps the biggest question when considering prospects such as Kabanov is a phrase I have coined "Russian Roulette", rather than simple the Russian factor which many other scouts/writers use. This places an even great emphasis on the potential risk involved with Russian prospects, even more so in recent years. (See "Russian Roulette" section below for further discussion).
Kabanov's epic hockey journey this season is well documented. To say his hockey season has not gone according to plan would be a monumental understatement. Unfortunately for him, where he lands will be more of a result of his (or his father's) off-ice antics than what he is capable on the ice. His talent level is right up there with elite prospects Taylor and Tyler Seguin.
Perhaps no athlete could have an impact on where they are drafted than Kirill at the NHL Scouting Combine. He did have an amazing performance, at least physically (see results below). How he performed in the interviews, and thus his mental state may just be one of the biggest deciding factors in where he falls in the draft.
Despite everything, if by some struck of luck, I happened to find myself as GM of an NHL team drafting in the latter part of the first round (LA cough Kings), I think I'd take the route of a riverboat gambler and bet on Kabanov. The kid wants to play in North America. He is a phenomenal talent. He is in great shape and a superb athlete. Pair him with a patient mentor and the maturity will come. The wildcard might just be Kabanov's father.
Scout's Honor:
"He's highly talented — as talented as any player in the draft. He broke his wrist earlier in the year and was sidelined a long time. Kirill is just adjusting to the North American game and as a result, left his Moncton team early in order to train for the Russian National Under-18 World Junior Team tournament that happens every April. Who's he like? Maybe a Kovalchuk."

– Director of NHL Central Scouting, E.J. McGuire

"[He] is the ultimate high-risk, high-reward prospect."

– McKeen's NHL Draft Guide 2010

"If it were based on talent alone, Kabanov would be fighting for the No. 1 spot."

-Scout in THN NHL Draft Guide
Russian Roulette:
Some call it the infamous Russian Factor. Because of developments in recent years such as lack of transfer agreement and the KHL enticing players, I go as far as calling it the "Russian Roulette" Factor.
As Dan Sallow notes on his website:
"…Though if you have seen him in any interviews, Kabanov seems like a genuine down to earth kid that loves the game of hockey, and doesn't believe he has earned star power as of yet."
Russian Hockey Fans offers up a great translation; here is an excerpt:
Agent Ilya Moliver: "Kabanov's problem is his father"
In what sense?

Moliver: "Sergei Kabanov believes that an agent is a player's servant. He doesn't know how to communicate with people. In view of this, he incorrectly educates Kirill. Kabanov is a nice guy. He is very curious, he likes computers. When Alexei Cherepanov, who was our client, passed away, he sent us a text message: 'Please, call me. We are mourning.' But the dad…"

What about him?

Moliver: "I've told Kirill once: 'You have to choose. We either work with you or with your dad.' Kabanov's dad is hard to please. I work with players and their parents since 1992, and I never had to deal with such a complicated person."
The Hockey Goddesses reported:
"However, at this year's combine, Kabanov gave one of the most impressive interviews I've ever seen from a guy his age.  Maybe he was groomed for the interview by his father or his agent, but it's hard to pull off sincerity in a foreign language unless that's exactly what it is –- sincere.  Take a look at the interview and I think you'll see a humble, intelligent and honest 17 year old who seems wise beyond his years. Let's not forget — he's just a kid!

He admitted he made a mistake leaving Moncton and that he was stupid.  He emphasized that point with a Russian proverb, which personally I found quite thoughtful and endearing.  He declared his intention to play in the US, wherever that might be.  I know we've all heard that before, but there was no attitude in his voice, no sneer on his face.  He said it all with a genuine smile and the heart of someone who reflects on their mistakes and tries to become a better person for it."
Current Season:
2009-10:  Kabanov missed the first month of the QMJHL season while the Moncton Wildcats, who drafted him last summer in the CHL Import Draft, were negotiating his release with his Russian club. In his first 11 games with the Wildcats, he posted 14 points (5G -9A) before a broken wrist sidelined him for three months. He finished up with 23 points in 22 games.
Scouting Combine Performance:
2nd in Aerobic Fitness: VO2max (ml/kg/min)
8th in Aerobic Fitness: Test Duration
10th in Anthropemetry: Wing Span (inches)
9th in Anthropemetry: Sum of 6 Skinfolds (mm)
9th in Anthropemetry: % Body Fat
Tied for 6th in Musculoskeletal: Curl-Ups (max #)
International Tournaments:
He left the Wildcats during the playoffs to return to Russia to play in the 2010 Under-18 World Championships, but was later discarded by the Russian coach. At the 2009 WJC-U18 Championships, Kabanov finished up third on the Russian team with 11 points (4G -7A) in seven games.
At the WJC-U17 Championships in London, Ontario, a tournament featuring current NHLers Ryan O'Reilly, Evander Kane and Matt Duchene, Kabanov finished third in scoring.
ETA = 3-4 yrs
Risk-Reward Analysis: Risk = 4/5   Reward = 4.5/5
NHL Potential: Top line scoring forward
Strengths:
Phenomenal puckhandling
Athleticism
Dynamic offensive ability
Great size and frame
Fantastic skater
Elite shooting and playmaking skillset
Flaws/Aspects He Needs To Work On:
Become more mature and disciplined.
Continue to train to increase strength and mass.
Consistency
Fantasy Hockey Potential: Offensive = 9/10   Defensive = 6.5/10
NHL Player(s) Comparison: Ilya Kovalchuk
Interesting Note(s): (NHL.com)
"His long time hockey idol was Valeri Kharlamov, the 1972 Summit Series great – as a tribute to Kharlamov, Kabanov wears No. 17 and has XVII tattooed on his left wrist."
Other Rankings:

CSB: 31-E

ISS: N/A

TSN: 9 {Bob MacKenzie – January}

McKeens: 31

THN: 38

THW:  23 (June '10) {Christopher Ralph }
*For all the latest prospect and draft news follow me on Twitter: The Hockey Spy
Chris is THW's senior draft/prospect analyst and a Managing Editor. Watch for "The Next Ones" Prospect Profile series, exclusive rankings, mock drafts, as well as the annual THW NHL Entry Draft Guide. Follow @ChrisRalphYQ on Twitter as he infiltrates, dissects and analyzes all happenings of hockey prospects and the NHL entry draft. Email: cralph[at]thehockeywriters[dot]com