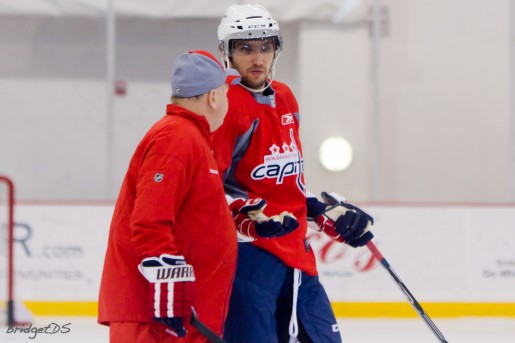 If you're favorite team's offseason moves have left you absolutely puzzled, it's never too early to look ahead to the 2012 draft class. It appears as though this would be the year to tank. The upcoming year is loaded with top end European talent. Russians Nail Yakupov and Mikhail Grigorenko join future Czech star Martin Frk as top flight European players.
Nail Yakupov has shown flashes of elite offensive skills in his rookie year with the Sarnia Sting of the Ontario Hockey League. Yakupov is a crafty playmaker with deadly finishing skills. He is talked about as an elite game-breaking talent by scouts and hockey minds everywhere. In his rookie year he broke Steven Stamkos' rookie scoring record by registering 49 goals, and 52 assists for 101 points.
Nail recently talked with Dan Sallows and discussed his best skills. He explained, "I think my speed, vision and ability to score are my main best attributes." He also name-dropped one of the greatest Russian super-stars of all time when discussing his game, "I would have to say I try and play like Pavel Bure."
The lack of overall size may hold him back very slightly, but there is no denying the skill Nail possesses. Standing at an underwhelming 5' 10" he will need to add strength before taking his game to an NHL ready level.
Fellow country-man Mikhail Grigorenko may give Yakupov quite the challenge for that top spot in the 2012 NHL Entry Draft. Standing at a powerful 6' 3" he has incredible physical gifts. Drafted in the CHL import draft this year by the Québec Remparts, scouts will likely get a better chance to see him play.
Grigorenko may be the next great power-forward. He has absolutely dominated at the International level, scoring over two and half points per game in the U-18 World Juniors. He was drafted 8th overall in the 2011 KHL Entry Draft, but concerns of him coming over should be dispelled by him coming over to player in Canada this year.
Alessandro Seren Rosso translated an interview with Grigorenko in January. North American fans of the player will hope his tune has changed since this interview when he said, "I haven't really thought about the NHL yet. My main thought for now is to get into a MHL team and then to the KHL. I'm thinking about this only."
Finally, Czech forward Martin Frk will certainly be in the conversation as a top ten pick next year. Frk plays a hardnosed game, and should take the next step in his second year with the Halifax Mooseheads of the QMJHL.
He plays an incredibly strong game, protects the puck well and uses his strength as his best asset. He has a knack for finding open space by the net and burying pucks. Frk has incredibly skilled hands to compliment his strong powerful style.
Frk is not comfortable enough with English yet to conduct interviews without a translator, but will likely develop stronger language skills during his draft year. Regardless, he will be a player to watch leading up to next year's draft.
With the strong European contingent of forwards this year, it will be interesting to see who rises to the top. All three of the aforementioned players may make a case for the top spot a year from now. The draft also possesses a strong group of defenseman who may challenge for a top spot.
This year, more than last year, if a team gets off to a slow start there will certainly be a light at the end of the tunnel.