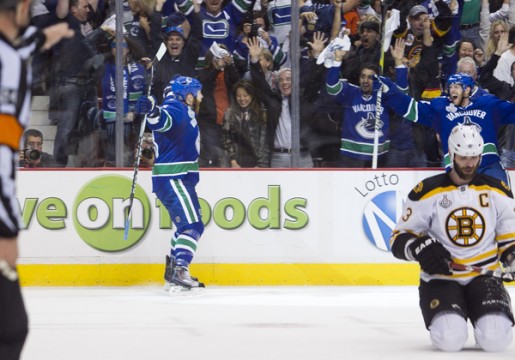 It's been 72 hours since the start of free agency and the steady stream of signings has slowed to a drip, but General Managers aren't quite on vacation just yet.
For the second time in two weeks, the 'San Jose Wild' and 'Minnesota Sharks' made a blockbuster deal when overpaid scorers Dany Heatley and Martin Havlat switched teams on Sunday night.  James O'Brien at ProHockeyTalk on NBC was the only one who saw the Heatley trade coming, but there were other weekend moves that caught our attention as well.
Without further ado, it's time for our annual free agent frenzy reflections…
What was Greg Sherman thinking?
After shipping goaltender Craig Anderson to Ottawa at the trade deadline, the Colorado Avalanche were expected to be suitors for prized free agent Tomas Vokoun. Instead, Avs GM Greg Sherman left the hockey world collectively scratching their head after he acquired Semyon Varlamov from the Washington Capitals for a 2012 first-round pick and a second-rounder in 2012 or 2013.
Sherman quickly signed the restricted free agent Varlamov to a three-year deal averaging $2.83m per season before adding JS Giguere as a veteran safety valve at $1.25m over the next two seasons.  Varlamov hasn't shown the ability to stay healthy or handle the duties as a number one option, but it's Sherman's method of acquisition that's still hard to comprehend.
Negotiations between Varlamov and the Capitals were at an impasse and the Russian goaltender was threatening to bolt for the KHL.  With talented tenders Michal Neuvirth and Braden Holtby already signed, Caps GM George McPhee was wise to call Varlamov's bluff publicly by saying "If he wants to go to the KHL, let him go."  Washington wasn't in a panic situation, but they weren't exactly in a position of high-leverage either.
Sherman could have signed Varlamov to an offer sheet on identical terms and only surrendered a second-round pick.  Some GM's don't believe in offer sheets, but that's at least where negotiations should have begun.  If Colorado struggles again this season, the first-rounder could be a lottery pick in a very strong 2012 draft class.  If that's the case, this move could eventually cost Sherman his job.
Another goalie misjudges the market
Last year it was Evgeni Nabokov who miscalculated his value in the free agent market before getting fed up and leaving for (what he thought was going to be) a rich payday.  This summer the unrealistic dreamer was Tomas Vokoun.
Despite the annual struggles of the Florida Panthers, the 35-year-old Vokoun has been a model of consistency.  No other goalie in the NHL has started more than 50 games and finished among the top seven in save percentage in each of the past three seasons.
For a goalie who had never tested free agency before, he was excited.  After watching Ilya Bryzgalov (a goalie picked up off waivers in 2007) sign a nine-year, $51m deal with the Philadelphia Flyers, Vokoun was seeing dollar signs.  But it never happened.
"Obviously I was disappointed," Vokoun said yesterday with a sigh.  "I thought I would draw more interest than I did and honestly I had the best offer from my old team.  I didn't take it and after that it wasn't pretty."
Vokoun said Florida's offer was "a lot of higher" than the $1.5m he'll be earning with Washington next season and he had the option of staying with the team for his choice of two or three years.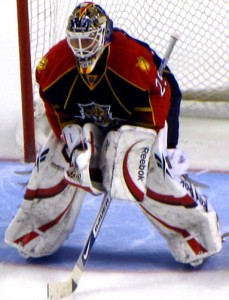 After Vokoun turned down the offer, Panthers GM Dale Tallon quickly moved on to Plan B.  Tallon signed veteran Jose Theodore to a two-year deal at $1.5m that allows Scott Clemmensen and mega-prospect Jacob Markstrom more time to develop.  Elsewhere, goalie-starved teams like Colorado acquired Varlamov and Phoenix signed Mike Smith as their starter, making Vokoun's chance at a big payday disappear.
"Whatever the circumstances or reasons why it happened, I don't know," Vokoun said.  "Honestly I didn't have a whole lot of offers and fortunately for me – the money's not great – but the opportunity is unbelievable.  Obviously it was a disappointing day for me on July 1.  For whatever reason, basically [I] was in a bad spot and Washington came in."
Vokoun's agent Mike Santos has to take some of the blame for not preparing the goaltender for a shallow market.  As teams attempt to lock up their own goaltenders long-term or opt to go with cheaper free agent options, the days of luring Roberto Luongo with $64m seem to be disappearing.
The player often has the final say, but when options are limited the agent has to make sure his client's expectations are realistic.
Playoff performers cash in
If you're a soon-to-be free agent worried whether another NHL contract is in your future, beg to be traded to a playoff team.
Last summer, Raffi Torres had to be wondering if his cell phone was still working after leaving the Buffalo Sabres for free agency and receiving very little interest.  Eventually Torres took a 64-percent paycut from his 2009 salary to sign with the Vancouver Canucks on August 25.  Torres had a decent regular season with the Canucks registering 14 goals and 15 assists, but it was under the playoff spotlight that he caught the attention of NHL executives.
Torres leveled Brent Seabrook with a questionable, yet monster hit in Round 1 and then scored the game-winning goal with 19 seconds left in Game 1 of the Stanley Cup Final.  His line with Max Lapierre and Jannik Hansen was arguably the Canucks' best in the Final and this time on July 1 he was one of the first players signed.
Other playoff heroes cashed in as well.  Sean Bergenheim exploded with nine goals in 16 playoff games during his first season with the Tampa Bay Lightning and was rewarded with a 4-year, $11m deal from Florida.
Joel Ward scored 10 goals this season for the Nashville Predators, but kicked it up a notch in the postseason and carried the Predators into the second round with 13 points in 12 games.  That quick flash of brilliance was enough for Caps GM George McPhee to reward the grinder with $12m over four years.
Max Talbot was even able to cash in on his playoff performance from three seasons ago.  Talbot's pair of goals in Game 7 of the 2009 Stanley Cup Final were some of the greatest in Pittsburgh Penguins history, but the Philadelphia Flyers failed to notice Talbot has only scored 11 goals since then.  They signed Talbot to a five-year deal worth $9m and to make matters worse, the structure of the deal isn't even CBA compliant.
Verne Fiddler is overvalued?
The Phoenix Coyotes still operate under a league-mandated budget and have creatively found ways to save every dollar possible.  When GM Don Maloney signed Verne Fiddler two years ago at a $1.1m cap hit, he saw an undervalued player capable of winning faceoffs and helping the team in a number of small ways.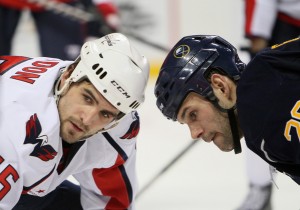 Fiddler did exactly that and his play with Phoenix earned him a raise this summer that was a little too rich for Maloney's blood.  After Fiddler signed a three-year deal with Dallas at a $1.8m cap hit on July 1, the Coyotes moved on and found a capable replacement in Boyd Gordon.
At a slightly cheaper $1.325m hit, Gordon will be expected to fill the void left by Fiddler's departure.  The 27-year-old is an excellent penalty killer and is as talented as anyone in the faceoff circle.  Gordon won 58-percent of his faceoffs last season and in the playoffs his win percentage jumped to an unbelievable 68.8.
No one is talking about the signing of Gordon (or the Phoenix Coyotes for that matter), but it's hard to find a better 'value signing' in the first three days of free agency.
[We'll have more on the Coyotes and their approach to building a winner in our 'Phoenix Rising' series next week]
The winners of Free Agency were the ones who stayed idle
Signing high-priced free agents on July 1 isn't the way to build a champion in the salary-capped NHL, but don't tell that to new Buffalo owner Terry Pegula.  Pegula essentially unloaded a dump truck full of cash in GM Darcy Regier's office and told him to have at it.  The Sabres threw $40m at second-pairing defenseman Christian Ehrhoff and then $27m at free agent Ville Leino.  Credit goes to Pegula for showing the willingness to spend, but this wasn't the market to do it in.
On the other hand, the big free agent splashes for the Winnipeg ownership group were Randy Jones and Tanner Glass.  Jets season ticket holders that just plopped down money for multi-year plans with the new team might be feeling a little uneasy right now, but in the long run, the patience shown by GM Kevin Cheveldayoff will be for the best.
The dollars being handed out this summer weren't anything out of the ordinary, but the crop of free agents to choose from was noticeably worse than previous years.  As some teams scrambled to a higher salary cap floor (Florida) and other GM's were forced to make a splash to save their jobs (Scott Howson in Columbus), the free agent premium is greater than ever.
The salary cap rose to unexpected levels this offseason and it's probably safe to assume that it'll come down in some shape or form in the future.  The teams that didn't splurge on massive long-term deals this weekend will be better off when the new CBA landscape is hammered out next summer.