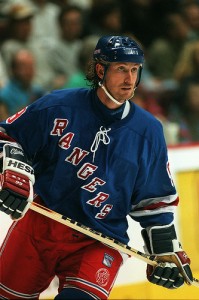 A lot goes into becoming a professional sports writer;  knowledge, determination and commitment are just three of the attributes that many writers have. However, just like any other profession, sometimes writers don't start out looking to get into journalism.
For Adam Proteau, a columnist at The Hockey News (THN), that is exactly what happened.
"I took the long road getting into sports journalism," Proteau said. "I attended the University of Toronto and drama school in New York City before realizing that I got more compliments for my writing than anything else I did. So I went back to Ryerson journalism school in Toronto at age 26 for four years."
Then, what some people might call luck entered Proteau's life.
"At the end of my first year, my main professor told me she was neighbors with the Editor-in-Chief of THN at the time (Steve Dryden, now a TSN bigwig) and the magazine was looking for a summer student to handle their fantasy poolbook," Proteau said.
He was then able to take advantage of the opportunity thrown at him and turn it into what he is doing today.
"I went in, interviewed and got it, and after school was done, I was lucky enough to have a full-time position open up for me there. Been working for the brand ever since."
The Hockey News is a North American hockey magazine that has been published since 1947. Some of the biggest icons in sports journalism and broadcast have worked for the magazine, including TSN's Bob McKenzie and Steve Dryden, current Senior Writer Ken Campbell and Editor-In-Chief Jason Kay.
Despite working at the same company for his entire career, Proteau continues to enjoy what he does. So much so, that he wouldn't change a thing.
"I'd be much, much younger than I am right now," Proteau said jokingly. "Seriously, though, I don't think I'd change much, if anything."
Perhaps one of the reasons Proteau wouldn't change anything is that he got to take part in one opportunity that he likely wouldn't have been able to if it weren't for what he does.
"Probably an extended conversation I had with Wayne Gretzky a couple years back," Proteau said when asked what the most memorable moment of his career is. "For a kid who grew up astonished by Gretzky's game, I was nearly speechless the entire time we talked. Made it tough to conduct an interview that way, but I managed."
Having grown up watching Gretzky, Proteau has watched the NHL evolve into what it is today. He is one of the most respected guys in sports journalism and knows more about the game of hockey as the next guy in line.
"Probably the rise in the number of media that cover the game," Proteau responded when asked what the biggest difference he notices in the NHL today is compared to when he began writing. "The social media explosion has done a lot of good, but it's also made scrums nearly impossible, and made interviews tougher to secure."
Even though he got to interview someone who amazed him throughout his entire childhood and he has been working at The Hockey News for so long, there is one other thing that stands out to Proteau; something that makes him more proud than anything else when it comes to his writing career.
"Winning the Pro Hockey Writers Association's award for best column in 2006," Proteau said. "When you get an award from your peers, it's special. But this was extra special because the judges were Steve Dryden and the late Jack Falla, who was always wonderful to me before he passed away too soon."
As the interview wrapped up, I asked Proteau one last question. Since all sports writers are supposed to be as unbiased as possible, no matter how much they pull for a certain team inside, it is a question that many people have probably wanted to hear the answer to for quite some time.
"No, I really only cheer for individuals (players, management, support staff) I like, and there are usually ones on every team," Proteau said when I asked if there is one team he always cheers for. "But as a born-and-raised Toronto boy, I have to hope for my friends' sake that the Leafs will win a Cup in my lifetime.
"Silly me, eh?"
Twitter: @THWLukasHardonk | Email: lukas.hardonk@gmail.com | Lukas' archive