While many fans were eagerly awaiting to see where highly-coveted Brad Richards would sign on July 1st, over in Long Island a hopeful Russian was getting his chance to make a name for himself and turn over a new leaf…for good!
Kirill Kabanov has been the focus of much media attention since his name was floated around as a possible top 5 pick (perhaps as high as top 3) in the 2010 NHL Entry Draft.  Over the past two seasons Kabanov's career looked to be taking a turn for the worst.  In 2009, the Moncton Wildcats selected Kirill 7th overall in the CHL Import Draft.  The KHL didn't fancy Kabanov's decision to come play in the CHL and took matters into their own hands, threatening to suspend Kabanov over an NHL clause.  On top of that, it took a handful of games in Moncton before Kabanov went down with a wrist injury. When he came back Kirill went from playing top line minutes to being shuffled to the 3rd line – something he wasn't really accustomed to and didn't think he was brought in for.  From there he was loaned to the Russian National team, where he was kicked off prior to the U-18 championships and went off on the country's program at the combine stating, "CHL, AHL, NHL.  I don't want to go back to Russia." Kirill Kabanov fell under a lot of heat with media outlets claiming he was a "lazy player", a "nutcase", and "immature."  After returning to Moncton, Kabanov did not get the vibe that he was wanted and his teammates or coaches.  Amidst a disagreement between his father and his latest hockey agent, on October 27, 2010 Kirill was traded to the Lewiston Maineiacs.
His regular season statistics weren't that of a highly skilled winger, but as the playoffs started a new Kirill Kabanov was about to emerge.  It was quite fitting that Lewiston played Moncton in the first round of the playoffs.  The first 3 games of the series Kabanov was held off the scoresheet, but in the 4th game Kirill was able to pot a goal and add two assists to put Lewiston ahead 3-1 in the series.  Lewiston closed out Moncton in their next game and took care of the Montreal Juniors in six games before getting swept 4-0 by the eventual Memorial Cup champs, Saint John Sea Dogs.  Kirill and his linemates: Etienne Brodeur, Pierre-Olivier Morin, and Michael Chaput became one of the most dominant junior combinations in the QMJHL playoffs.  Having posted points in 13 consecutive games in the playoffs Kabanov finished his playoff run with 20 points (8 goals, 12 assists) and began to get recognized.
Just as he was coming off a great playoff run, Kirill's bright future hit a speed bump.  The Lewiston Maineiacs had heavy financial problems with no way out.   Majority owner, Mark Just, sold the team back to the QMJHL and the team was disbanded.  Kabanov had built a rapport with the fans of Lewiston, going to community events, signings, and interviews, showing he finally felt apart of a team.  Kirill had turned into an upstanding citizen, as well as a phenomenal hockey player that fans enjoyed watching.  It was extremely difficult for Kabanov to take it all in since he was just starting to fit in and was even nominated as a finalist for the Humanitarian Award while he was in the city.  The team that took him under his wing and gave him a chance when no one else would was now breaking up and sending him on his way.  Keep in mind all these things happened in a span of 2 years and the kid is only 18 years old.
Shawn Reznik: Well first off, Kirill, I'd like to congratulate you on your signing.
Kirill Kabanov: Thank you very much.  I appreciate it.
SR: So where are you right now?  Are you in New York?
KK: Yep.  I am in Oyster Bay, Long Island.
SR: Are you there for the prospect camp?
KK: Yea, I will be here for the prospect camp.  And I am working out right now.
SR: You here with family, at all?  Or are they all back in Moscow?
KK: I'm with my mom, right now.  She's helping me while I'm here.
SR: Now with this whole contract signing, when you go into camp, do you think you will have this mentality that you already have a spot on the team and it is yours to lose?
KK: What, you mean like am I going to play for sure?
SR: Well now that the Islanders look like they really want you, you might already think you have a spot on the team that is reserved for you.
KK: Well I will try to do all that I can, but it depends on the GM, Garth Snow.  So it's all about him.  And about the coaches.  I will try to do my best and work hard.
SR: So what have you been doing this offseason?
KK: Working out.  I have been working out for 4 weeks, already.  Two here on Long Island and two back home.  I haven't skated too much, yet, but I skated back home for a couple days.
SR: What about the whole Lewiston scenario?  I know it's a shame that the team broke up.
KK: I'm really pissed about that.  Honestly, it was a wonderful team and a wonderful organization.  I was really proud to play for them and they had unbelievable guys.  The fans there were great and I really enjoyed playing there.
SR: What are your thoughts about your new team in Montreal?
KK: [laughing] Hopefully I stay with the Islanders, right?  I don't think they like me too much in Montreal because [Lewiston] kicked them out last season.  If I don't make the Islanders, I'll probably go back to juniors, but I am not sure yet on what I am doing.  My first goal right now is to make the team.
SR: When you started to QMJHL season with Lewiston you didn't seem to be THAT offensively productive.  Not that you aren't an offensive player, but you just weren't putting up the stats that many scouts and fans thought you would be putting up.  But in the playoffs you seemed to kick it into gear and went on a tear.  What changed for you that you became so successful in the post-season?
KK: I tried to become more of a team-player, backcheck a lot, and play defense better.  I had wonderful coaches this year like Darren Rumble and Jean-Francois Houle.  They were some of the best I have ever worked with.  Really great guys.  They told me to generate more defense and start to play the game that I am used to.  Scouts like me more when I play like that.
SR: Any chance it could have been because of your linemates or the increased ice time from Moncton to Lewiston?
KK: I can't really say anything bad about Moncton.  They were pretty good for me all year and I appreciate the entire Moncton organization and Danny Flynn.  But in Lewiston I found my place.  They were wonderful guys and really great teammates.  I was excited when I got traded.  The coaches gave me a lot of ice time and I was playing on the first line and the powerplay.  The coaches told me that they were glad they traded for me at the end of the year.  I found my game closer to the end of the season, but I am just glad that it happened.  Probably, at the end of the season, I started to play worse in the defensive zone, but I started to generate more offensively.  I was playing with Chaput, Morin, and Brodeur.  They are really good prospects.  I want to wish "Chap" good luck in the NHL again this year.  So it was unbelievable to play with him.  He is a great goal scorer and it was easy for me to find him because he sees the open ice, so well.  We also had a lot of power forwards like Stefan Fournier.
SR: Now, obviously you were apart of a pretty big debacle when you headed over to Russia and then they kicked you off the team and Moncton shunned you away.  And although you had a productive season and turned things around there will always be people who will always look at you as an immature kid.  What do you have to say to those people who still have something against you?
KK: The only one person that I want to show that I've changed is Garth Snow.  I know I have changed a lot and have become more mature on the ice and off the ice.  I don't care what people think about me because I don't think about them at all.  Honestly, they can think and say all the bad stuff they want about me but at least they think about me, you know?  I am 18 years old, drafted into the NHL, and I am fortunate to have signed a deal at 18 years old.  I think the people who think bad things about me feel as if they are the best but they are pretty much nothing in this life.  I know that I have grown up a lot but they can still think whatever they want.
SR: About Kirill Petrov…Do you talk to him a lot?  You know anything about him possibly coming over to the Islanders?  Does he want to?
KK: I haven't talked to him for a while.  I heard that he signed with Ak Bars so he will probably stay there.  But I don't know for sure.
SR: Let's say, for all intents and purposes, you don't make the Islanders, would you rather go play in Montreal or stick around in the AHL and play for the Bridgeport Tigers?
KK: I will have a conversation with my agent and we will decided where to go from there.
SR: Since being drafted, do you have a new outlook on things as a hockey player and a person or do you feel you are the same guy you always were?
KK: Well it was always my dream to get drafted, first of all, and then to be signed.  But right now, my attitude has changed a lot this year in Lewiston.  I try to think about hockey more than anything else, more than girlfriends or whatever.  I started to care about hockey a lot more and started working out.  I realized there are not many guys who can make the NHL and be signed at that young of an age, so I care about my hockey career.  There are easy ways to going about things, but there has been no one in sports that can actually lie their way through sports.  I came to Long Island to work out and get better.
SR: Switching focus to the Russian National Team, a year ago you said no matter what, you would never go back to to play in Russia.  Have you changed your mind at all about that?  Would you consider playing for a team in the KHL or playing for the Russian National Team if they asked you to?
KK: Well I still love my country.  I am a patriot of my country.  I said some bad things about it before but I was too young to understand what I was saying, so I just wanted to apologize in front of all Russian fans and KHL fans.  I don't know if I would go to play in the KHL because I want to try to make my career in the NHL, but if something will go wrong, I will always be happy to come back to play for the Russian National Team.  But now I will do anything it takes to become an NHL player because it has been my dream since childhood.
Take it or leave it people.  Kirill Kabanov ain't what he used to be when he was drafted 7th overall to Moncton.  Being 18-years old, he isn't necessarily "all grown up", but he is heading down the right road.  Three days ago, Kirill Kabanov signed a three-year entry level contract to join the New York Islanders on his road to becoming an NHL player.  The term "bust" has been thrown around too often in Kabanov's case because of a few bad incidents.  These potential risk situations could have damaged his entire career, but he learned from it and progressed over the entire season.  The media attention and lack of fan support have fueled his fire and he fully intends to prove the naysayers wrong.
A tall, skillful winger, Kabanov is the total offensive package and had it not been for the mixup in Moncton and Russia he would've gone top 5 in the 2010 draft…EASILY.  The prototypical Russian player, his smooth stick work and goal scoring prowess makes fans drool and make his enemies nervous.  Many have compared his game to Ilya Kovalchuk, but with the year he had in Lewiston, Kabanov's defensive game might round out better than Kovy's.  Islanders took a shot at Kabanov in the 3rd round of the draft and it seems to be paying off.
With a new outlook on his career, the Russian may shock some fans and produce at a tremendous level as a rookie.  But no matter what he may say or do there will always be people who will despise him as a player and person, hoping he fails.  Kirill Kabanov will pay no attention to it, skate effortlessly, set up plays, pull some sick moves, score his goals, and repeat in his head, "Haters gonna hate."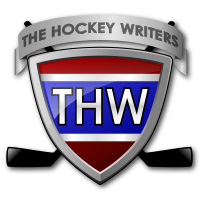 The archives of THW contain over 40,000 posts on all things hockey. We aim to share with you some of the gems we've published over the years.