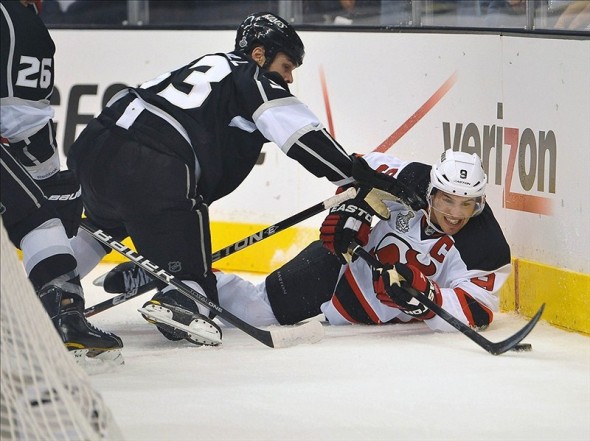 The toughest part is to ascertain what a team needs. There are no sure things in the 2012 NHL Entry Draft, The New Jeresy Devils were just a couple games from winning the Stanley Cup and some may say a play or two (err call). However with the draft less than a week away and changes on the horizon, New Jersey finds itself in a very interesting crossroads.
There are going to be many questions to be answered but so much hinges on where Zach Parise actually signs. The problem is the draft is a week before the "Free Agent Frenzy". New Jersey has to almost hedge its plans. No one should ever think that just because an athlete says "Don't worry!", that one should not worry. How do you come up with an organizational depth chart without your Captain?  It is a tough question so Parise does have to be included in and out of the plan. This will hopefully give us an idea of what New Jersey does need for both short and longer term needs. After all, long term needs can shape your draft. Just ask Adam Henrique. His numbers make it clear that not all development is created equal.
What is the purpose of an "organizational draft chart"? Honestly, it is to see what a team has and what it may need. It is that blunt and that simple. This will be done very easily using forwards, defensemen, and goalies. Again all of our contract information comes from Capgeek.
New Jersey Devils Organizational Chart:
Forwards:
Zach Parise — UFA
Alexei Ponikarovsky — UFA
Ryan Carter — UFA
Petr Sykora — UFA
Steve Bernier — UFA
Stephen Gionta — UFA
Brad Mills — UFA
Cam Janssen — UFA
Tim Sestito — UFA
Vladimir Zharkov — RFA — (KHL)
Kory Nagy — RFA
Defense:
Bryce Salvador — UFA
Peter Harrold — UFA
Matt Taormina — UFA
Jay Leach — UFA
Mark Fayne — RFA
Matt Corrente — RFA
Goalies:
Martin Brodeur — UFA
Johan Hedberg — UFA
Timo Pielmeier — RFA
Breakdown:
Now this is a team that made it to the Stanley Cup Final this year and yet is a squad that is honestly flawed with several significant weaknesses. That is not a secret. The fourth line that buoyed New Jersey to a run that no one expected has to be signed. While the Devils have unique depth at the Forward corps, there are obvious deficiencies even there.
First, let's go over which players are likely not to make much of an impact. Vladimir Zharkov likely will not see much in the way of time in New Jersey, if ever. Brad Mills, Tim Sestito, and even Cam Janssen  are little more than AHL fodder or even may just be cast aside. The biggest piece of the pie is Zach Parise.
Here is the problem with either signing or not signing Parise. This sets the team on an organizational course one way or the other. What do we mean? Either New Jersey is going to go with Parise as its leader or Ilya Kovalchuk. That seems to be the clear focus. Yes, everyone is saying all the right things at the moment about Parise's contract status but one thing is clear. Zach Parise is going to get a lot of money thrown at him and depending on what happens affects New Jersey at the draft. Obviously the draft comes first so decisions have been made or will have to be very quickly. Contingency plans are surely underway in New Jersey.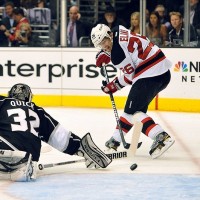 Like we mentioned previously, New Jersey has seven draft picks in the 2012 NHL Entry Draft. This is why the Devils have to look into the draft for depth talent and some eventual replacements for key cogs. Patrik Elias is not getting any younger at 36. At the 29th pick, New Jersey may have to move up a bit but then again it may not.
After making that potential first round pick, that does not mean New Jersey can just stop looking at Forwards. When we took a look at the "many" Mock Drafts that are out there, one thing became clear. Most mocks had New Jersey taking not one single goaltender but they did pick at least three forwards and in some cases as high as five. This assumed a lot but clearly the front lines do need work. Keep in mind, that there are always draft gems to be had. New Jersey does always seem to find one each draft.
Simply New Jersey will potentially need depth forwards and one top six forward if Zach Parise does walk. There are going to be a couple mid draft gems and there are several players that always seem to plummet. Remember, New Jersey stole one last year with the pick of Reid Boucher (4th round). This always seems to be the case.
Defensively is going to be a different story for New Jersey. The draft may not be the best way for the Devils to address any of their needs honestly. Will Bryce Salvador resign after his nice playoff outburst? The weak link of their penalty kill in some ways was their defense which could not keep players from key scoring areas in the playoffs after being worn down. Those are just the facts. Sometimes a n0 named defense can only get a team so far.
Adam Larsson is going to play a much bigger role in his second year because he may just have to. By the time the Devils pick at 29, there really is not a lot on the blue line that can dramatically help. The best course of action will be to look for depth defensemen to help a defensive corps that overachieved greatly. The dilemma is this draft had so much promise but the reality is it is looking more and move average by the minute. That being said, mid draft value is there. Trevor Carrick from the OHL is slightly undersized at 6 foot 2, 170 pounds but his offensive skills (power play quarterback) is a shot potentially worth taking. Travis Brown from Moose Jaw of the WHL is another shot in the dark worth taking.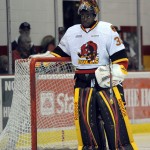 Now there is some increasing talk of Malcolm Subban being taken with the 29th pick. Again this could possibly happen but the actual chance is still considered to be remote. Depth chart wise, New Jersey is just too stacked to take a shot that early on goaltending. Furthermore, Subban just has too many risks and black marks to be drafted in Round 1. Sure every pick has risks but Subban is slight of frame and his inconsistency is too hard to ignore. New Jersey has enough goalie projects, why take on yet another one? Unless something dramatic changes, New Jersey will go with a mix of forwards and defensemen in the depth class and hope to strike in free agency.
Later in the week, we will have an update on last year's draft class and assign fantasy values to what New Jersey may draft. Stay tuned and thanks for reading.
What do you think New Jersey needs via the draft? Lend us your ears Devils fans!
Simply a hockey writer who is a jack of all trades. No question is too big or too small and in fantasy hockey there is no such thing as a stupid question. Now a proud, accredited member of the FSWA. I am also a New Jersey Devils lead writer, prospects writer, humorist, and so much more. You can find me on Twitter at @ChrisWasselDFS