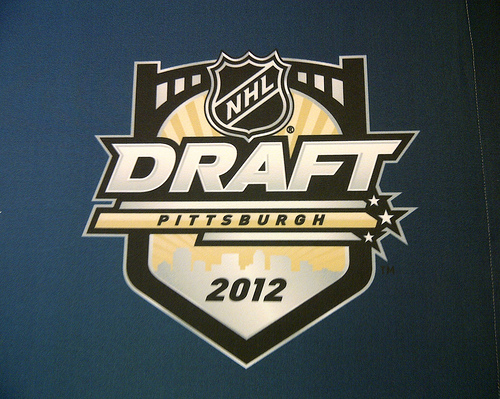 The New Jersey Devils will not forfeit their first round pick like many had speculated. So the question becomes, what will they do with the 29th pick in the 2012 NHL Entry Draft next weekend?
First, here is the list of picks that New Jersey has in their arsenal for this draft.
29th pick (1st round)
60th pick (2nd round)
90th pick (3rd round)
96th pick (4th round via Toronto)
135th pick (5th round via Calgary)
150th pick (5th round)
180th pick (6th round)
New Jersey does not have a 7th round pick this year as it was traded away in the Kurtis Foster deal. When a team has a pick at the tail end of the round, there is a tendency for a trade to be made (up or down). That is anyone's guess if this will be the scenario that plays out. However, when it comes to David Conte and Lou Lamoriello, sometimes there is no real way of knowing.
There are a few outlets to consider and of course The Hockey Writers is an incredible source for draft information. However, there are so many options for draft material as we try to figure out what New Jersey will now do with the 29th pick. When we went scouting around there was The THG Top 60, DobberProspects, and MyNHLDraft just to name a few.
In an attempt to be fair and honest, we tried to come up with our five best scenarios for the pick. This should get New Jersey fans at least debating a bit.
5. New Jersey goes off the reservation with Malcolm Subban.
This is a pick that does not seem very likely given New Jersey's goalie and defensive depth but sometimes a long breakaway pass has to be tried. Subban has athleticism and raw talent but is on the smallish side. Yes the Devils have several goaltenders in the system but they may be apt to take a shot in the dark here. There are reasons why we have this listed at number five so do take it for what it is. It is a shot in the dark so to speak.
Subban is about 180 pounds soaking wet and six foot one inches tall. There is a tendency for him to have poor rebound control along with average puck tracking skills. However, that athleticism may be too tough to pass up if a lot of early options do not pan out for New Jersey. Keep an eye out on how picks 15-27 go because that may give an indication how New Jersey ultimately proceeds. The reality is New Jersey could take a shot at a goalie here is very slight at best.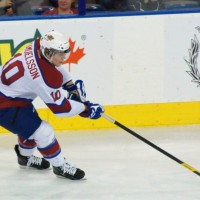 4. The Devils feel Swedish again and choose Henrik Samuelsson.
Depending on your guides, Samuelsson could go anywhere from 25-45 it feels like. Henrik's dad Ulf was a 16 year veteran of the NHL and it seems work ethic wise, the apple did not fall too far from the tree. This is a player who played with MODO (Sweden) and then wound up in the WHL with the Edmonton Oil Kings and excelled with 23 points in 28 regular season games. His playoff run and Memorial Cup showing (5 points in 4 games) was very noticeable to scouts.
Samuelsson definitely has a significant upside but one slight concern is he weighs 192 and for how he plays, he still has to fill out by at least 20 pounds to be an effective power forward. There is time but the possibility exists of a better player falling to around the area New Jersey winds up. Here is a player that will definitely at least be on the New Jersey radar if he is available at 29.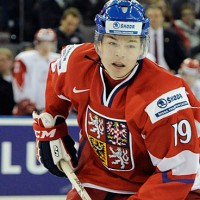 3. Does New Jersey hurdle for Tomas Hertl?
There may be more questions than answers after this one but New Jersey has a couple scenarios to trade up a bit and this has some potential. At the same token, Hertl could potentially fall to New Jersey though that seems less and less likely. There is a punishing aspect to the Czech's game that masks his skill and creativity. He has that Patrik Elias look with a few more pounds on his frame. At 200 pounds, he is a man amongst boys right now but at the NHL level, he may have to gain a few pounds. Those few pounds would be muscle mass to his frame as there are some "weak spots". Overall, there are many things to be sold on with Hertl.
Hockey sense may be Tomas Hertl's best trait and then if you add his ability to start and finish plays, it is a bit of a surprise that he is not ranked higher on lists. If there was a play to describe this likely first round pick, here is one.
There is fast and then there is hockey fast. That play above is just too much for most players to handle and even some NHL caliber talent. Granted, Hertl does need to skate at an NHL level but those things can be learned. His other talents are ones that just cannot be taught at all.
2. New Jersey decides to go for broke for Brendan Gaunce.
If you think Hertl is a hulking figure, one should take a look at how Gaunce plays the game. The scary fear is that he could put on even more muscle mass and there is talk about his exercise habits already and in a good way. Sure he does have some drawbacks but it is a transitional time for these types of forwards. Brendan Gaunce will have to work relentlessly on puck handling and skating on the next level but every other skill you could ask for is there in abundance.
Even the interview skills are above average for the talented forward. He could be a 6 foor 3 or 4 and 225 pound beast in the NHL. This is a player that plays hard 110% of the time and while he does not have those flashy signature moves, he simply has all the skills one could ever ask for on or off the ice. It is likely New Jersey would have to trade up some as he could go anywhere from 11-25, it would seem.
One tweet tonight from just debating the merits of Gaunce with other New Jersey Devils fans was telling.
From @NonAmericanHero (Kevin Sellathamby) – It has to be. 6'2 210 lb two-way forwards don't grow on trees.
This is a pick New Jersey could make if the price was right. Yes, they would have to trade up but its almost the type of player New Jersey is going to need against some of the bigger, more physical teams that pushed them around (like Los Angeles for example). A package would have to include a couple picks and maybe a current player but might just be worth it for this kind of talent.
1. If all else fails, just trade out of the first round……
This almost seems like a traditional fail safe for some but it rings very true. New Jersey already has seven picks in a draft where a team can find some talent to groom. If nothing really pans out as the picks come in, why not slide down to get a little more value. Naturally, if Zach Parise is moved for his rights, that may change some things but stay tuned.
New Jersey could end up with a couple picks that could be used and maybe an extra pick or two for the 2013 NHL Entry Draft as this class never quite panned out to what it was initially projected. Either way, the Devils have this options if all else fails. People often forget that in some drafts, management did not have this luxury.
Why So Many Options……..
Picks at the end of rounds often move because teams are jockeying for players they feel can fill their needs now. The minute New Jersey decided they were not going to give up their pick, it was clear that they have options that maybe most of us do not see at the moment. They are up to something but what that is could be considered somewhat of a mystery.
Again the Devils find themselves in a very unique position with some very clear needs. Whether they address them via the draft, trade, free agency, or some combination will come into focus soon enough. Some will consider their run this year a fluke and yet in a few years, they may just be back better than ever. This draft will be deceptively pivotal in that reloading process.