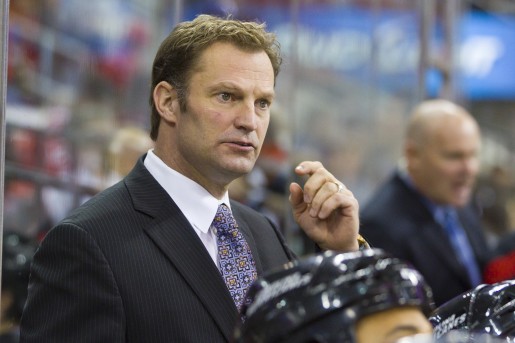 After one of the more up and down years in franchise history, the Carolina Hurricanes enter the offseason as a bit of an enigma. Their 2011-12 record of 33-33-16 is, on the surface, indicative of a mediocre team; however, their ability to win after the All Star break under the tutelage of Kirk Muller provides hope for a strong campaign in '12-'13.
It's impossible to know at this point whether or not that late season success will translate to next fall, but if there's one thing Jim Rutherford can do to ensure his team continues to move in the right direction, it's to make some changes to his blueline.
The Hurricanes ranked 25th in the NHL last year in defense, allowing 2.89 goals per game. They were also dead last in the league in shots allowed per game (32.4) as Cam Ward faced 2,143 SOG—the second most of all netminders. To give some perspective to those numbers, Stanley Cup champion Jonathan Quick played in one more game than Ward in the regular season and faced 280 less shots.
Additionally, Bryan Allen—the team's best defensemen on many nights in '11-'12—will hit the open market on July 1. While he's expressed interest in returning to Raleigh, it only takes one lucrative offer from another organization to lure him elsewhere. If Allen departs, the Canes' need for quality D-men becomes that much more critical.
Of course, Carolina has a lot of youth on their blueline, and that will help to some degree. Justin Faulk and Jamie McBain should continue to improve next year; Ryan Murphy will likely join the big club out of camp, and former BC standout Brian Dumoulin may make the jump at some point. Nonetheless, the progressions of McBain and Faulk likely won't be too substantial, and while Murphy and Dumoulin figure to be long-term solutions, their age and lack of experience could prevent them from making much of an impact right away.
In reality, the assets the Hurricanes currently possess aren't going to make this defense much better than last season, if at all.
Fans that have followed this team for a while know that this isn't a new issue. Since winning the Stanley Cup in 2006, Carolina has made the playoffs just once in six tries, and its defensive woes have played a big role in this lack of success. In each of the five years they didn't quality for the postseason in this span, their defense ranked in the bottom third of the league. The one exception came in 2009, when they had the eighth best defense in the NHL en route to a playoff berth, allowing only 2.70 GAA. It doesn't take an expert to see the connection here.
So now we enter a pivotal offseason, one that could very well make or break Carolina's chances next spring, and new opportunities to restructure the roster will soon arise. Assuming the salary cap continues to inflate, the Hurricanes will have a lot of room to make some moves, this becoming even more possible with the addition of 10 minority investors. But having capital to spend doesn't guarantee anything, and if Carolina hopes to succeed next year, that money needs to be spent wisely.
And to be honest, I'm not too sure that will happen.
Jim Rutherford has stated multiple times over the past several months that the team's No. 1 priority this summer is to acquire an elite forward, presumably to skate on the top line next to Eric Staal. While adding some offensive firepower should be considered important, it may not be as pressing of a matter as the team believes.
Tuomo Ruutu will likely play on Staal's right wing after signing a $19 million contract extension last February, leaving one spot open on that line. Jiri Tlusty filled that hole during the second half of last season, and he did so admirably. Tlusty and Staal had fantastic chemistry, as both reaped the benefits of their pairing; one even could make a case that putting them together is the biggest reason for Staal's second half revival. And when we take into account Tlusty's age (the kid is only 24 years old) and his potential (selected in the first round of the '06 draft), there's no reason to believe he can't blossom into a legitimate top-six forward.
So when you think about it, finding an elite player for Staal isn't that big of a deal. Not when there are major flaws in other areas of the depth chart, at least.
This isn't to say that Rutherford has his priorities all mixed up, because he probably doesn't. Team management is well aware of its defensive struggles, and there's still a chance we'll see some improvements on that front in the coming months. However, the fact that this issue has been left unsolved for so long makes me fee less confident that anything significant will be done.
All we can do now is wait and see.
Andrew Hirsh is a credentialed NHL writer based in North Carolina
Twitter: @andrewhirsh | Email: ahirsh3@gmail.com