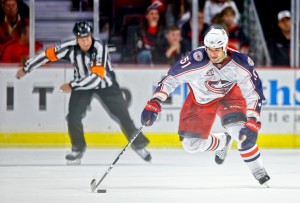 As the start of the 2013-14 NHL season nears, teams and coaches must make key decisions about their starting-night rosters, choices that may impact franchises for years to come. All the while, fans and observers are left to speculate (often like giddy children about to open gifts on Christmas). For those invested in the Columbus Blue Jackets, the story is no different. What rookies might we see in the lineup? Can Boone Jenner continue to make his mark (with Gaborik, no less)? Ryan Murray seems to be close, but will he start with Springfield? Is a stronger Ryan Johansen truly ready to erupt? While all these questions suggest a real (and at times, justified) optimism about the team, one of the most relieving considerations for Columbus fans is the return of Fedor Tyutin.
Yes Virginia, that Fedor Tyuin. The former New York Rangers d-man has been with the Jackets since the 2008-09 season when he was brought to Columbus as part of the Zherdev trade. For many, Tyutin's part in the transaction was his most noteworthy role as a hockey player (his Olympic roster spot excepted). But for five seasons, the Russian has quietly been one of the best defensemen in the NHL. If the Blue Jackets are going to succeed this year, they're going to need a sixth season of greatness from Tyutin, and his contribution isn't hard to imagine.
Tyutin's Scoring for Columbus
Much has been made about the perpetual need for Columbus to get a star player. Excluding the presence of Rick Nash, fans and writers always showed surprise when management pushed to trade for a big-name forward (Jeff Carter in 2011, Marian Gaborik last season), or made a splash in free agency (James Wisniewski in 2011, Nathan Horton this year). Despite all of that, the Jackets have had a legitimate top-pairing d-man since 2008-09, a fact few seem to discuss.
Consider: Fedor Tyutin is one of the 30 best defensemen in the NHL. Talent distribution isn't a perfect thing, but taken over the 30 teams every club only gets one d-man like him (maybe two, if they're lucky). But for some, Tyutin just doesn't seem like a top level player. He's not a physical monster like Zdeno Chara or Shea Weber, not as offensively gifted as Erik Karlsson. Instead, Tyutin hits a kind of defensive middle-ground: he's an effective offensive threat who is a positive possession generator for his team.
Let's take a look at Tyutin's scoring totals and consider his rank compared to other defensemen. Taking it year-by-year and overall since arriving in Columbus, we compile the following results (from Hockey-Reference)
[table id=126 /]
Since the 2008-09 season, Fedor Tyutin is the 35th highest scoring d-man in the NHL. To be fair, a look at points per game leaves him at 56th over that time (among players with at least 160 games played, or 40 per season). Either choice leaves Tyutin among the top two defensive scorers on most NHL teams, and the same holds true on a year-by-year inspection. Curiously, Tyutin's point contribution is not far behind noted offensive d-man and teammate Jack Johnson (0.44 pts/game, 46th since 08-09). Tyutin is, however, a bit below fellow Jacket James Wisniewski (0.54 pts/game, 26th since 08-09). And while this kind of impact to the Blue Jackets is impressive, Tyutin's greatest value comes through his possession ability.
Fedor Drives the Puck
Eventual scoring results are important contributions to a team, but Fedor Tyutin's "hidden" addition to his club is in his skill at driving possession. To give us an overall feel for what he's done, let's start by looking at Tyutin's Corsi and Realtive Corsi results compared to other NHL defensemen (data from Behind the Net). All rank values are again for d-men with 40 or more games played in the respective season. (And alternatively, you can also look at a composite usage chart for Tyutin from Greg Sinclair, found at his site here)
[table id=127 /]
Quality of competition measures are included to provide a bit of perspective: Fedor Tyutin has never been matched against weak opponents, all while never averaging less than 22:42 time on ice per game.
Examining the results, we see a player who has always managed to generate positive possession even when working on bad-to-abysmal overall teams. In Tyutin's weakest overall years (2009-10, 2012-13), the Blue Jackets were among the bottom 9 and bottom 5 Fenwick Close teams in the league. All the while, the Russian d-man still managed to push his club forward. In other years, at his heights, Tyutin could be considered part of a top-5 defensive pairing in the entire NHL. While his offensive contribution may never look gaudy, Fedor Tyutin is a true asset to his team.
By never allowing opponents to establish a strong shot differential, Tyutin's contribution becomes threefold. First, other teams are less likely to generate scoring chances. Second, the Blue Jackets are more likely to drive play forward. The third draws from Tyutin's overall scoring ability: those positive opportunities for Columbus can end up as scoring plays. It's exactly the kind of effort desired from a two-way defenseman, and Tyutin delivers, year after year.
A Defensive Success
Even with new additions to their team, the Blue Jackets may still struggle to score in the new season. Accordingly, many are paying attention to the efforts of Sergei Bobrovsky and his ability to stop the puck. But when Fedor Tyutin is on the ice, Bob's work is easier. With the Russian d-man playing for the past five years, Columbus has been more likely to generate offense than be pushed back. For fans hoping to see a playoff berth, the mantra toward Tyutin should be "more of the same." And if that's the case, at least one defensive pairing will be a sound foundation toward the ultimate goal.
Matthew is a hockey fan who fell for the sport through watching college games. He now shares thoughts on the Columbus Blue Jackets at the Hockey Writers. When not thinking about pucks, his interests are chemical engineering and good music.