With the second round of the Stanley Cup Playoffs coming to a close, with two game-7s, the Predators are still left to wonder what could have been different this season.  Predators GM David Poile, in what could possibly be his last chance to prove himself as a winning-GM, will have some choices to make this offseason, to hopefully prevent a repeat of this year.
With the ability to use two potential buyouts, along with upcoming Unrestricted Free Agents Chris Mason, Brandon Yip, Chris Mueller, and Kevin Henderson, as well as upcoming Restricted Free Agents Nick Spaling, Daniel Bang, Matt Halischuk, Bobby Butler, Roman Josi, Victor Bartley, and Jonathan Blum
Which Predators Stay?
Starting with the Predators who should see at least another season with the Predators, or within the organization in the AHL: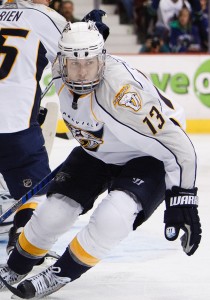 Roman Josi – Upcoming RFA, but will most likely be back with the big club for a few years, as it looks like he will be one of four defenseman penciled in at the start of the season, alongside Weber, Klein, and Gill.  Pretty easy choice, but will have to find a good deal for the youngster.
Chris Mueller – Picking up 5 points in 18 games with the Predators this season, Mueller will probably get a chance with the big club throughout the season, as the Predators might look to get Mueller on a two-way contract, which means he'll probably start the season in the AHL.
Nick Spaling – One of the hardest-working Predators, there's a good chance Spaling will be back for another year with the team.  Making a little over $1 million last year, Spaling could see a similar short contract, possibly even seeing a slight paycut.
Kevin Henderson – After posting 29 points in 64 games this season with the Milwaukee Admirals, the Predators had high hopes for Henderson.  They still have those hopes, even giving Henderson a four-game preview throughout this season.  I would expect the young UFA to return next year looking to earn a spot with the team out of training camp.
Daniel Bang – Coming over from AIK IF in Sweden, Bang has made quite the impression with Predators fans, even though he only saw action in 8 games with the team this year.  He will most likely compete for a starting spot on this roster out of camp, but will probably spend at least the first half of the year in the AHL, still adjusting to the North American game.
Bobby Butler – I think Butler has made it pretty clear he wants to be a part of this Predators team.  After bouncing around on the waiver wire throughout this season, he gradually became a bright spot on what was a less than bright season.  I would expect a potential one-way contract, but not much money or term.
Victor Bartley and Jonathan Blum– Well, this is going to be interesting.  Some people think Bartley will be re-signed, while some people want to see Blum stay.  I think they both stay and fight for the bottom 2 spots on the blueline.  One thing that successful teams, like the Pittsburgh Penguins, have done is keep a plethora of young defensive prospects waiting in the wings, practicing with the team throughout the year, then filling in when able.  There's no reason to get rid of either Bartley or Blum, and I'd be surprised to see Poile let either go.
Which Predators Go?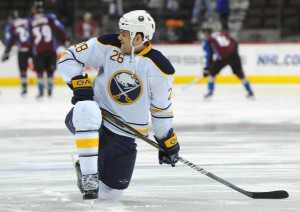 Chris Mason – Chris Mason did a decent enough of a job this year as Rinne's backup, but the problem is that he's not Rinne and will never be Rinne, and as a result, there's no one waiting in the wings that can not only step in for Rinne on an increasingly often basis, to make sure that he's at his best, but to also challenge him occasionally.  There's better value out there for veteran goaltenders, unless Poile wants to go in a different direction and go out and get a quality goaltending prospect that could push Rinne.
Paul Gaustad – I have trouble seeing the continuing value of Paul Gaustad on this Predators team.  Scoring 5 points in 23 games this season, while battling injuries, Gaustad may be good at faceoffs, but so is Mike Zigomanis, it doesn't mean that he deserves a roster spot.  Coming over in exchange for two draft picks, including a first-round pick, Poile might be hesitant to admit his error, but with the buyouts in his pocket, he should look at using the first to correct this $3.25 million mistake.
Matt Halischuk – Another easy choice for Poile.  Its doubtful that many fans would even want him back, considering the terrible year that he had, which including a conditioning stint in Milwaukee.  To break out one of my favorite clichés, he is a dime a dozen player and Poile should spend his dimes more wisely.
Outside of working in politics, Nick also loves watching hockey at all levels. In addition to writing about the Nashville Predators for The Hockey Writers, Nick also writes for Faceoff Factor about his favorite team, the Pittsburgh Penguins.