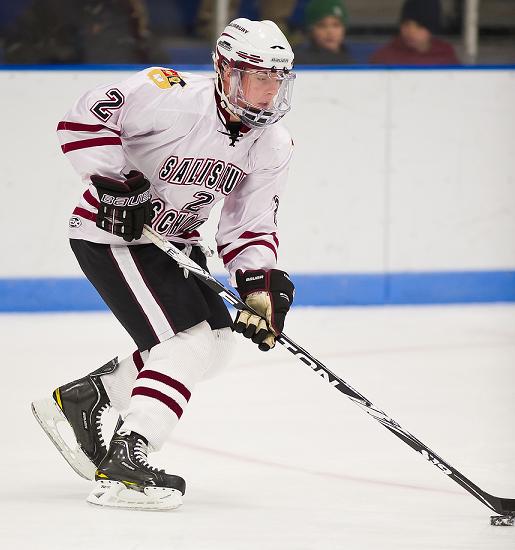 It's been an up and down roller coaster for Thomas Welsh since I reported on him last October.  From having suffered defeat in the Flood Marr Tournament for Salisbury, to getting skipped over in the USHL draft, to outperforming at Sioux City's camp and still not being given a roster spot, to getting his rights traded from Sarnia to Mississauga, to not being able to come to a contract agreement with the Steelheads, to signing with the Georgetown Raiders of the OJHL, and finally to playing great at the Cougars Championship Cup.  It's been a whirlwind of activity, and now the prospect defenseman has decommitted from the Penn State University Hockey Program.
"I just could not come to terms with Penn State on a few issues," Welsh told me.
I also asked him if he had begun to look for other Division 1 hockey programs in the NCAA, to which he replied, "I'm keeping all doors open."
With the current negative publicity that's surrounded Penn State University over the past few months, you have to wonder if that could have played a role in Welsh's decision.  I, for one, don't think so.  Welsh is a determined hockey player on and off the ice.  He seems to be in a similar predicament with the Mississauga Steelheads.
After not being able to come to an agreement on a contract with the Steelheads over a few specific issues, Welsh decided that Jr. A hockey was the next best route to making it to the NHL.  By signing with the Georgetown Raiders he leaves the option of both NCAA and CHL available.  With the decision to decommit from PSU, my guess is Welsh would prefer staying close to his family, playing in a top level league like the CHL, and be a prominent blueliner for the Mississauga Steelheads sooner rather than later.  If the Steelheads do pursue interest in Welsh and sign him to a deal, they would need to fork over $5,000 to the Georgetown Raiders for Welsh's release.
So Mississauga…the ball is in your court.