What does 49 wins in the regular season and a 2nd seed in the Western Conference get you? If you're the 2011-2012 St. Louis Blues it gets you a trip to the Western Conference Semis and a loss to the eventual Stanley Cup champion LA Kings.
When you put the St. Louis Blues 2011-2012 season into perspective it was a very successful campaign. They won their first Central Division title since 1999-2000, made the Conference Semifinals for the first time since 2001-2002 and won the 2nd most games in franchise history. Yet when a team excels as much as the St. Louis Blues did last season you can't help but wonder what could have been. You start to wonder what was missing and how it can be fixed. For the Blues that missing piece wasn't very hard to find. It was their offense.
Despite ranking 10th in shots per game (30.6) they were only able to manage 2.51 goals per game, good for 21st in the NHL. While their defensemen and goaltenders flourished, posting a league best 1.9 goals against average, the offense struggled to add a potent attack which inevitably led to their exit from the playoffs.
With a clear understanding of what the missing piece within the organization was the question changed to how to fill that missing piece. With no major moves in free agency it became evident that the cure to the team's offensive woes would not come from outside of the organization, at least not from another NHL team. It's possible that they expect a new, up and coming prospect that will make his debut in 2012 to add a new dynamic to the current roster.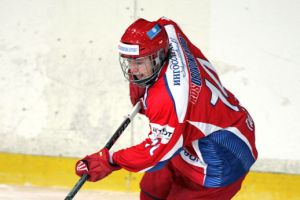 The most notable addition to the Blues roster is 20 year Russian dynamo Vladimir Tarasenko. Widely considered to be one of the best young prospects entering the NHL, Tarasenko has already demonstrated his talents in the KHL where he tallied 23 goals in 54 games during the 2011-2012 season which ranked him fifth in the league.
Tarasenko's quick hands and explosive acceleration should translate well into the NHL and his four years of experience playing against some of the best competition outside of the NHL gives him a unique advantage over the usual highly touted prospect making his debut. Of course that doesn't mean that his transition into the NHL will be a flawless one. Like all rookies his first season will be a learning experience that is unlikely to resemble his previous year in the KHL.
Joining Tarasenko on the list of possible rookies on the 2012-2013 roster is Jaden Schwartz. The former Colorado College standout made his debut with the Blues in 2012 when Andy McDonald went down with a shoulder injury in March. During his brief stint with the NHL squad he tallied two goals (one on his first career shot) and one assist in seven games.
At 5'9" and 179 pounds he is undersized in the current NHL landscape but that doesn't necessarily make him less valuable. He is very elusive and uses the size that he does have to his advantage when he carries the puck. He might not have the scoring flair of Tarasenko nor as high of a ceiling but his vision and playmaking ability should allow him to crack the Blues roster at some point in the 2012-2013 season but to what capacity his impact will be is still in question.
Outside of Tarasenko and Schwartz there isn't an abundance of NHL ready scoring options within the AHL affiliate, the Peoria Rivermen. Phil McRae was solid in his second season with Peoria, scoring 23 goals in 71 games, and T.J. Hensick has topped 20 goals in his previous two seasons with the Blues AHL affiliate but neither is projected to be the game changer that the Blues are searching for.
The most likely source of the Blues offensive production in the 2012-2013 season will come from the same players they relied on in
2011-2012. T.J.  Oshie is coming off a career high in goals (19), assists (35) and points (54) and will be looking to justify the five-year, $21 million contract he received in the offseason. He may not have an immense amount of offensive talent but his tenacity and energy allows him to be in the right places.
David Backes led the Blues in scoring in 2011-2012 but saw a decline in his goals from the previous season. He has topped 30 goals in two previous seasons (2008-2009 and 2010-2011) and at the age of 28 he is in the prime of his career. Although Backes excels at the defensive end of the ice (Selke Finalist last season) he will need to increase his offensive production if the Blues want to improve upon their 2011-2012 finish.
Perhaps the most important piece of the 2012-2013 St. Louis Blues puzzle is one they have been missing for the past two seasons, David Perron. A concussion sidelined him for all but 10 games in 2010-2011 and for the first 25 games in 2011-2012. When Perron finally did step onto the ice he proved why he is considered to be one of the Blues top offensive threats. In just 57 games he managed 21 goals and 21 assists, showing the organization that he deserved another chance and a new contract. The Blues gave him that chance by resigning him to a four-year deal worth $15.5 million this past offseason.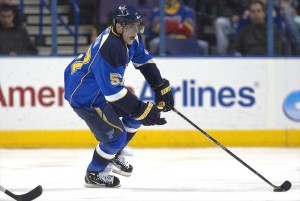 Perron's talent has never been questioned but his ability to stay on the ice is a very real concern. If he manages to keep clear of injuries there is a real chance that he will emerge as the Blues top offensive threat for the near future. For a team that is in desperate need of a game changer it looks like Perron could possibly fill that void, making them more dangerous than the 2011-2012 version.
In all reality it's unlikely that one single player will alter the Blues offense woes from the previous season. The hard-nosed, gritty style of play they excelled at in 2011-2012 will be their calling card once again for the upcoming season but they'll need their offensive pressure to match their defensive tenacity if they want to improve upon their Western Conference Semis loss to the Kings. If Tarasenko can come in and make an immediate impact in the offensive zone and one of the Blues veteran leaders, whether it's Oshie, Backes or Perron, can step up and become a legitimate scoring threat then it could elevate the Blues into Cup contention in 2012-2013.